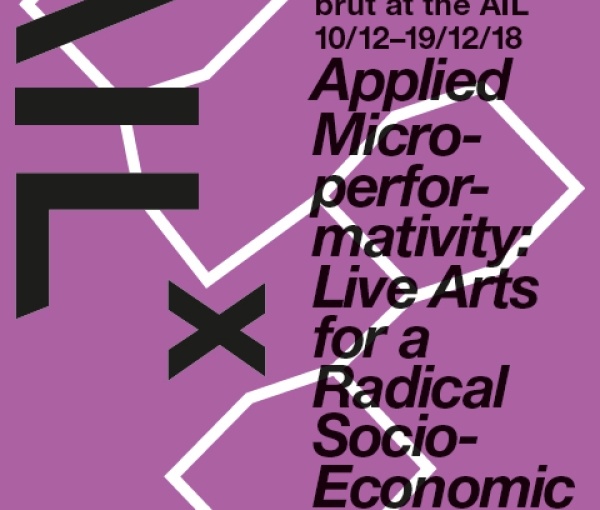 When:
12 December 2018 @ 19 h 00 min – 22 h 00 min
Europe/Paris Timezone
2018-12-12T19:00:00+01:00
2018-12-12T22:00:00+01:00
Where:
Angewandte Innovation Laboratory
Franz-Josefs-Kai 3
1010 Wien
Austria

Applied Microperformativity: Live Arts for a Radical Socio-Economic Turn
Curated by Lucie Strecker, Klaus Spiess and Jens Hauser
Symposium / Interventions / Exhibition in German and English
Further information and registration for the symposium at:
applied-microperformativity.net
Symposium / Interventions / Exhibition
December 10 –19
How does the agency of genes or cell fragments, proteins or enzymes, bacteria and fungi relate to macroscopic dynamics of power in contemporary biopolitics?
How can performance art and discourse inform these processes? What are the artistic methods to engage critically with technologies that exploit life on a microscopic and molecular level to merge bio- and digital media for global capitalization?
International artists, scientists and experts will come together to exchange artistic and theoretical approaches that dissociate causal relations inherent to capitalism by considering a specifically post-anthropocentric notion of performativity – one that includes material and discursive, affective and scientific, human and nonhuman, and natural and cultural elements. They highlight how biotechnologies produce scales that are exclusive while influencing economic, ethical and artistic values; a microperformative approach enables us to encounter value as a critical experience,
as a force rather than a norm. Looking at the microdynamics between living matter, technology and capital is inspired by the quest to grasp the scales of space but also of time, where life is transformed to code and furthermore into a tradable commodity.
December 12
The Banquet, 7–10 pm
Welcome Gerald Bast
Introduction Lucie Strecker, Jens Hauser, Klaus Spiess and Ann Liv Young
Hox Zodiac (Victoria Vesna)
Reflux Coïtus (Elisabeth Bakambamba Tambwe)
The America Project (Paul Vanouse)