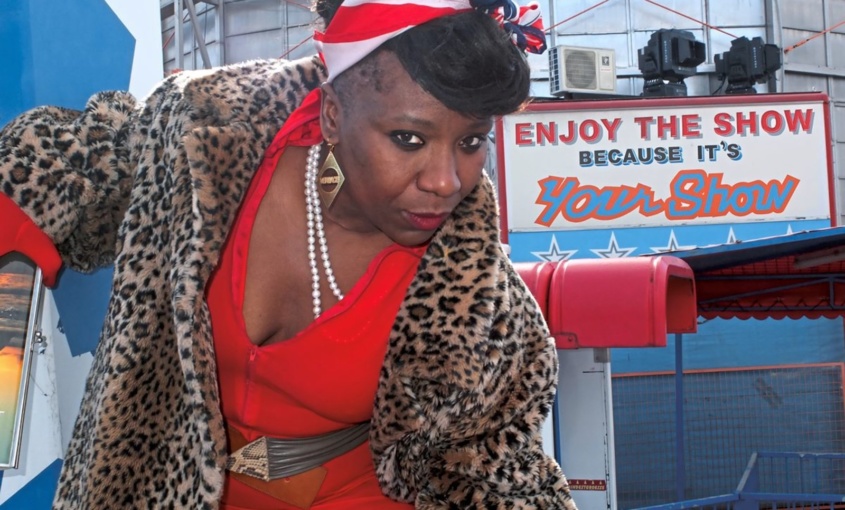 How Kinshasa-born artist Elisabeth Bakambamba Tambwe became a star of the local dance scene
Helmut Ploebst
Der standard
8 January 2020, 6 a.m.
In this gallery: 2 pictures
Elisabeth Bakambamba Tambwe: "People are afraid of their own shadows. This is not about black people, but as a projection you show part of their reality that they fear."
Photo: Eva Lnhrdt
The specialties of the artist Elisabeth Bakambamba Tambwe are transformations from clichés, the paradox of perception and the real images behind those that roam the media.
Photo: Stefan Roehrle
The new year is young, the Viennese artist and choreographer Elisabeth Bakambamba Tambwe comes with vigor to the studio of the Brut Theater on her pink bike. There she rehearses for her new performance Carré Noir, which deals with the famous picture The Black Square (1915) by the Russian avant-garde artist Kazimir Malevich.
Tambwe is one of the fixed stars of the Viennese dance scene. During the 15 years that the Congolese, born 1971 in Kinshasa in Austria, has shown her work at the Wiener Festwochen as well as at the Impulstanz Festival, the Styrian Autumn or the Danube Festival.
She is married to an Austrian, has two children and brings energy, openness and vigilance to the conversation. It is not her nature to take a leaf out of her mouth: "I have a big mouth, I'm loud, that doesn't correspond to Austrian society." How is it that she moved here? It was love like many of her colleagues from the Viennese dance scene.
Not a land of dreams
Looking back, she describes how she and her family from Kinshasa – "I was born there, but my parents come from the Congolese province of Kasaï" – had to disappear in 1975. The father had studied law, also in France. He had just come back from there to work in the government environment when reports of arrests circulated. "It turned out that three people named Tambwe recently died. They were looking for someone named Tambwe."
The parents first moved to Belgium with their four children and then settled in Lille in northern France. First came the enthusiasm: "France, the country of human rights, diversity, Liberté, Egalité, Fraternité – all of which made us think we are entering the land of dreams, an Eldorado in which everything would be possible." Then the disillusionment: "The first thing we were asked to do in school was to stop speaking our language." Tambwe's mother tongue is Chiluba, her everyday language Lingala, because "we are part of the Baluba ethnic group", which is also located in the Congolese district of Kasaï.
Elisabeth attended a private Catholic school in Lille. It was disheartening, the student decided that she would never accept French nationality for herself, said goodbye to the church and went to a public school. There she began to be interested in art. After graduating from high school, she studied at the École des Beaux-Arts in Tourcoing next to Lille. She came to Vienna seven years after graduating in 1998.
Viennese Actionism
"It took me two years to make up my mind," she says. "When I came, I had my first baby very soon. So it was important to understand the dynamics of this country. I found the quality of life good, and then I realized that the country had no colonies before." Tambwe admired Viennese actionism, but found little of its spirit of resistance. Quite the opposite.
Tambwe doesn't say a word. Still, she doesn't speak of racism, but: "Here people are afraid of their own shadows. This is not about black people, but you are showing a part of their reality as a projection that they cannot get rid of and fear to look at." The Austrians feared the loss of their quality of life: "They love to be afraid." Many artists proved to be "students of fear": "Because they are not real fighters, they are waiting for money, and that makes them slaves to the subsidy system."
The artist's specialties are transformations from clichés, the paradox of perception and the real images behind those that roam the media. Her new performance Carré Noir is a walk-in installation in which Théodore Géricault's painting The Raft of the Medusa from 1819 also plays a key role with his shipwreck motif. (Helmut Ploebst, 8.1.2020)