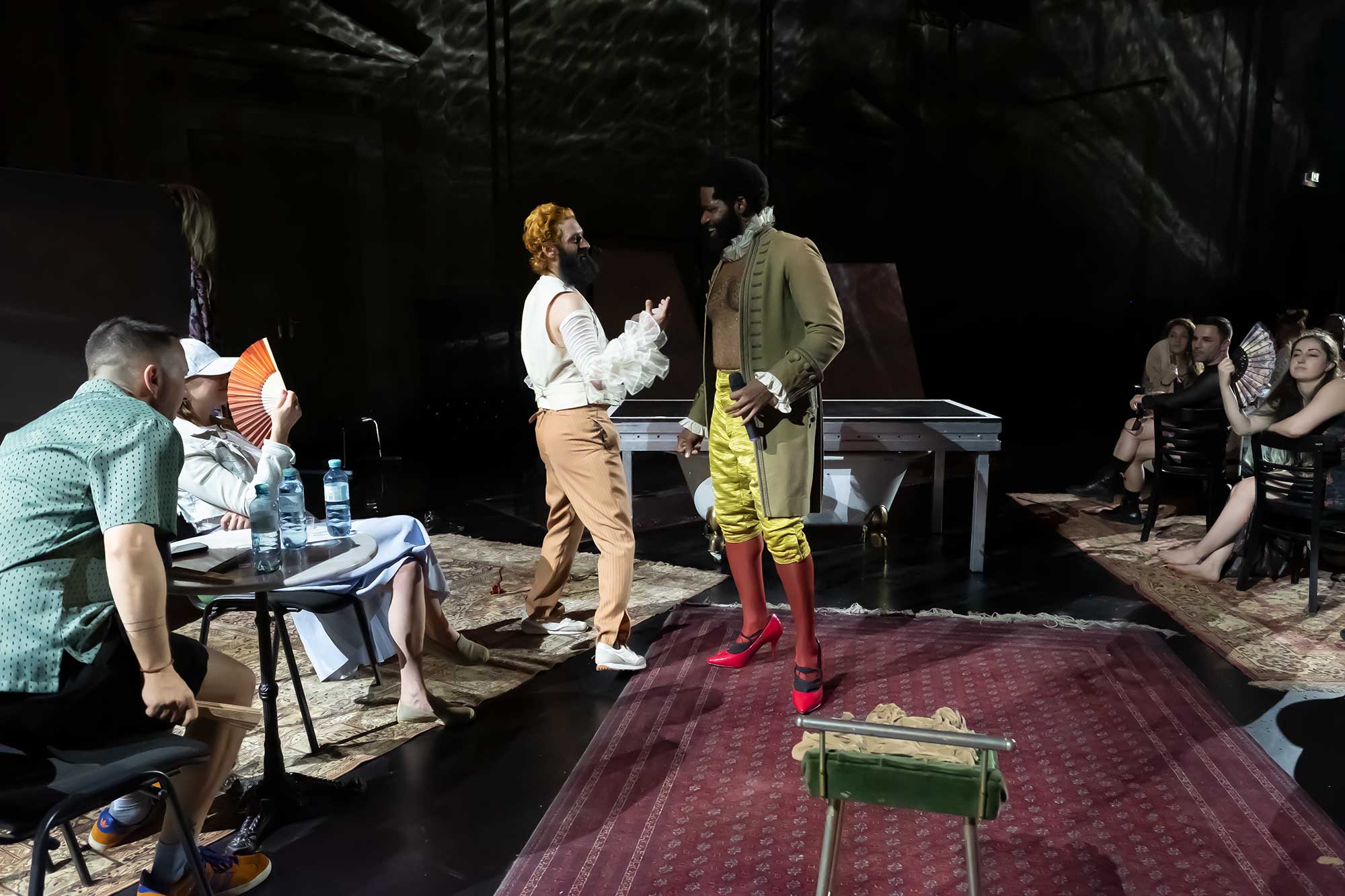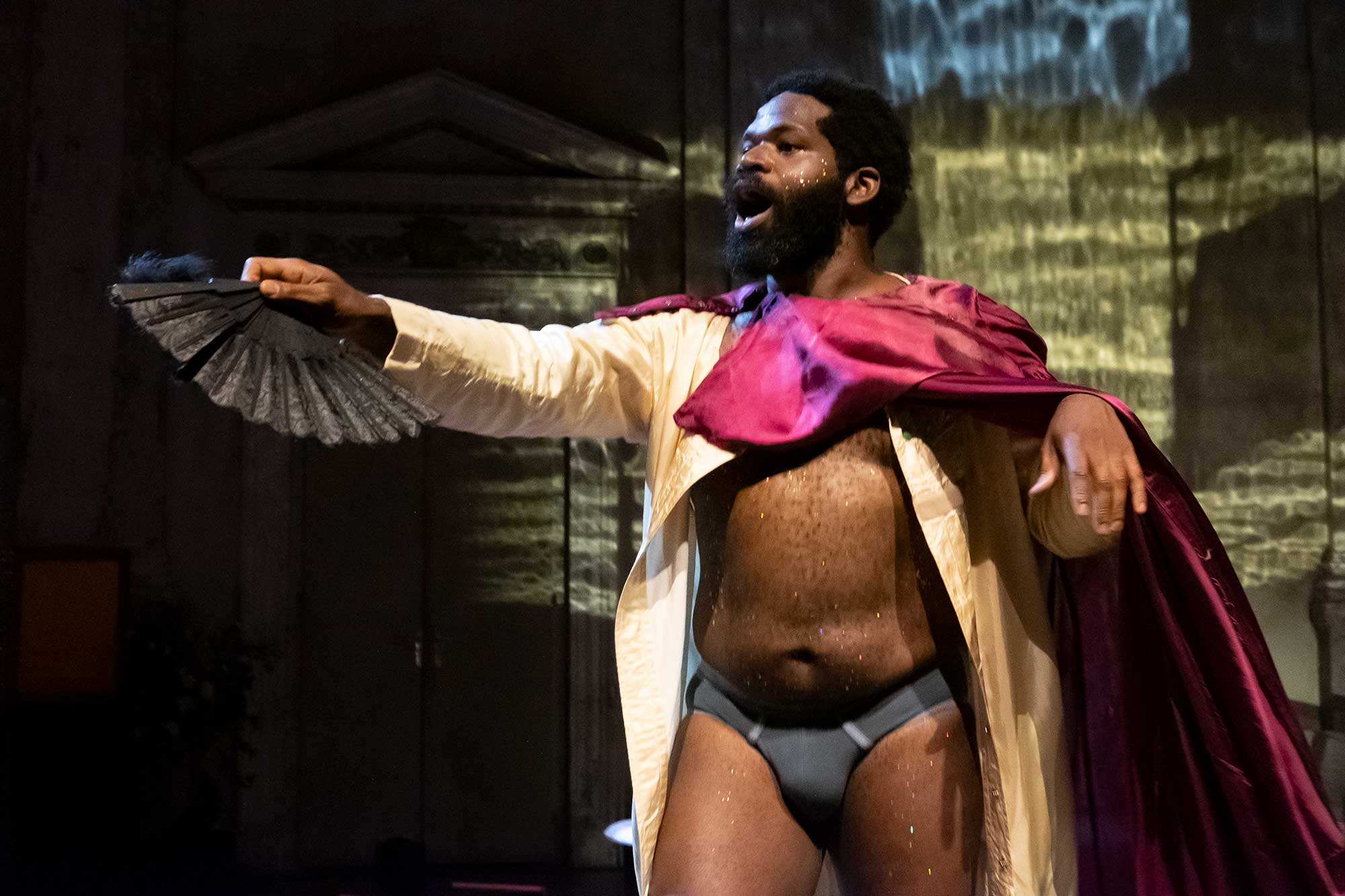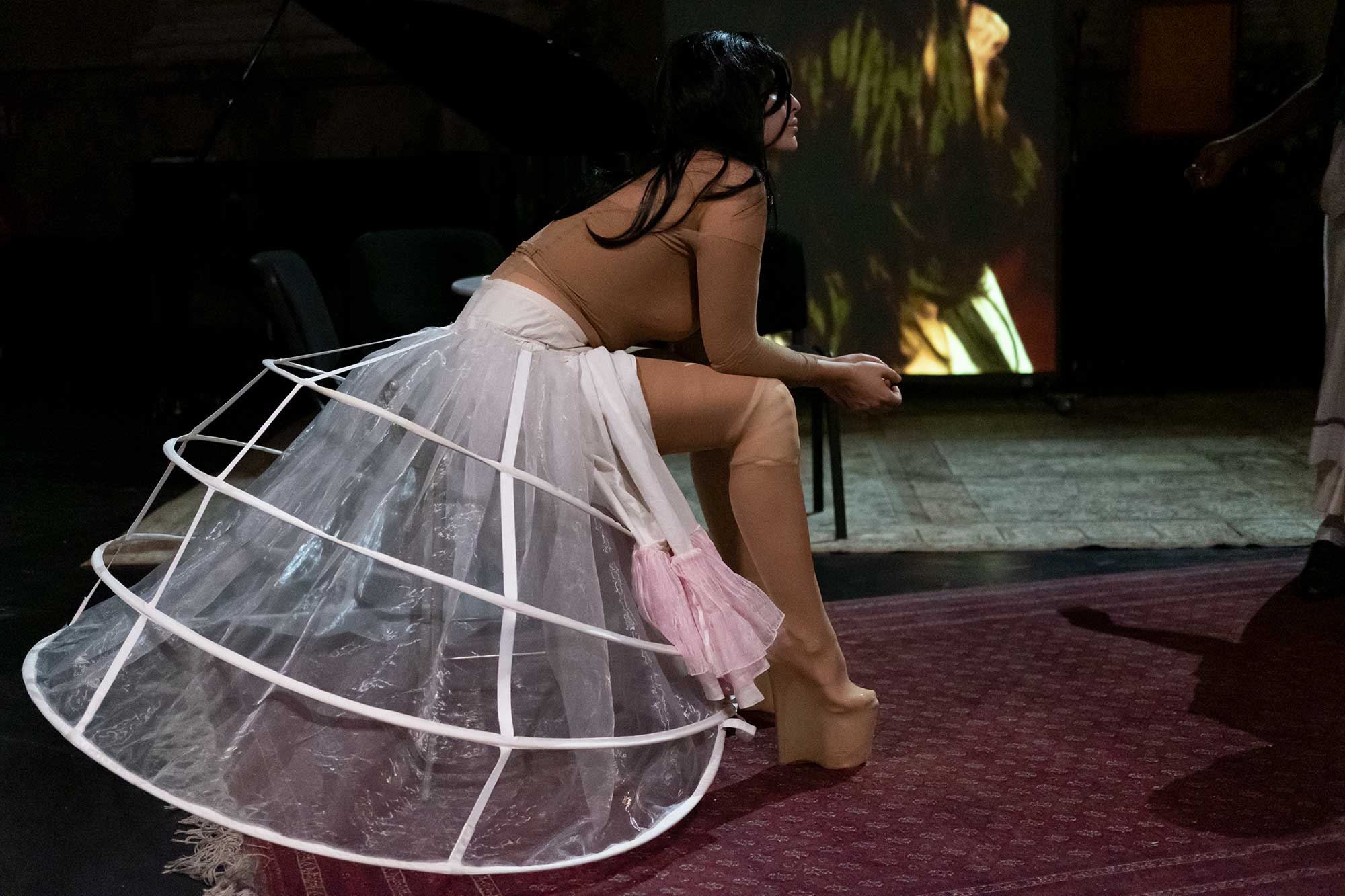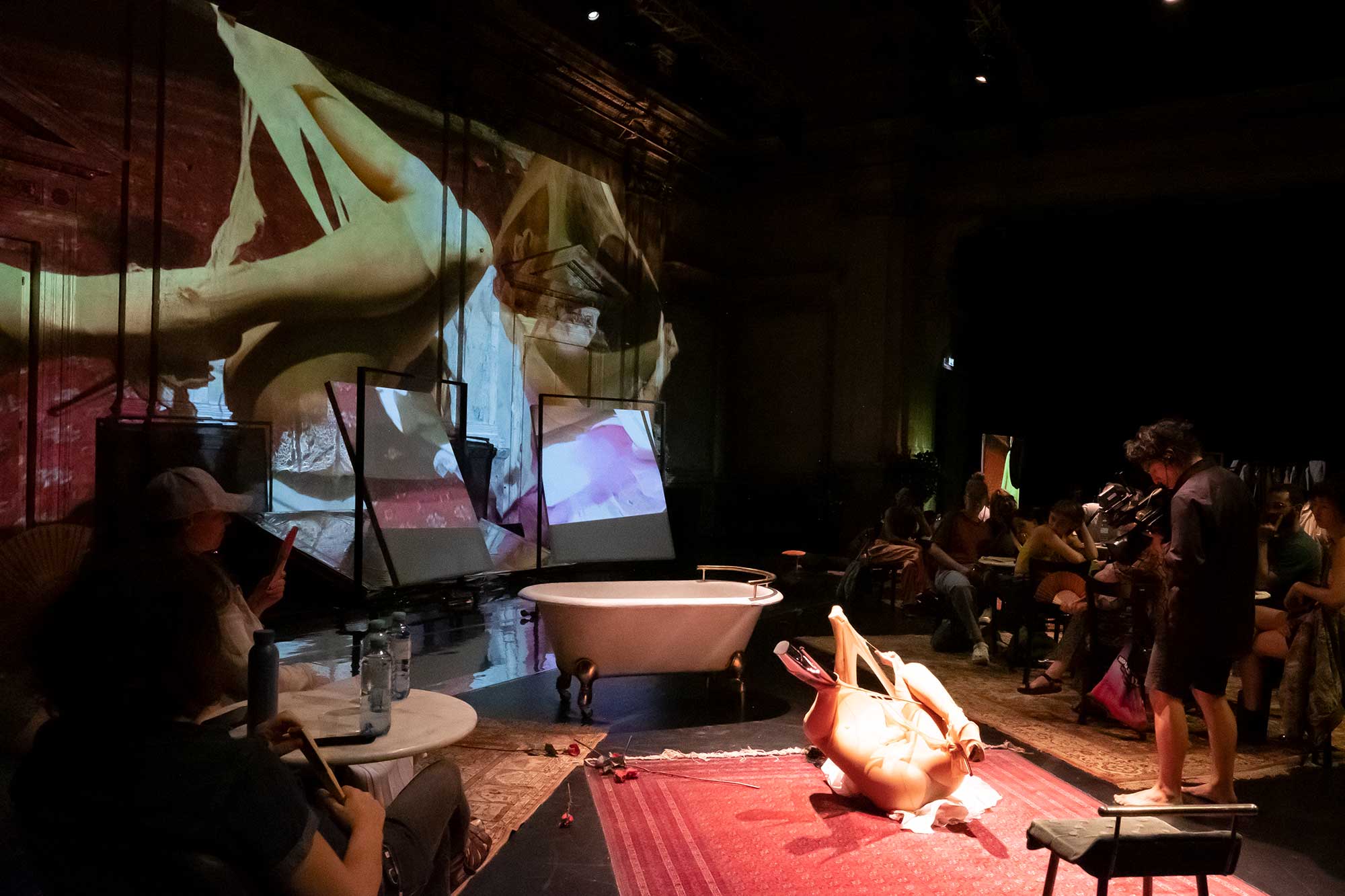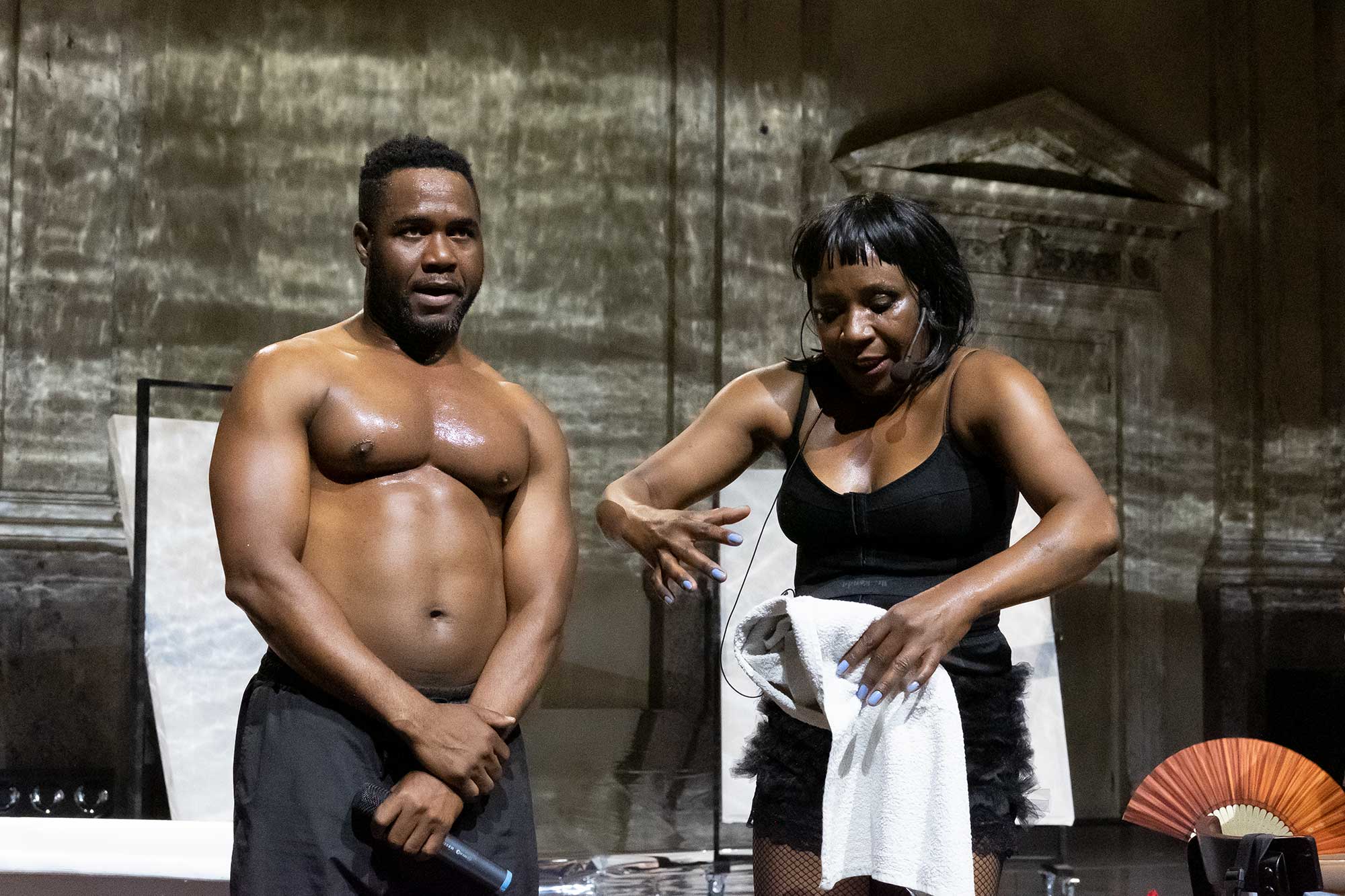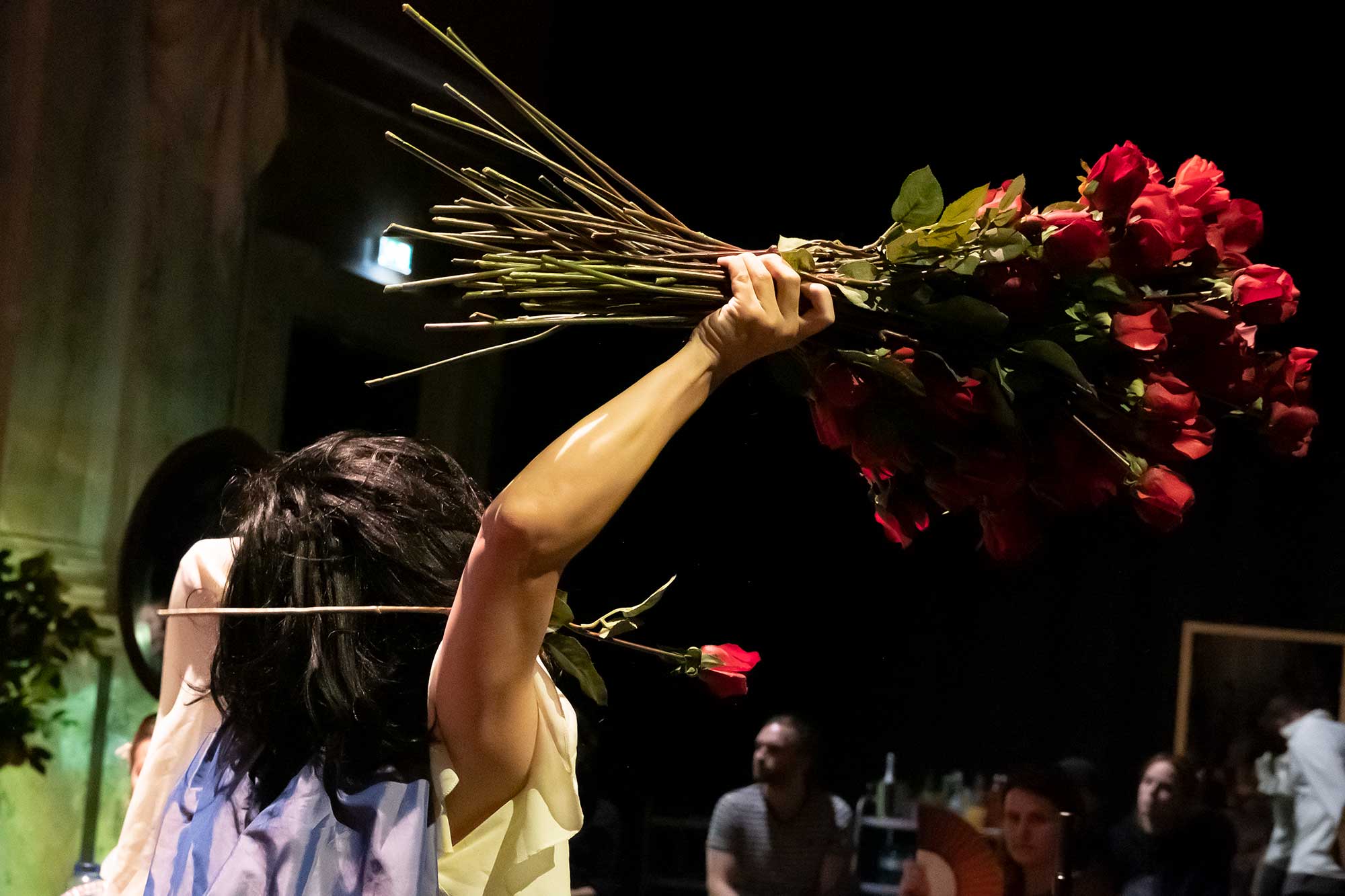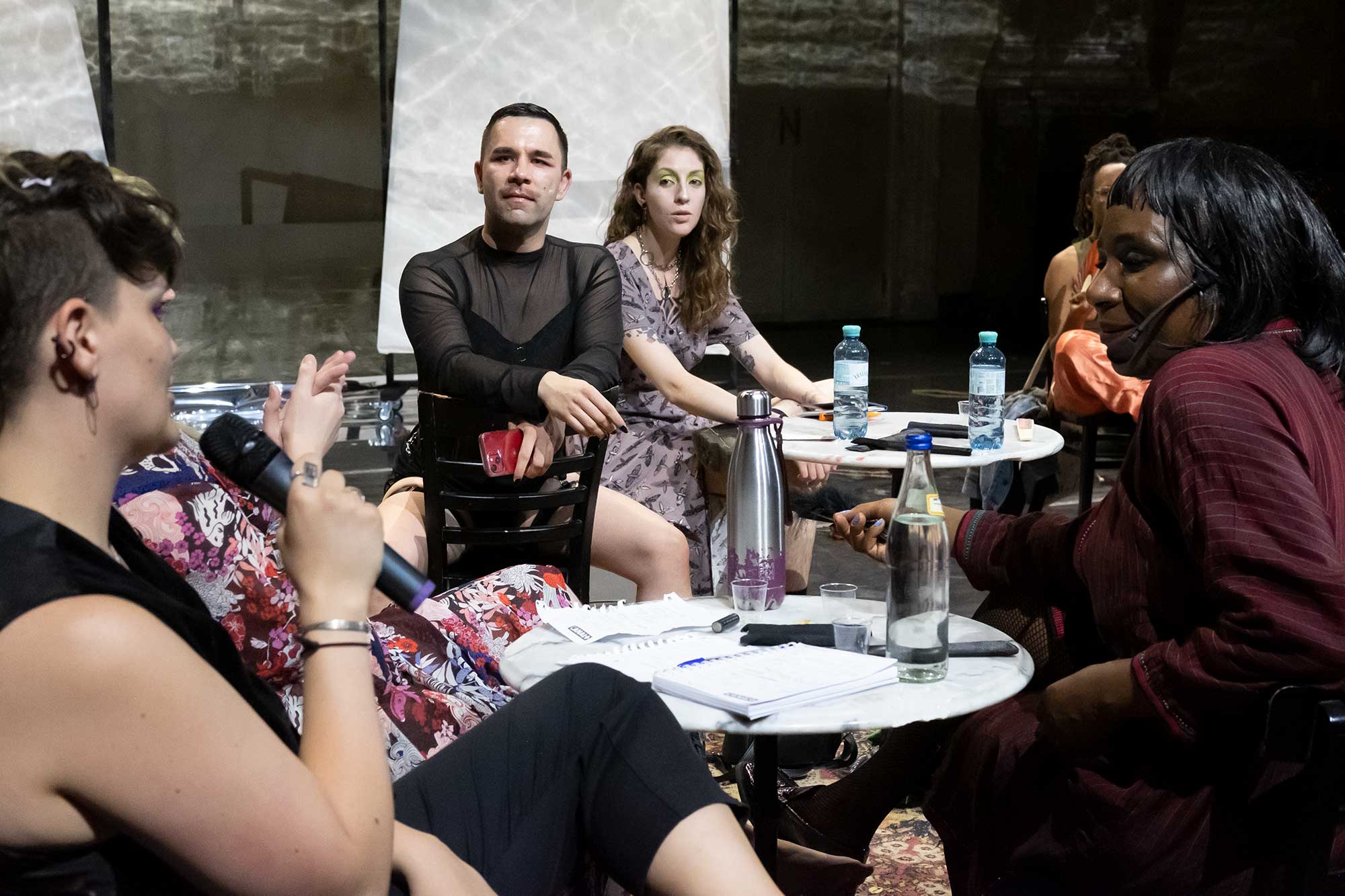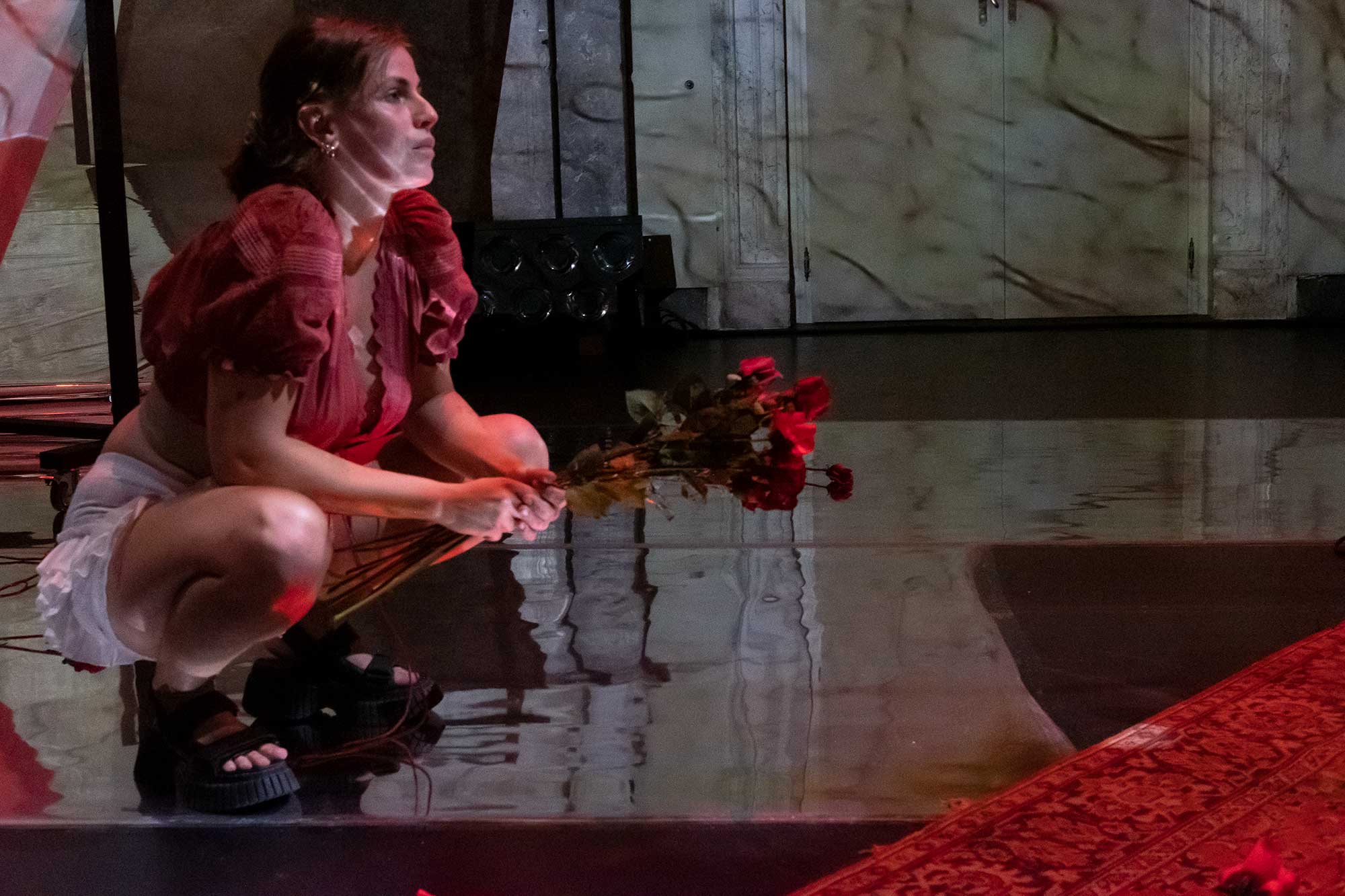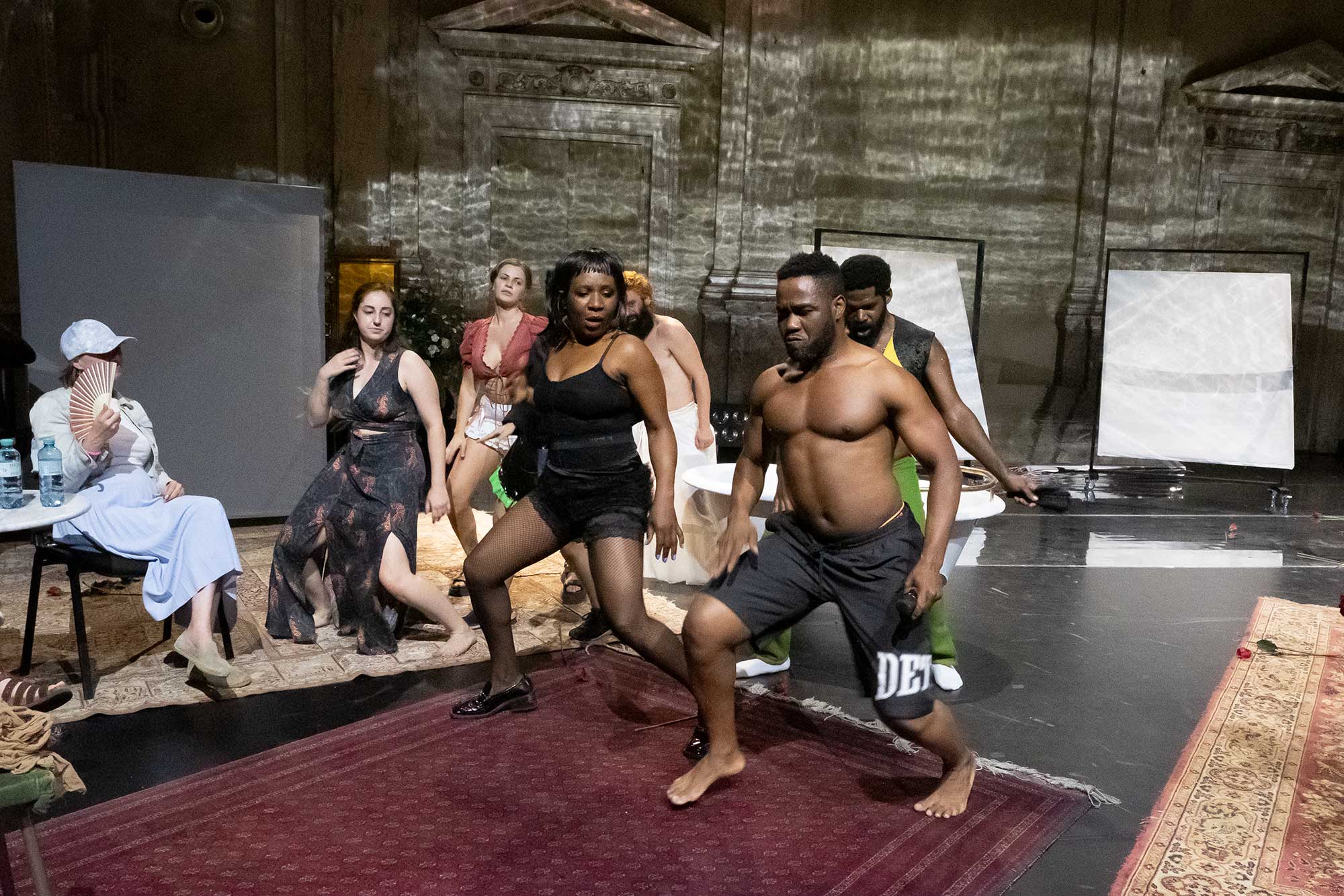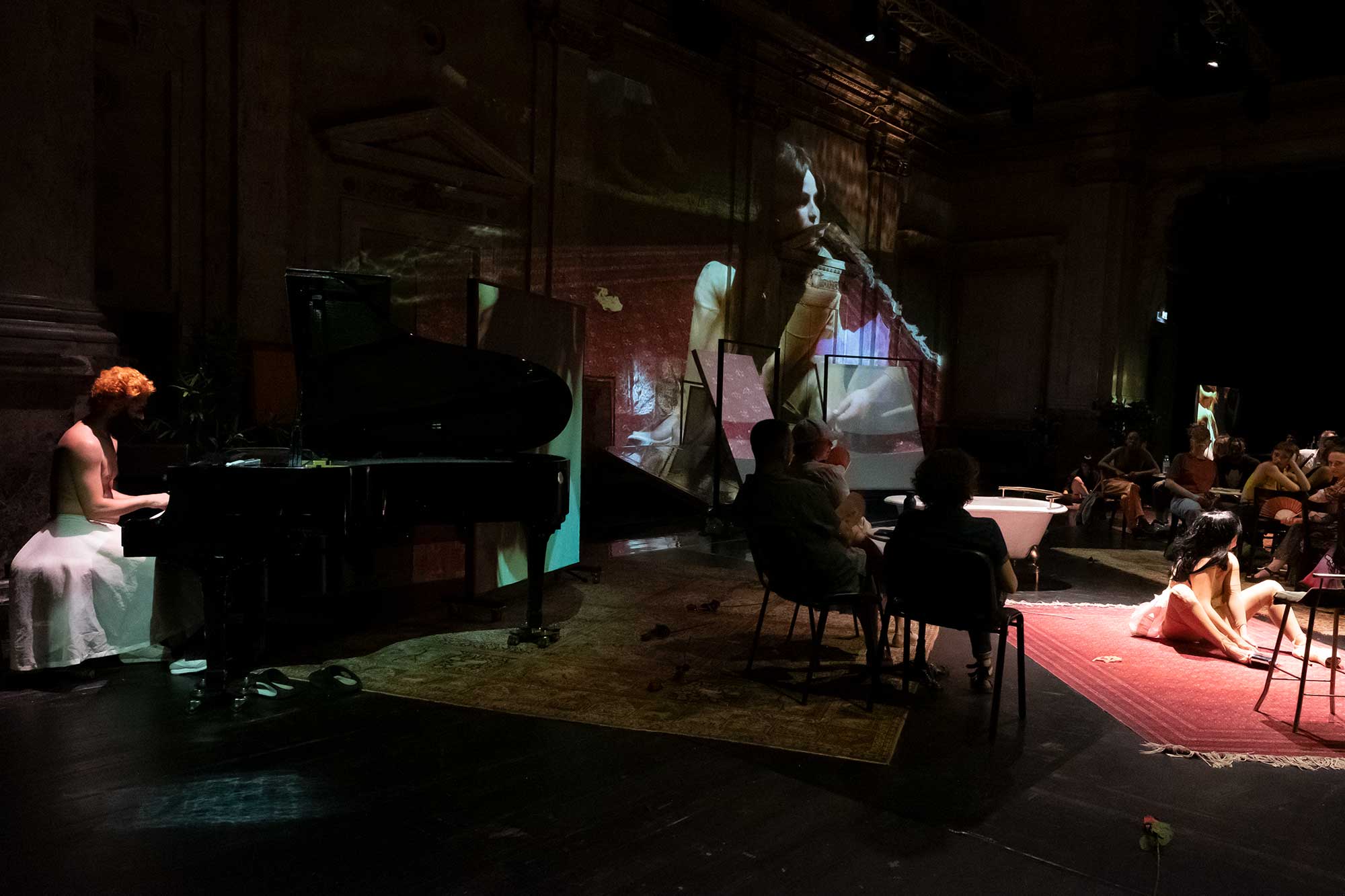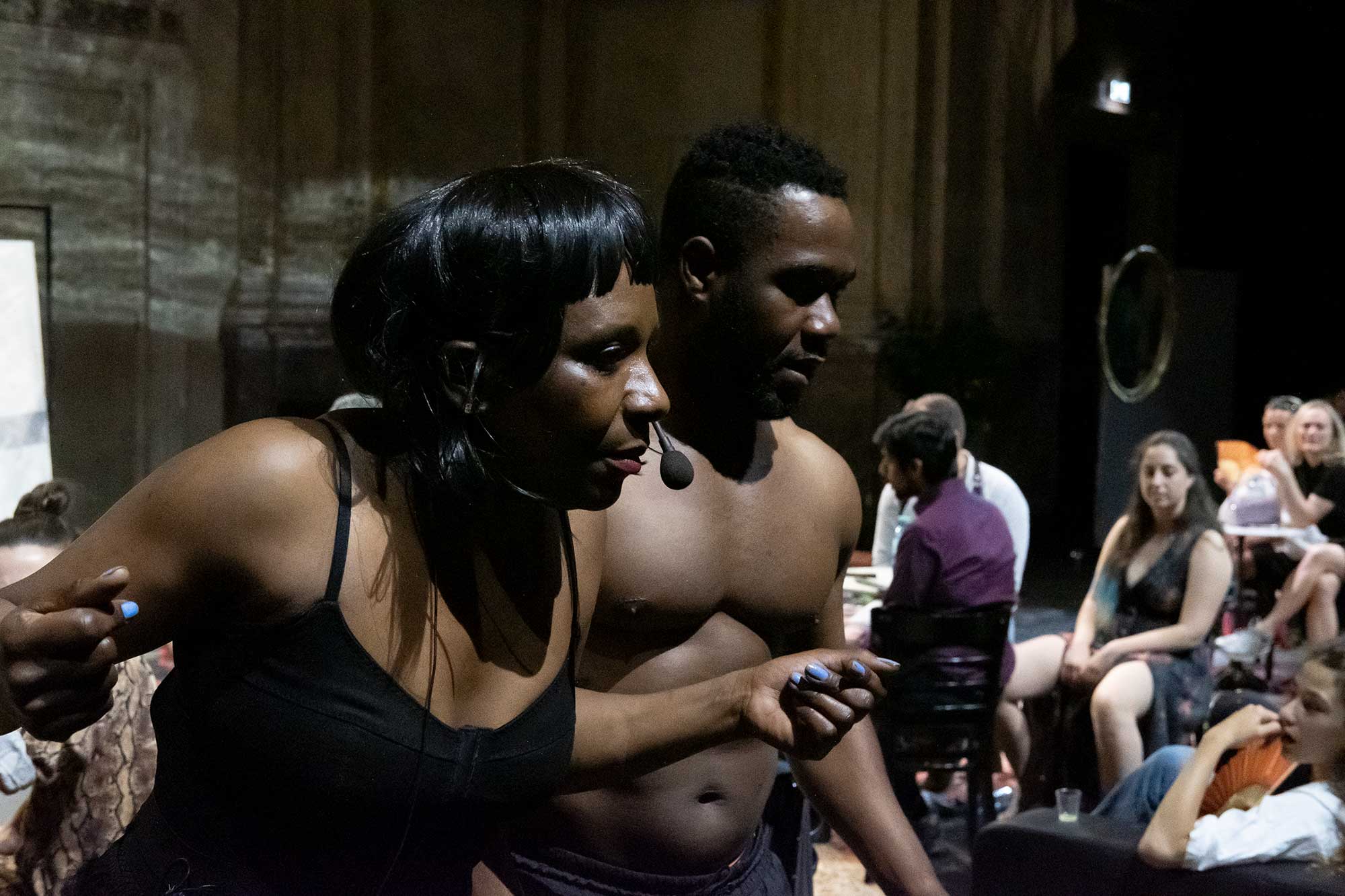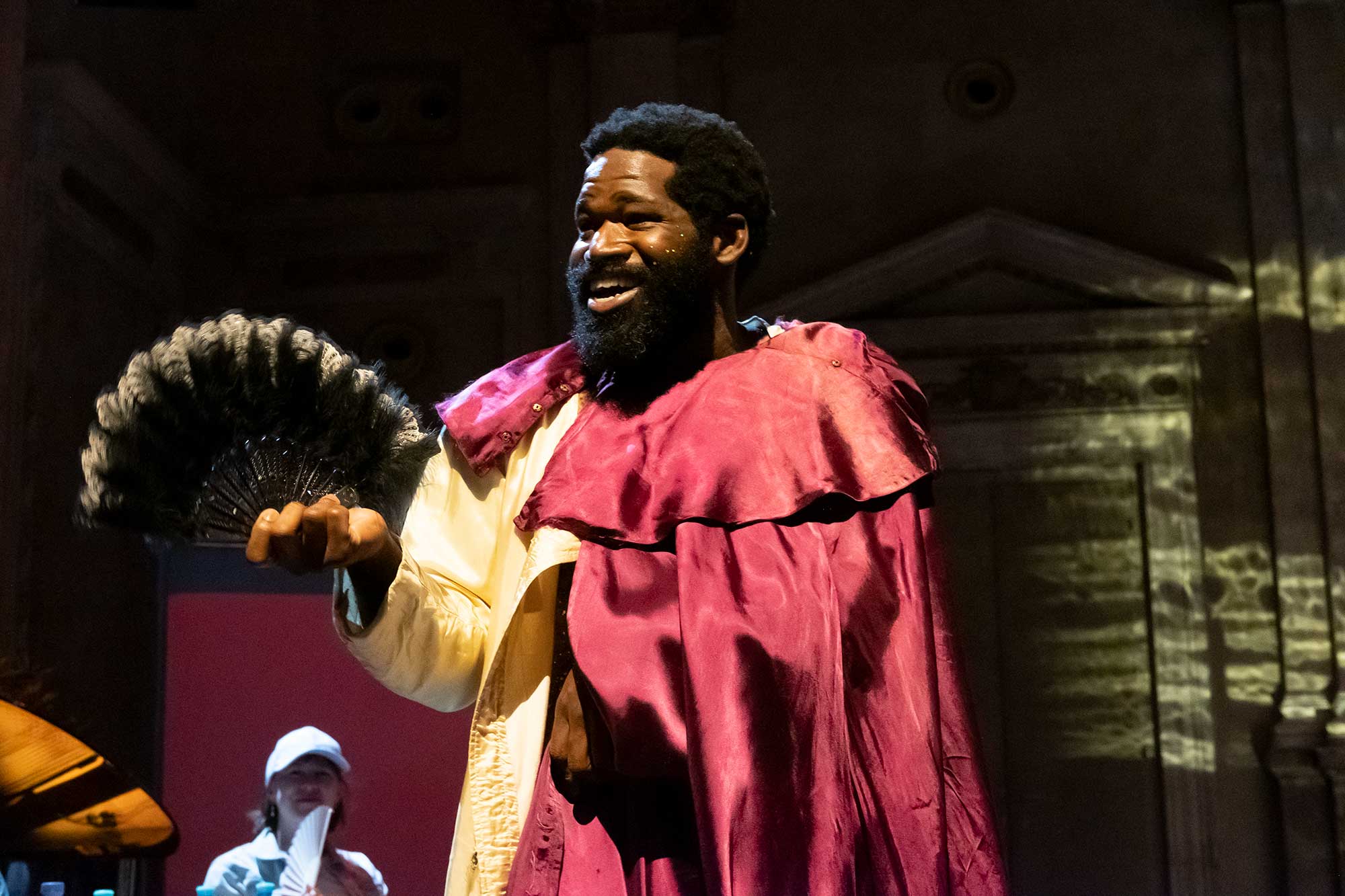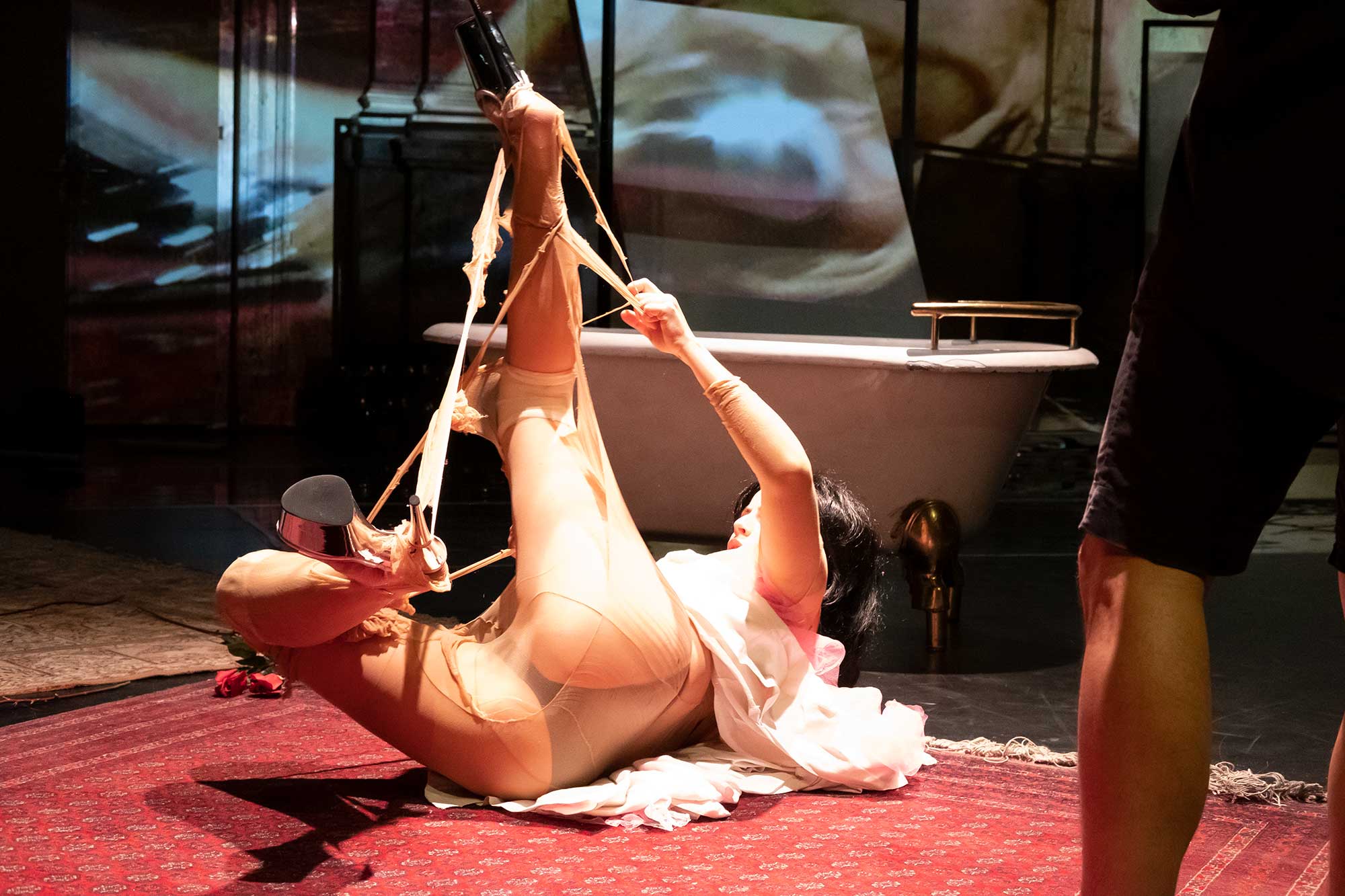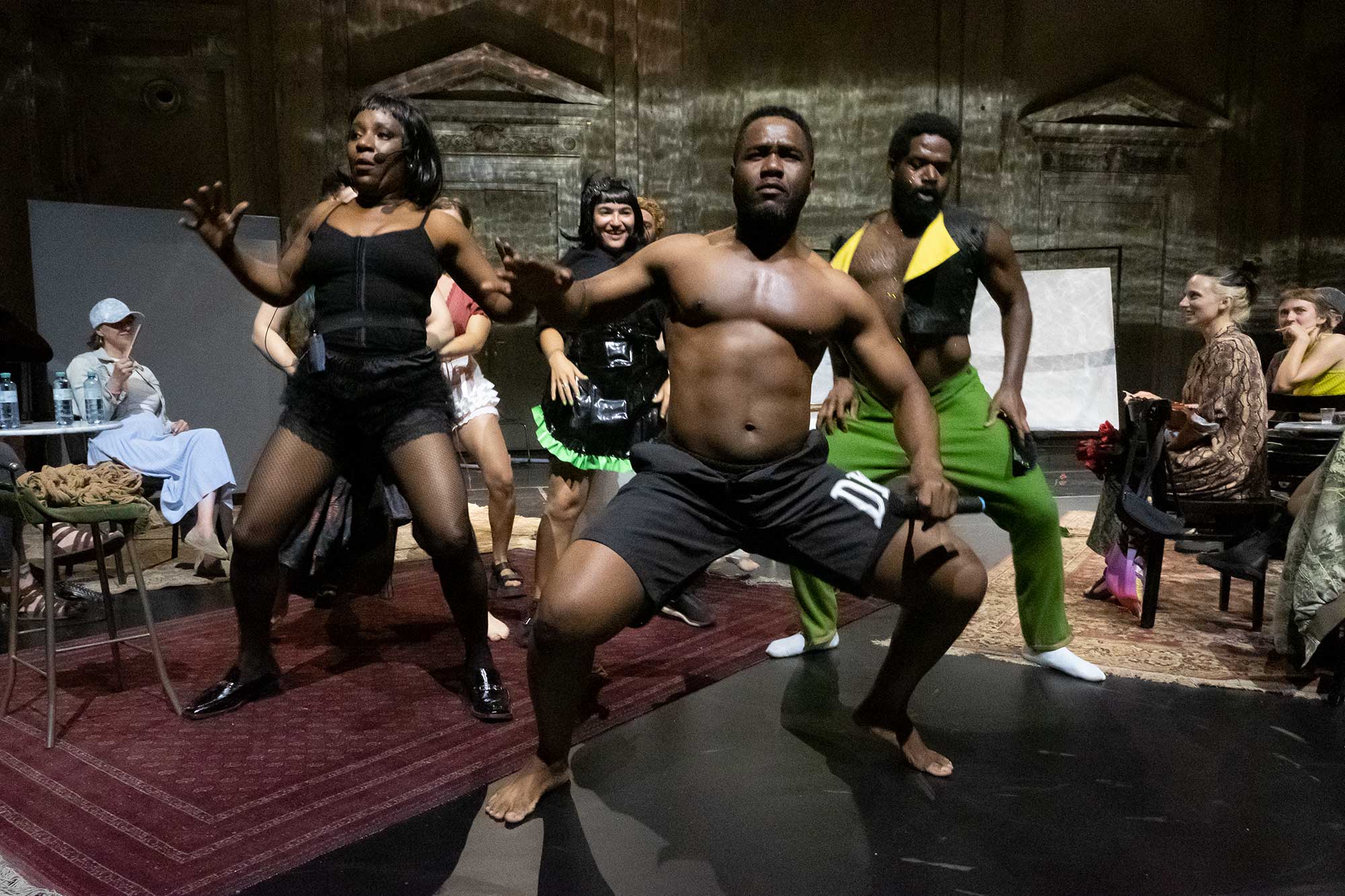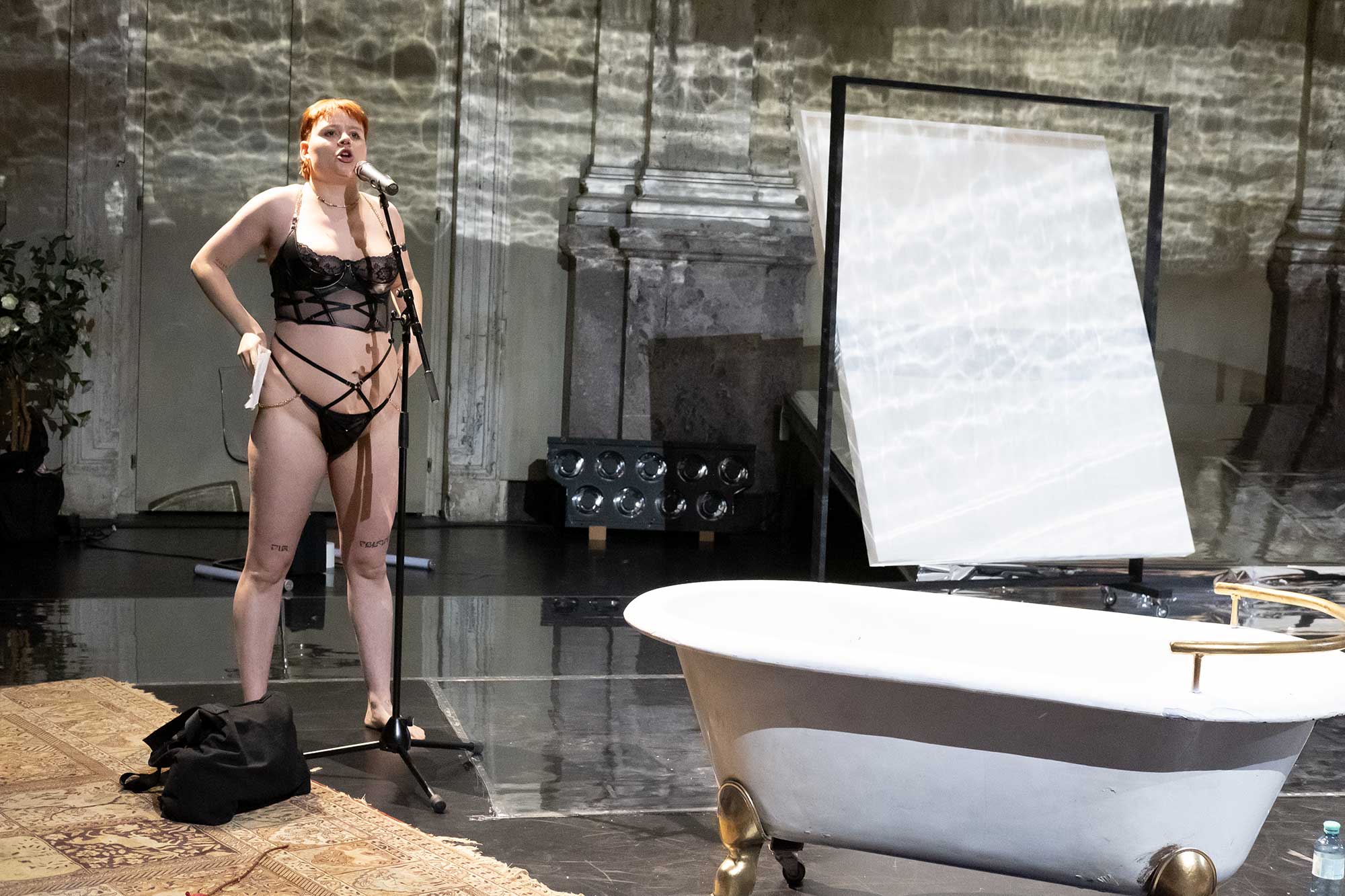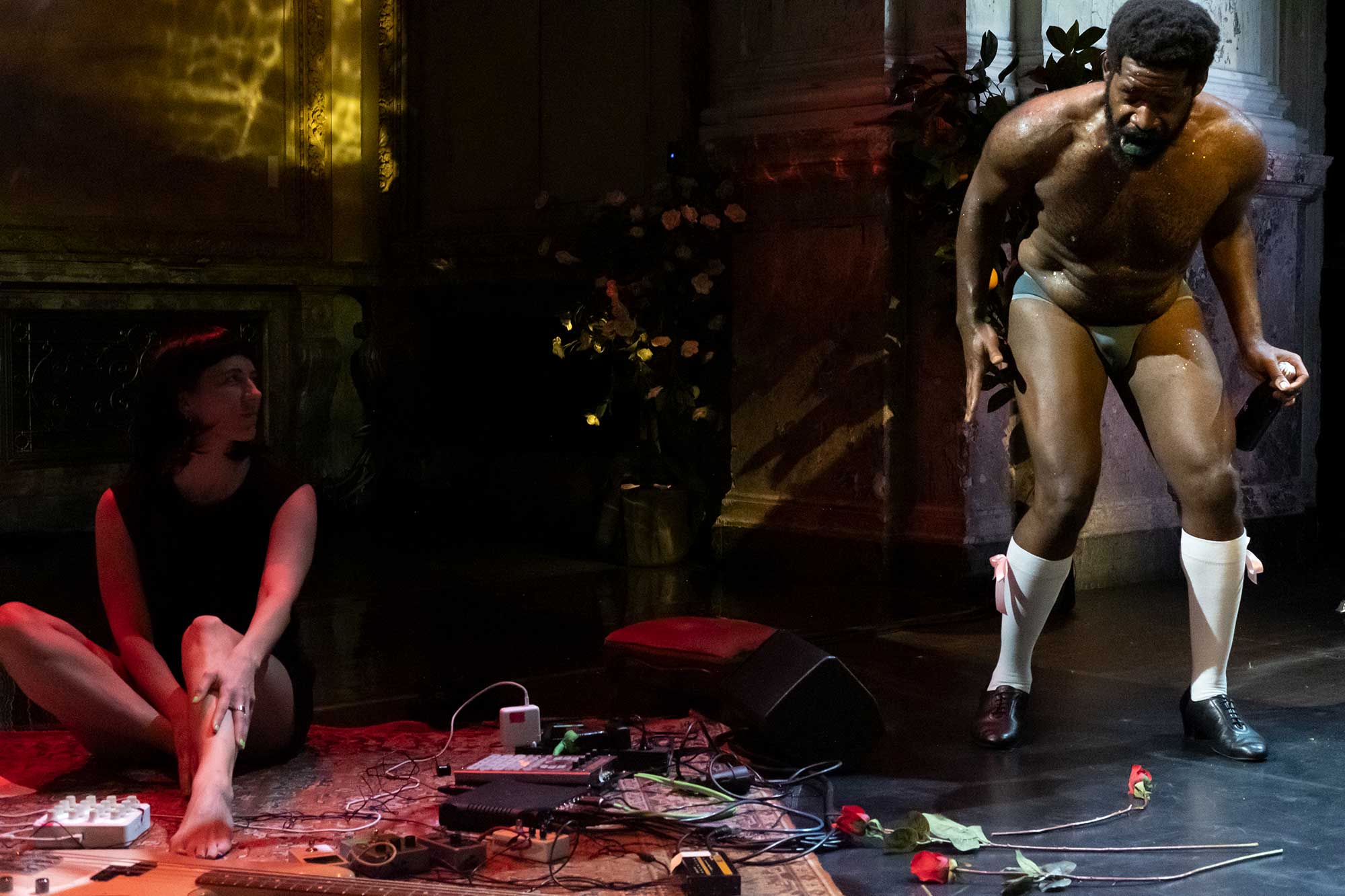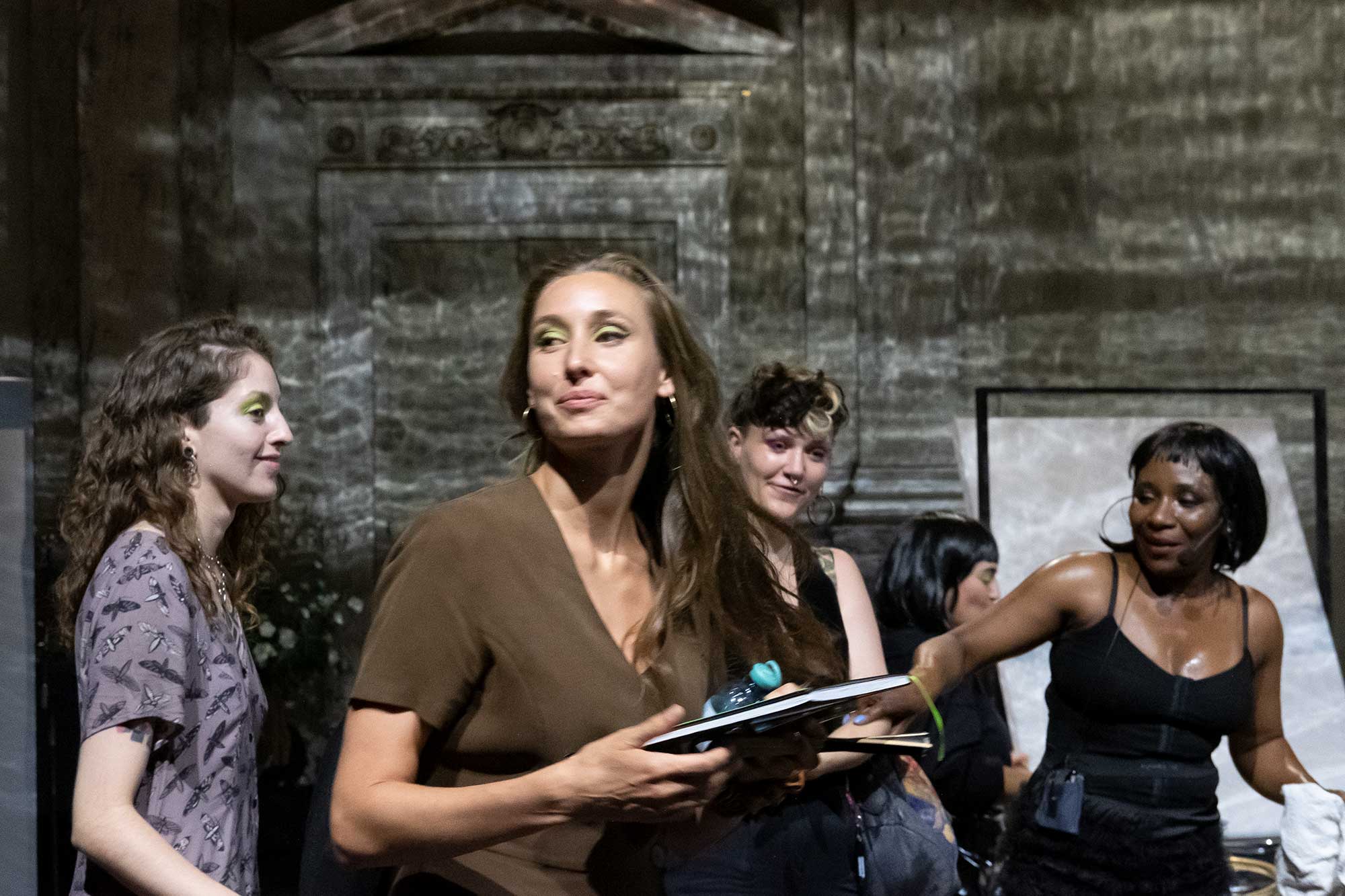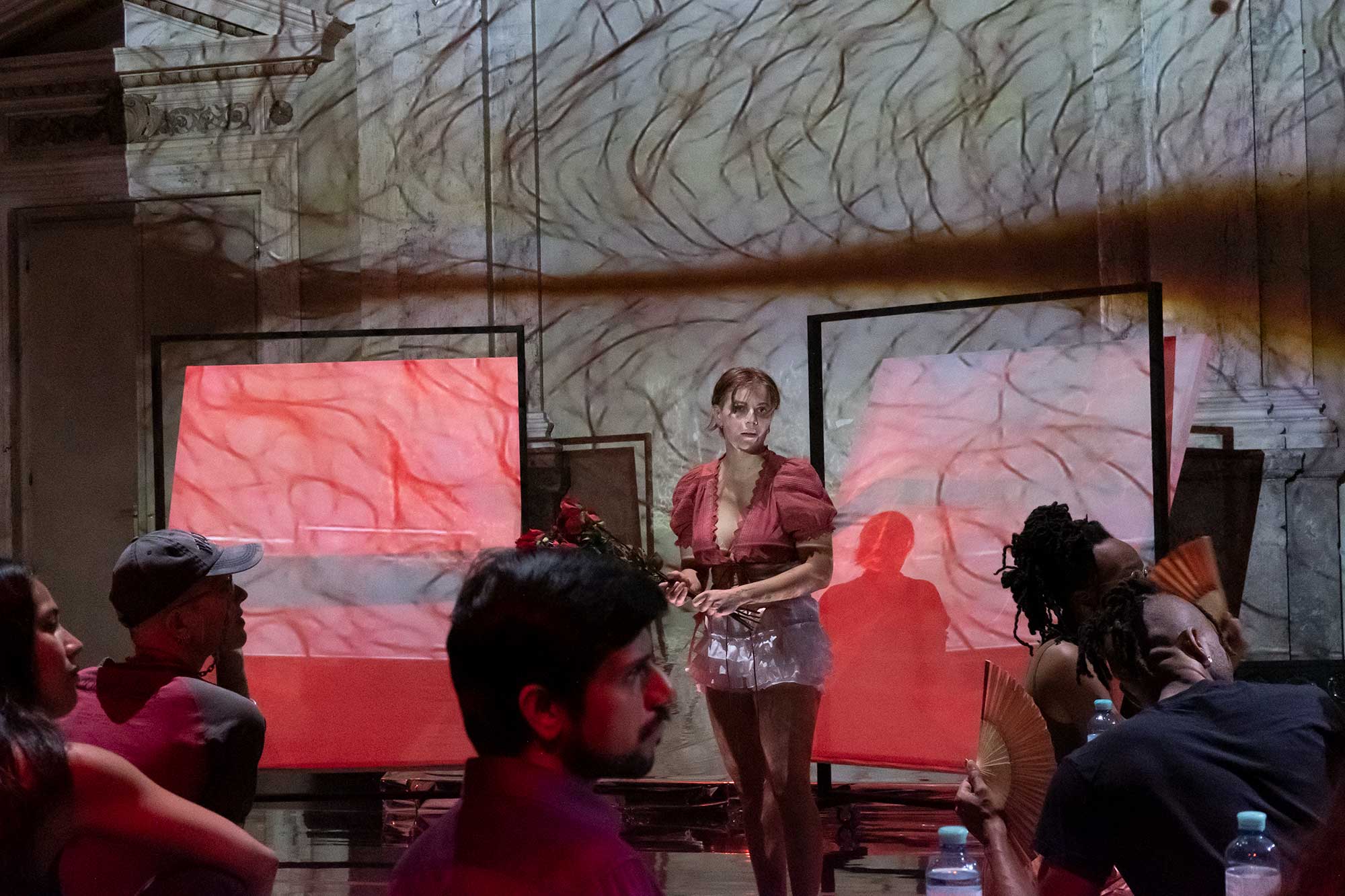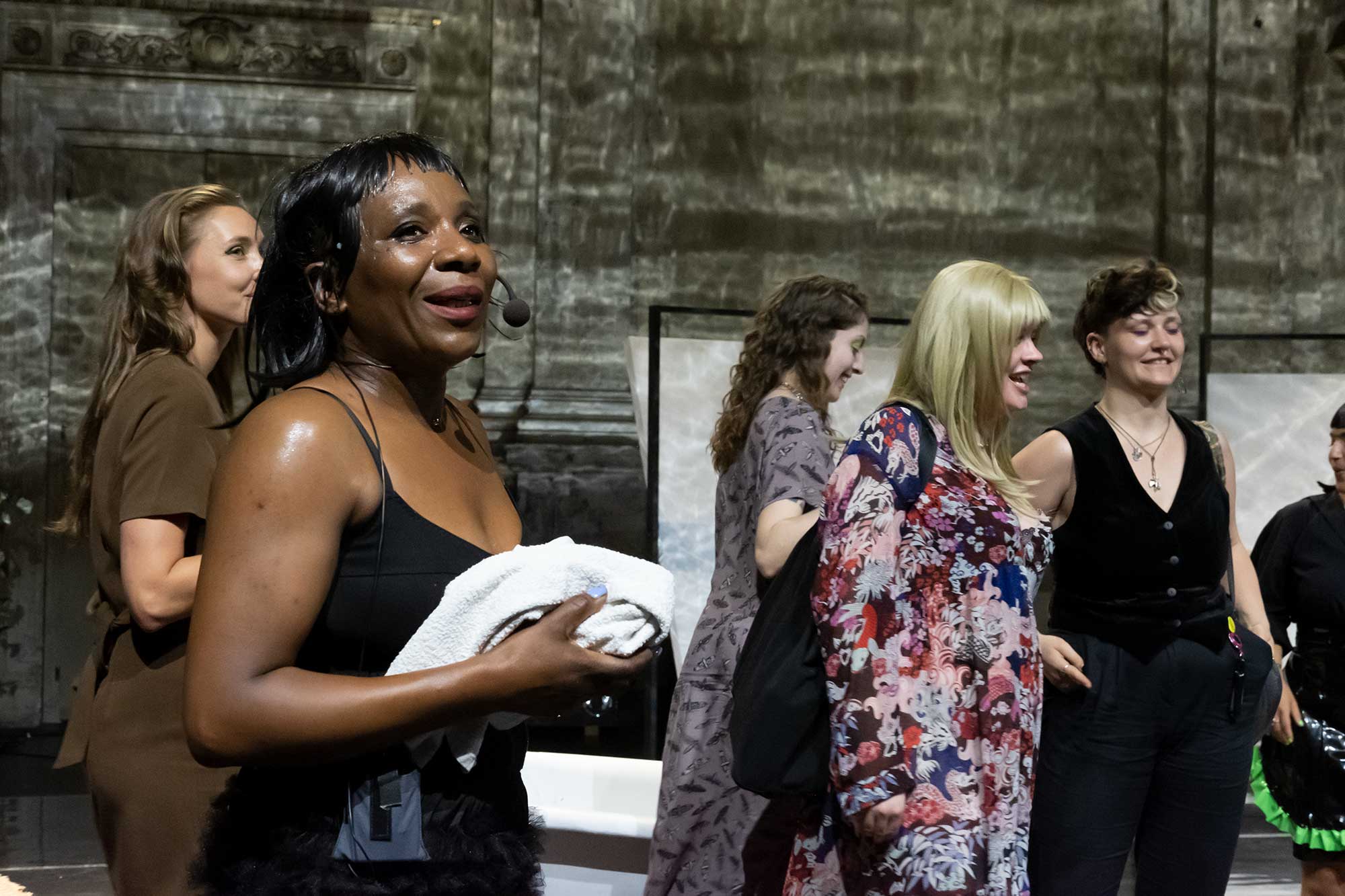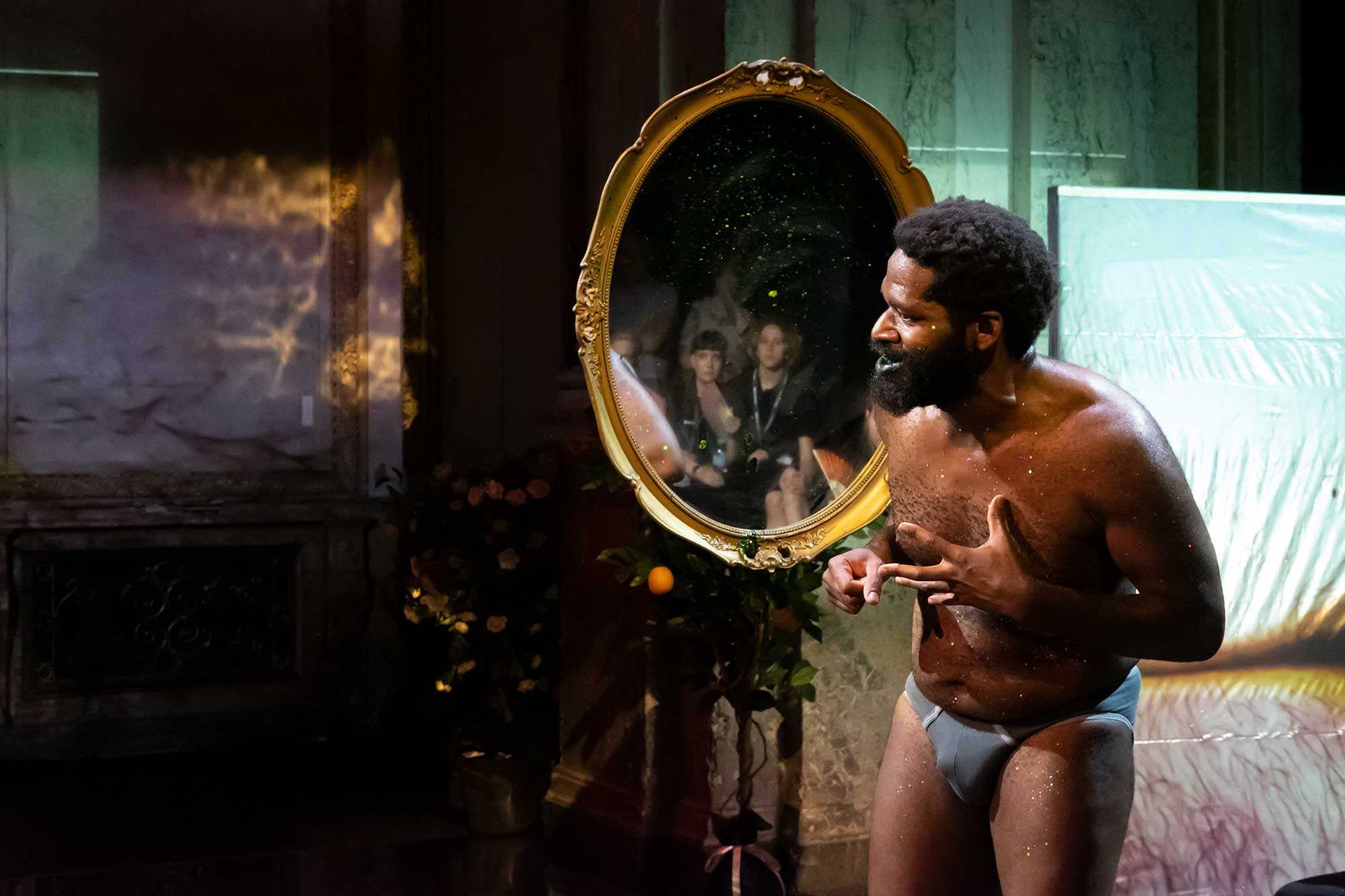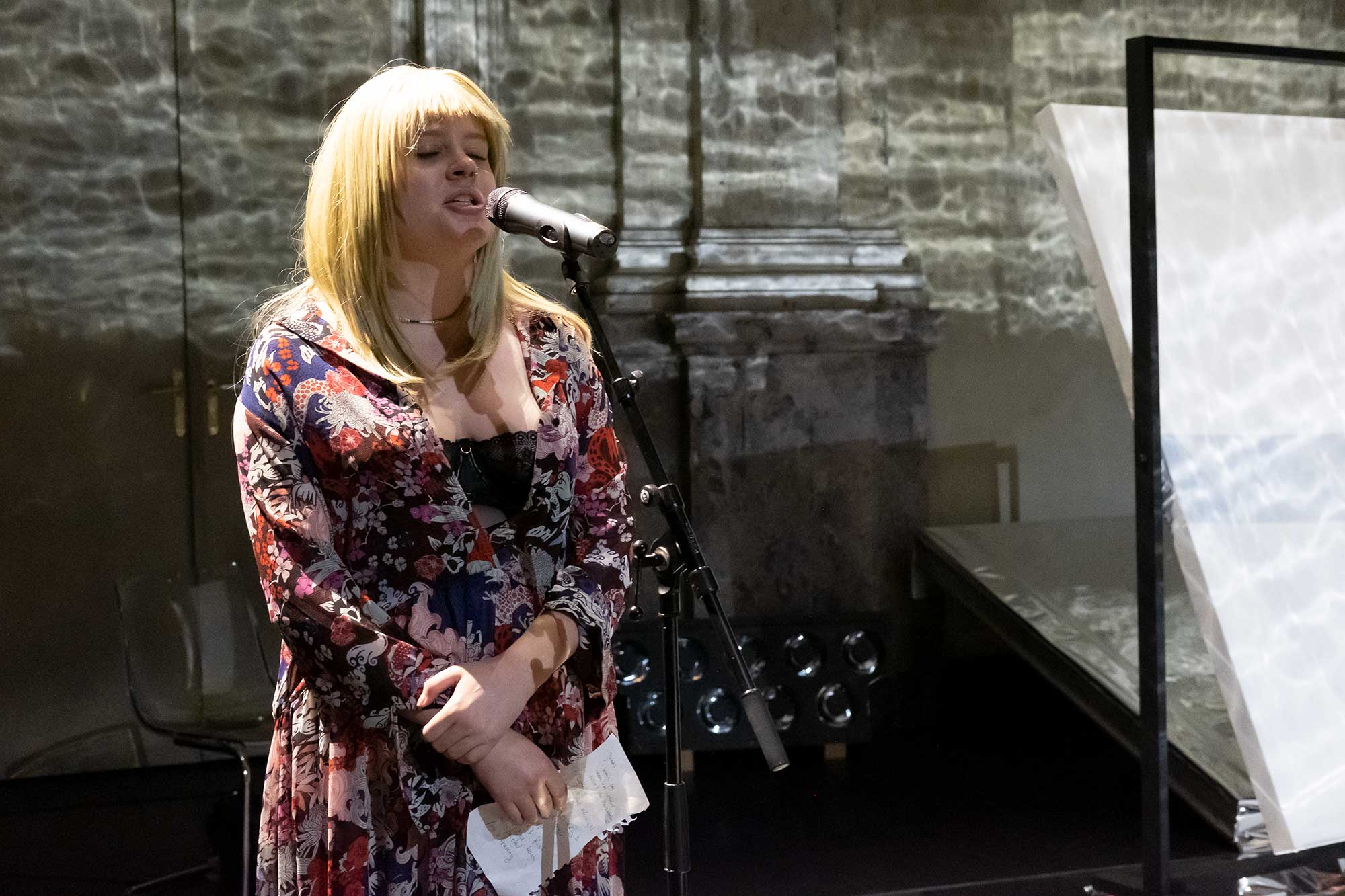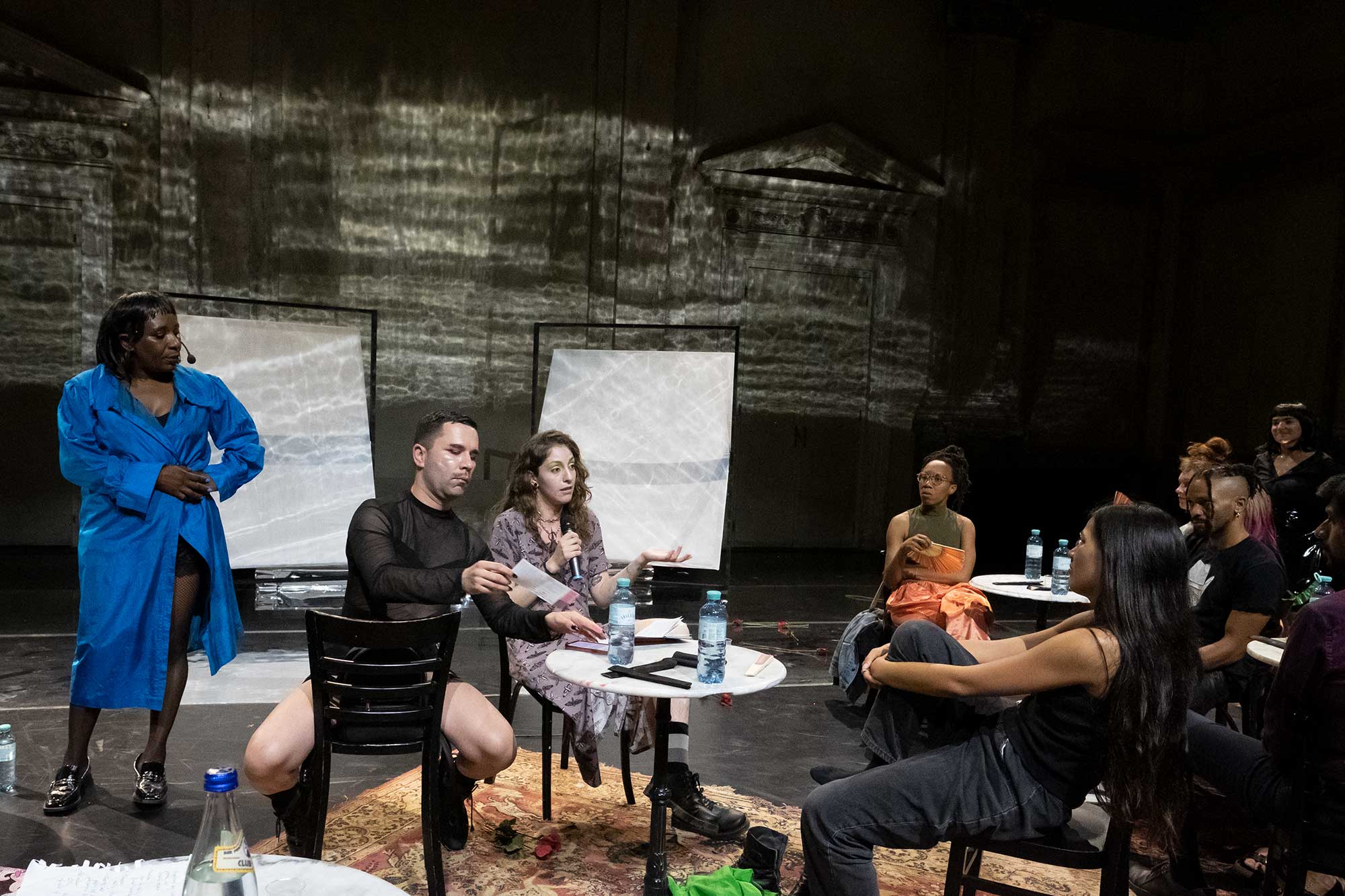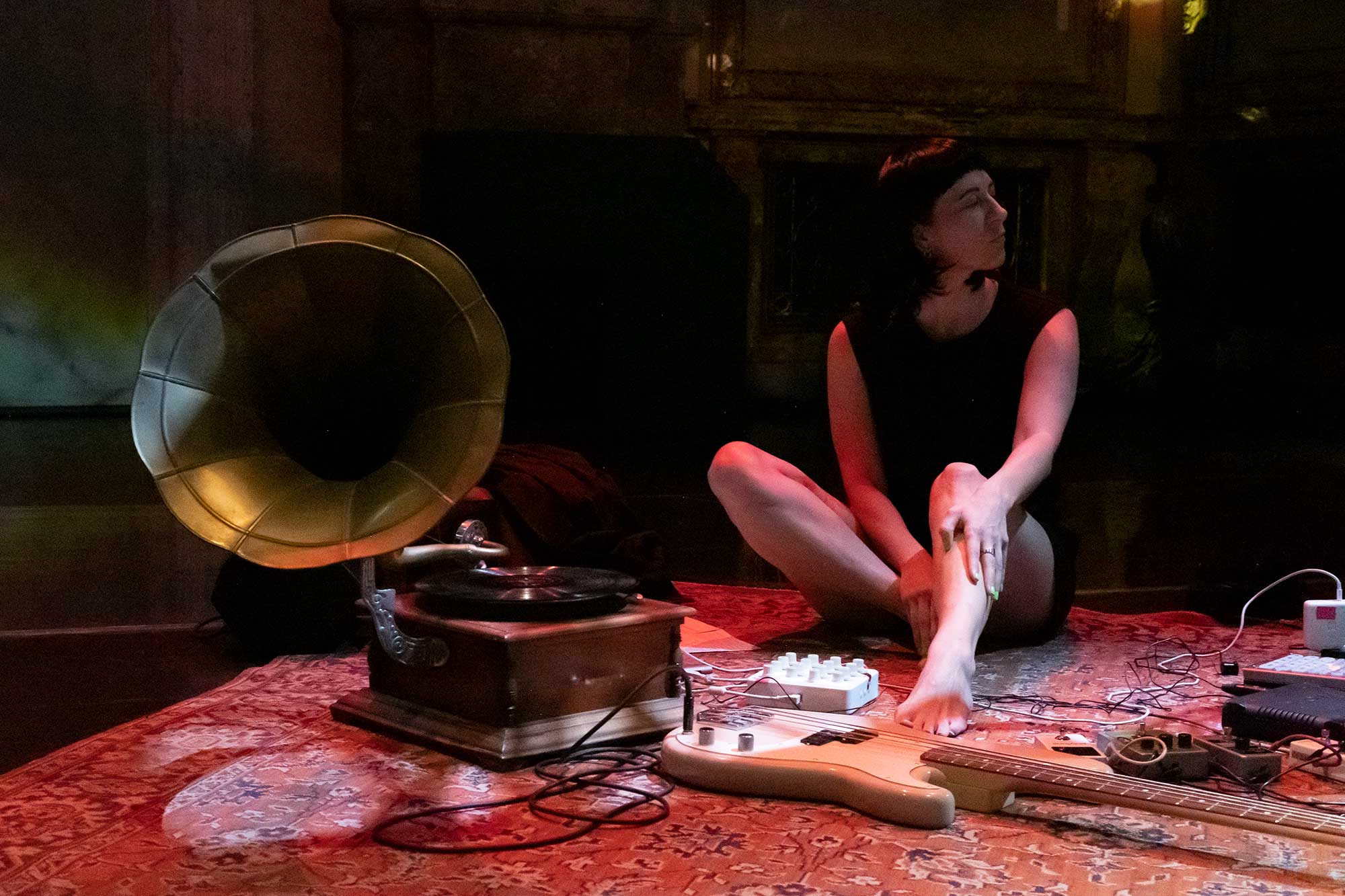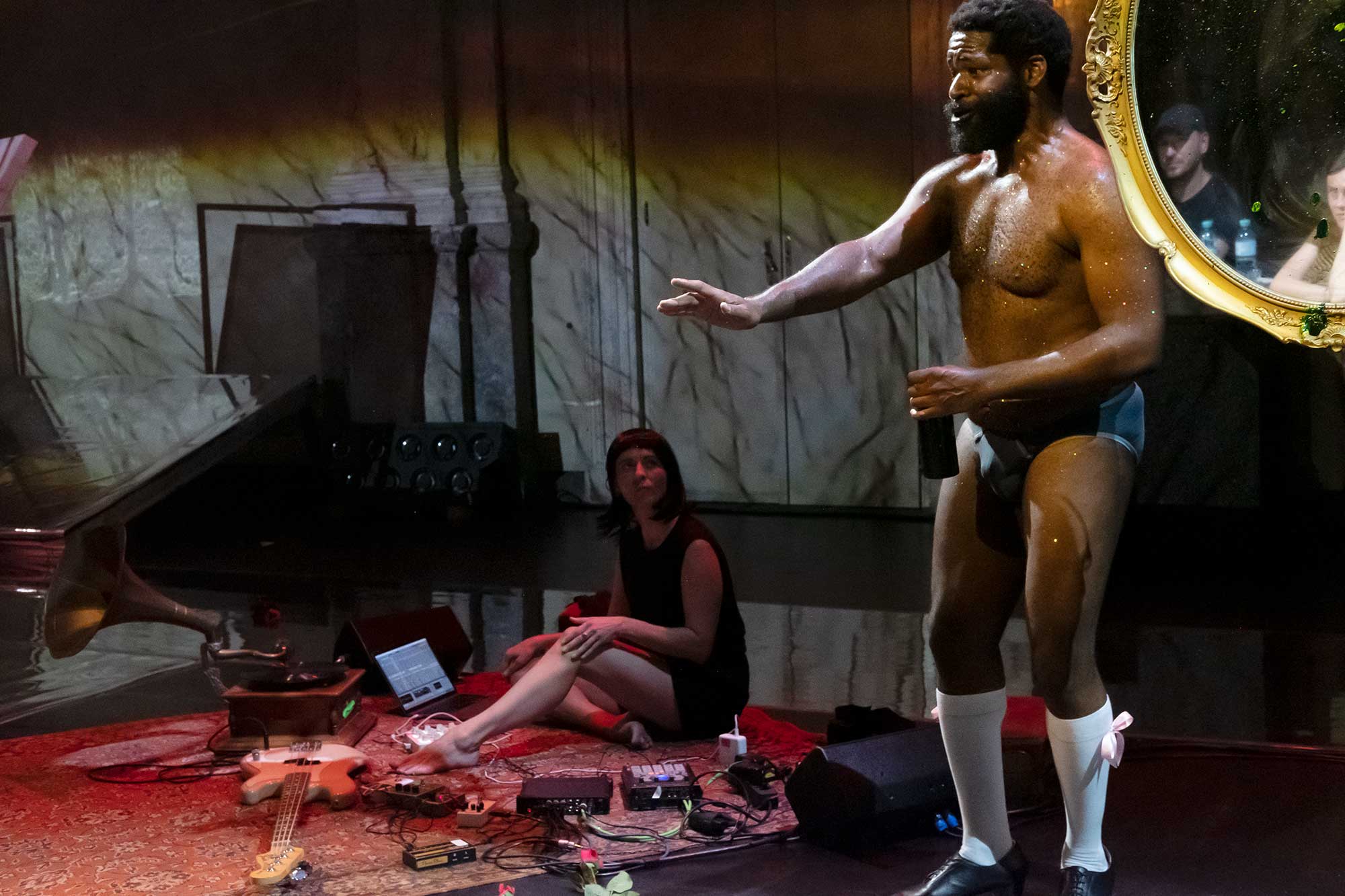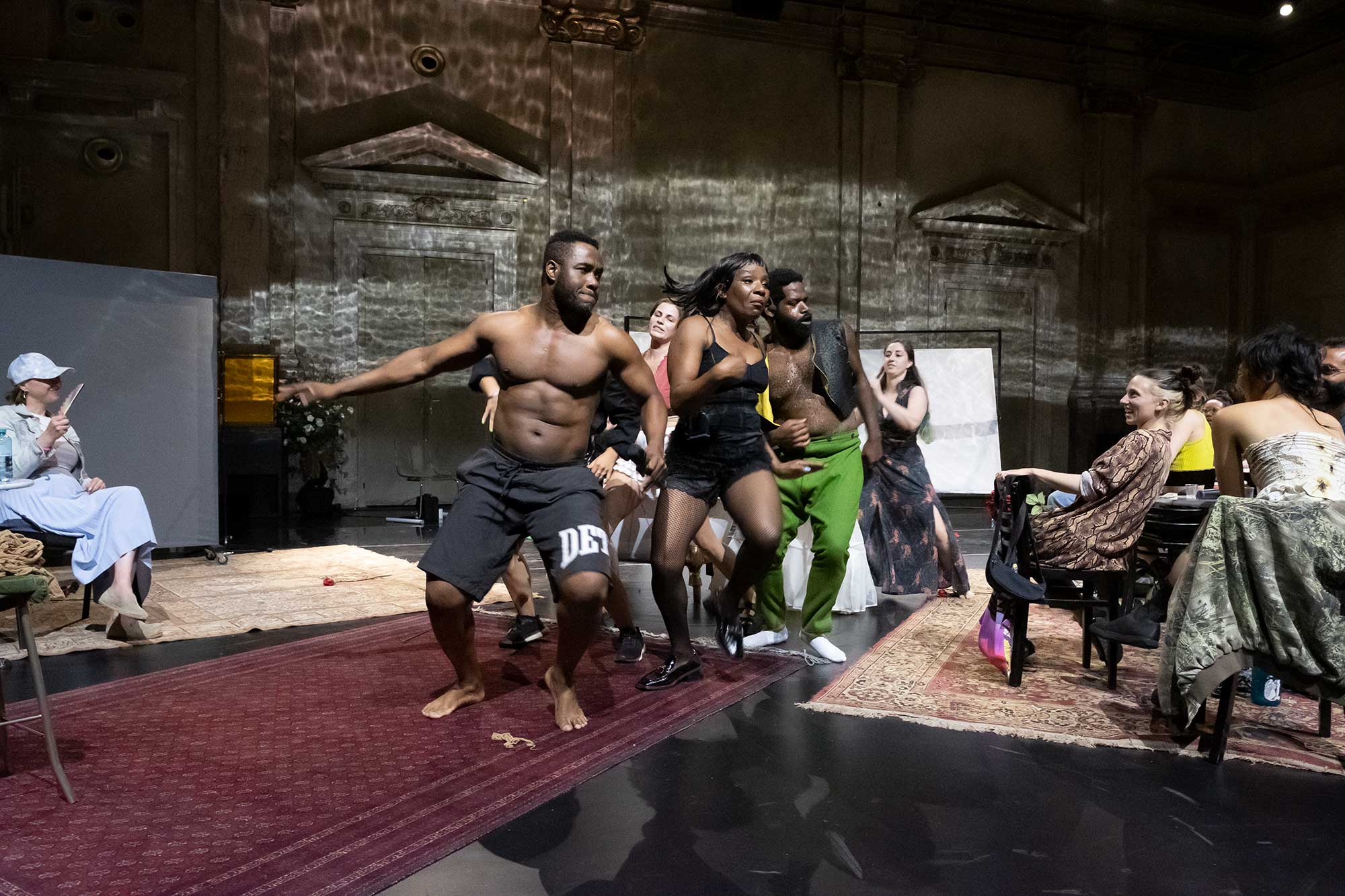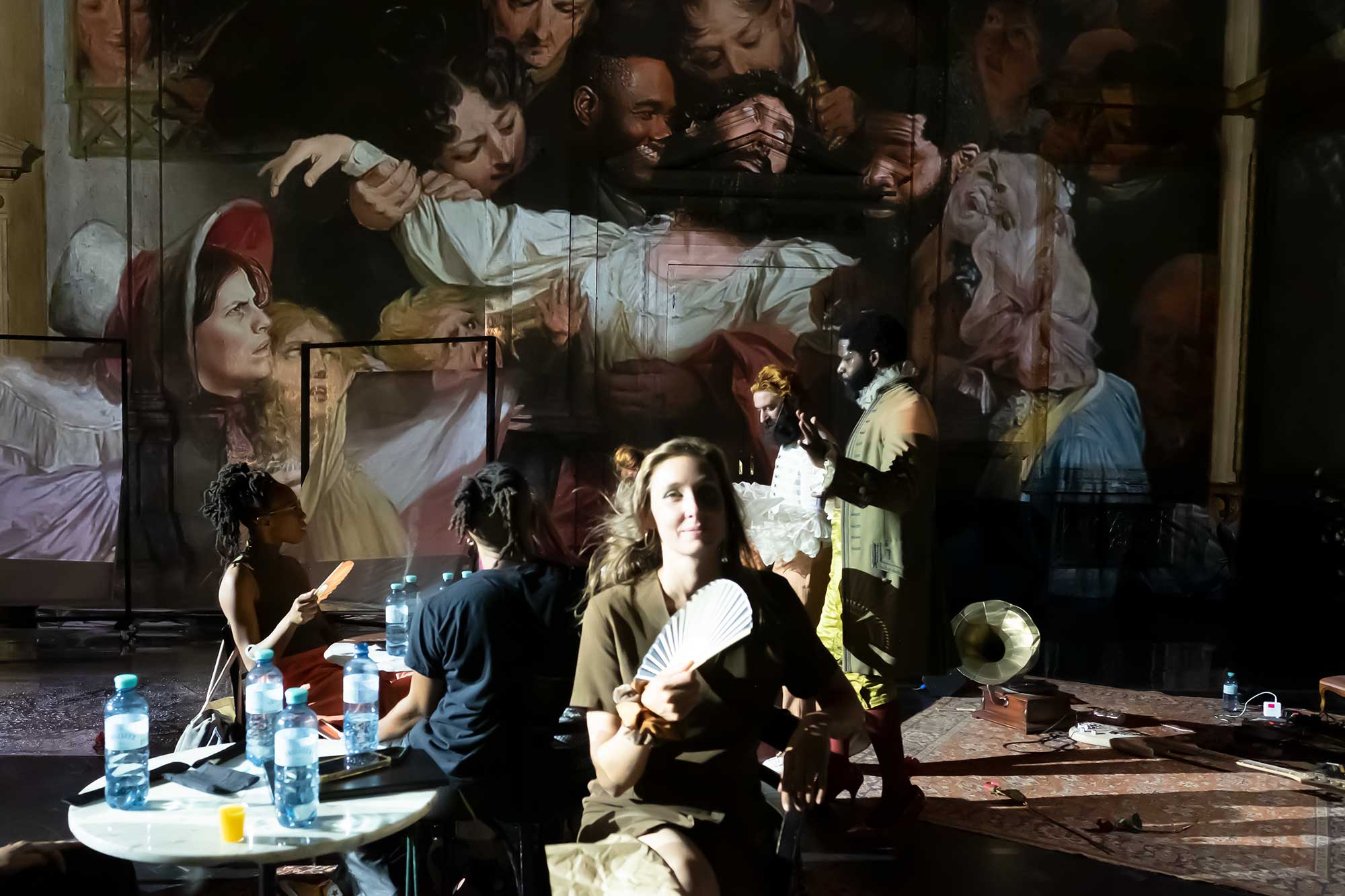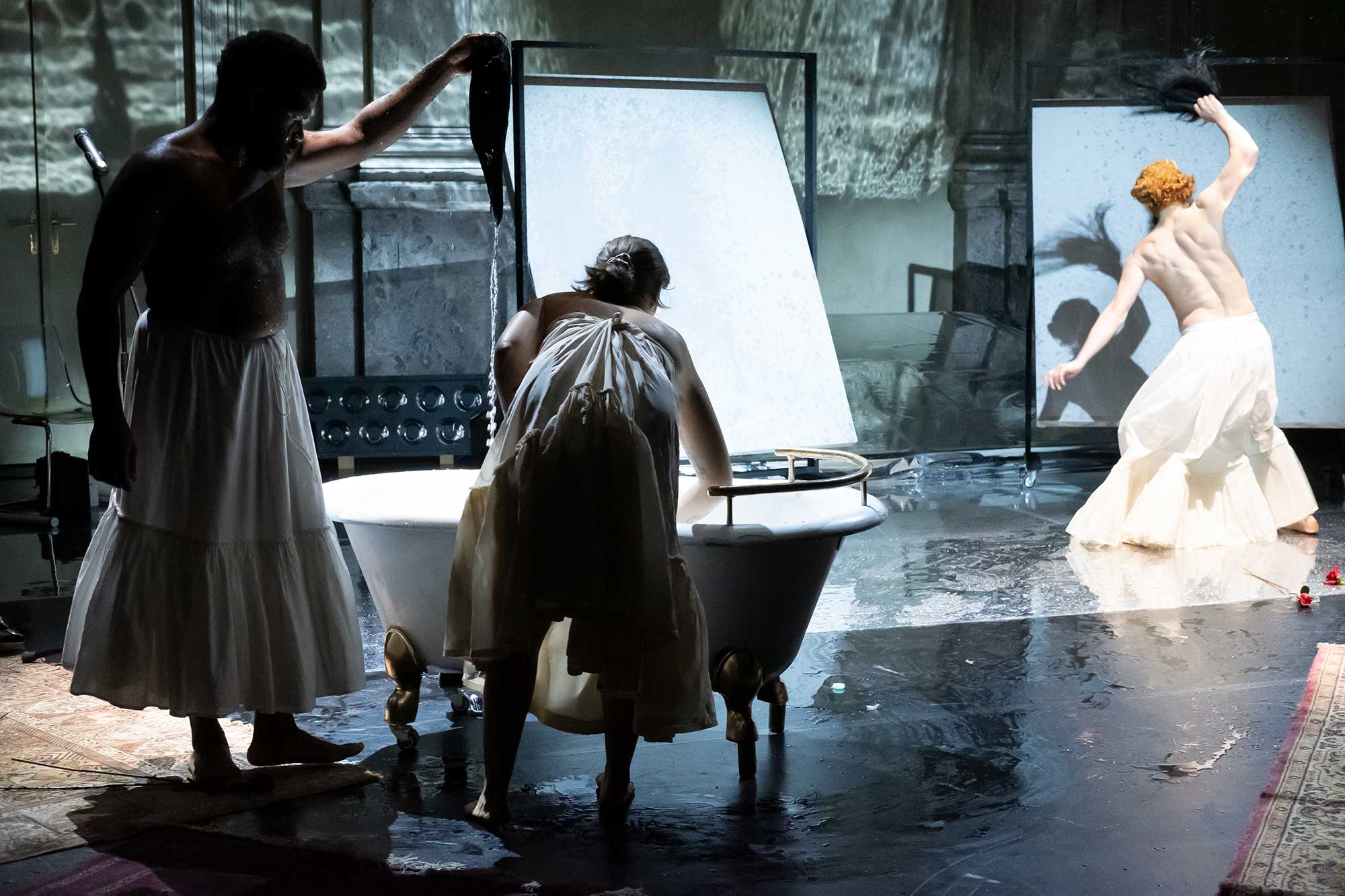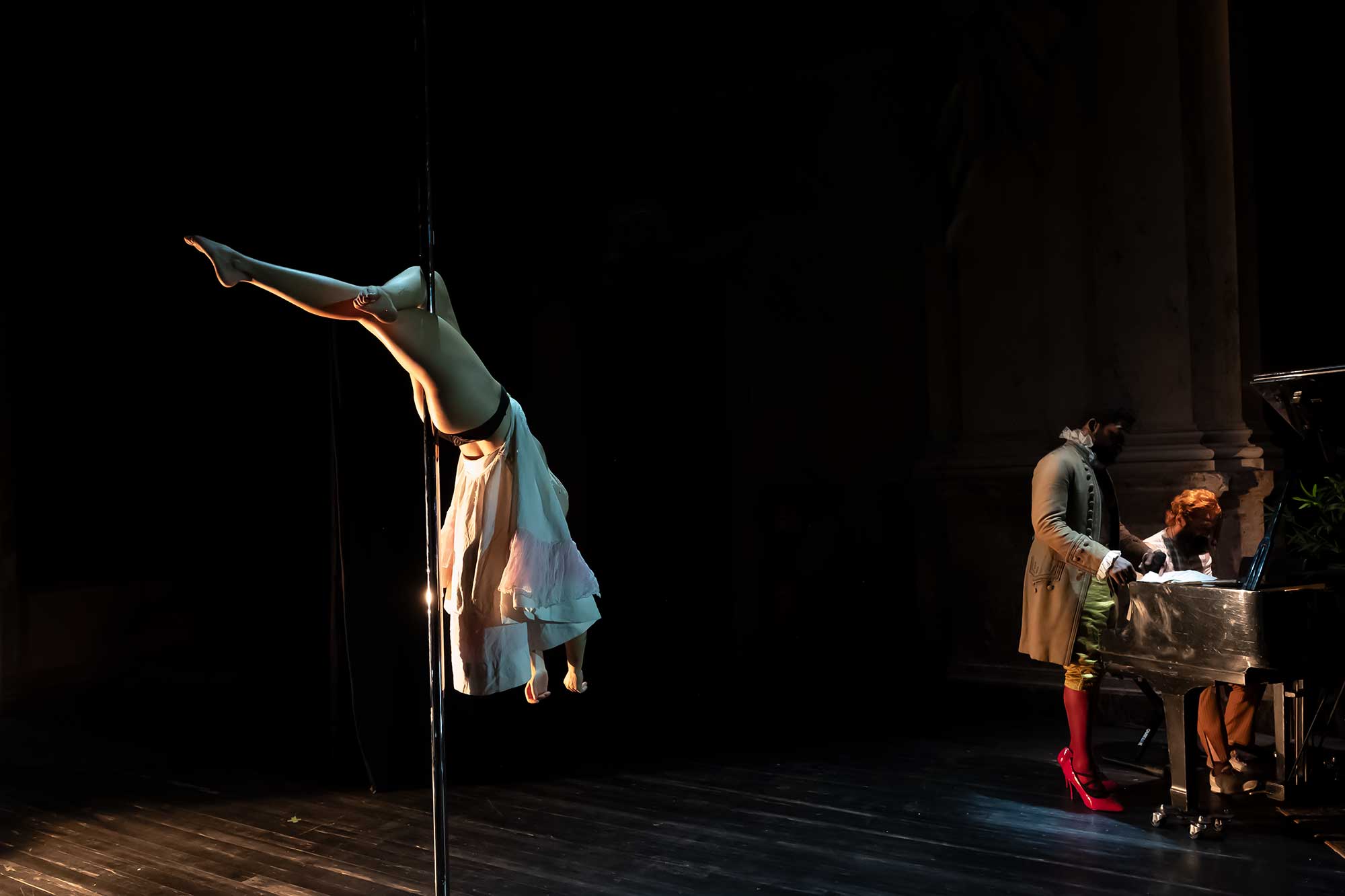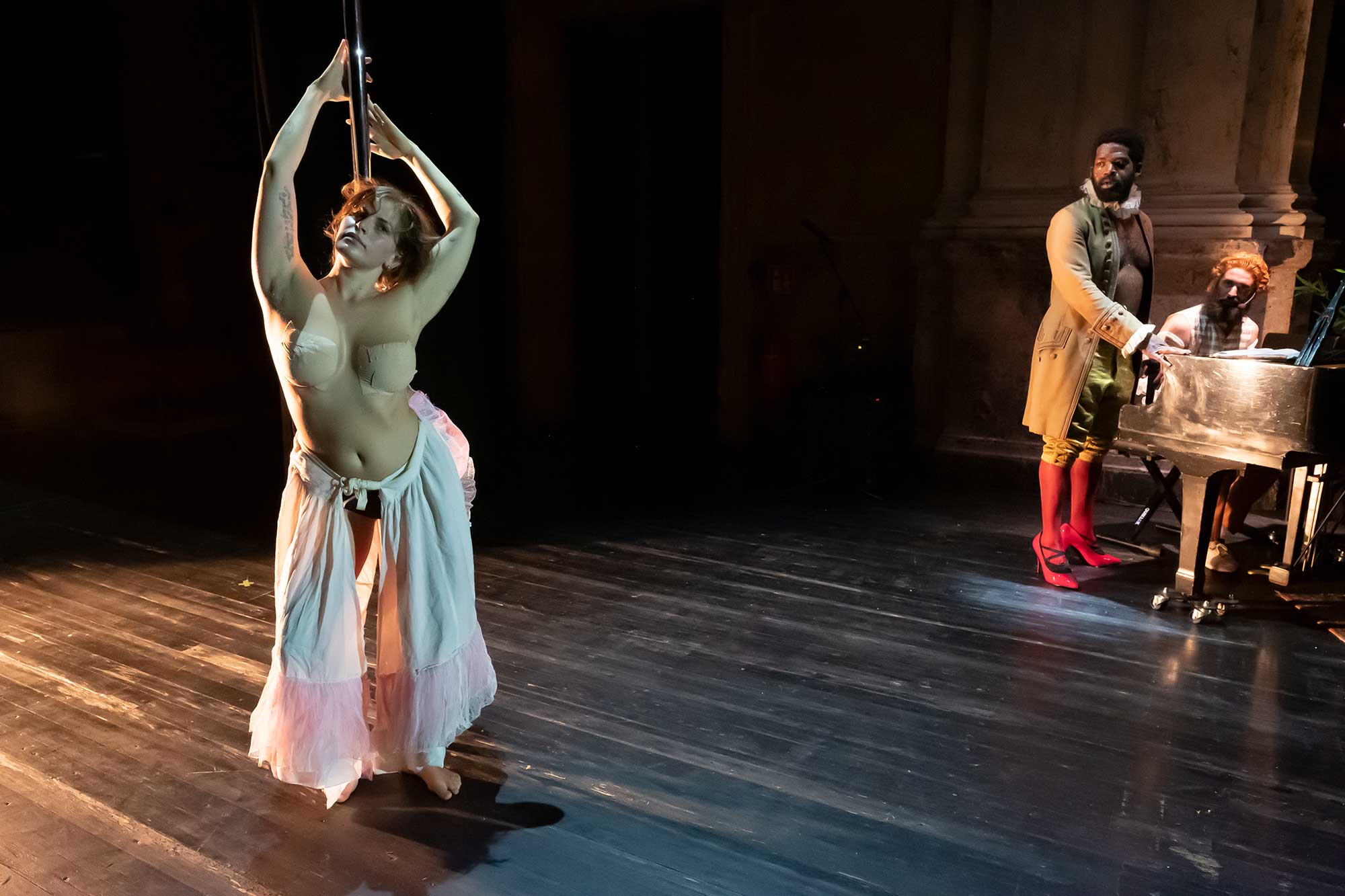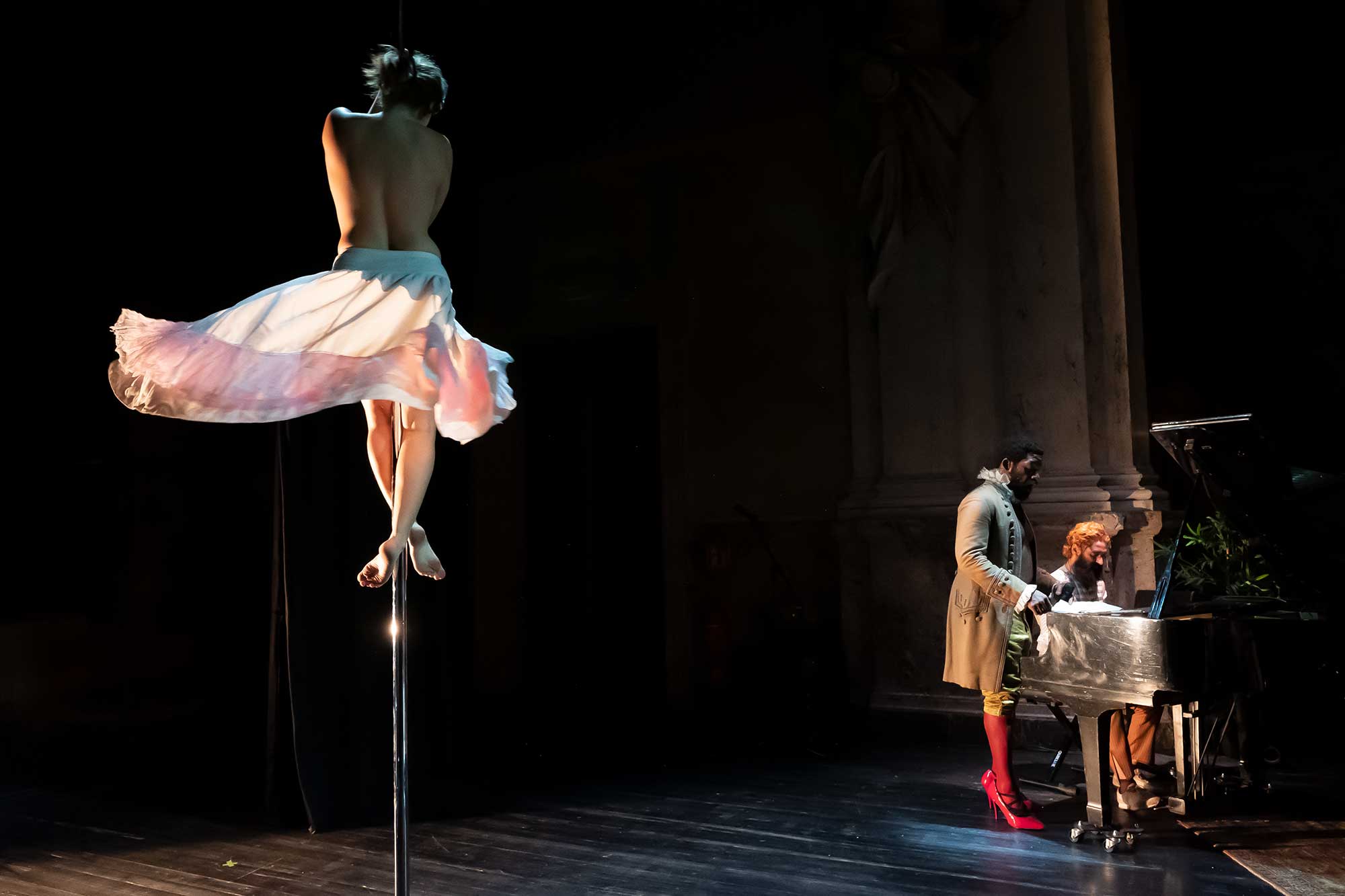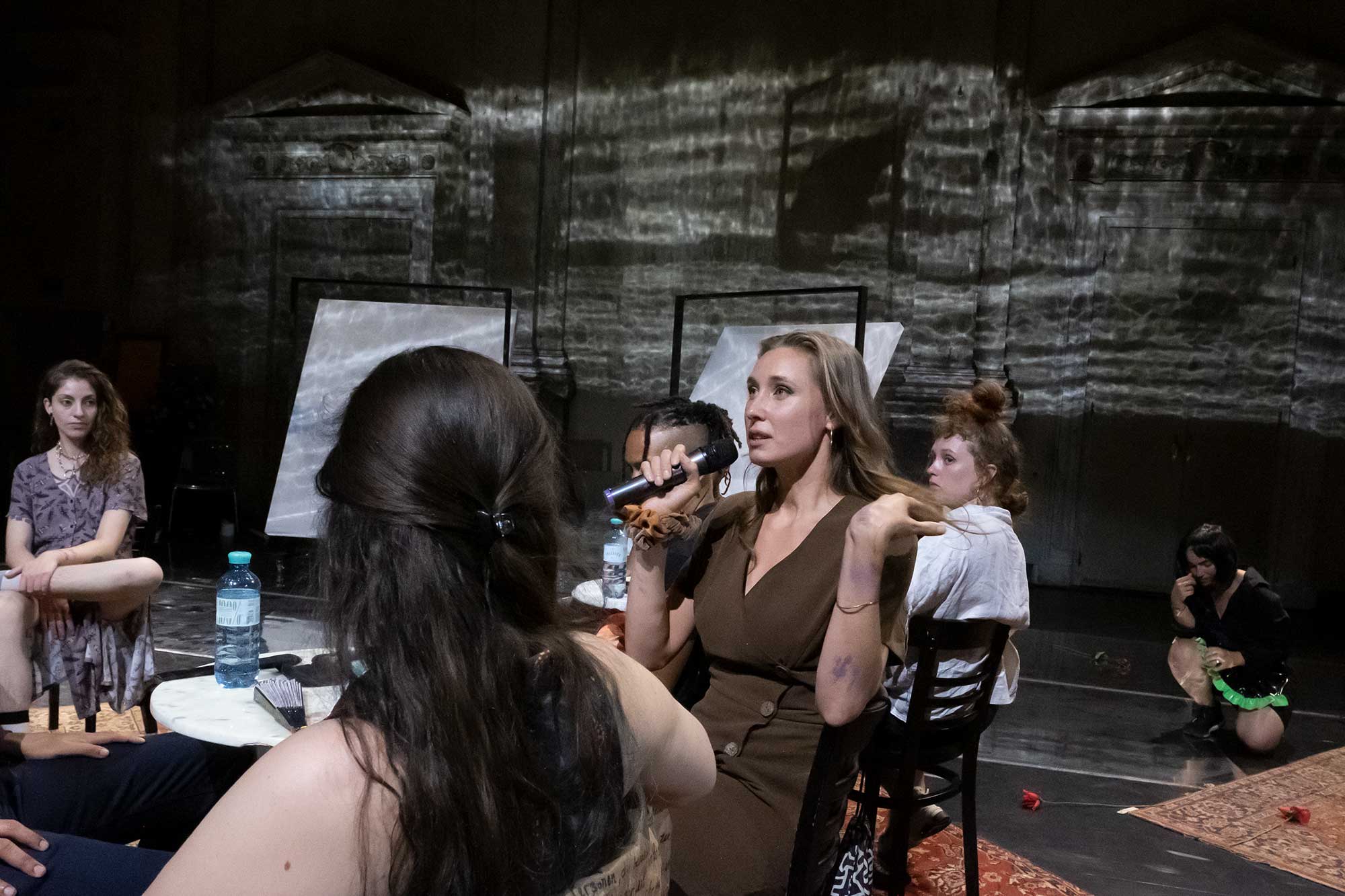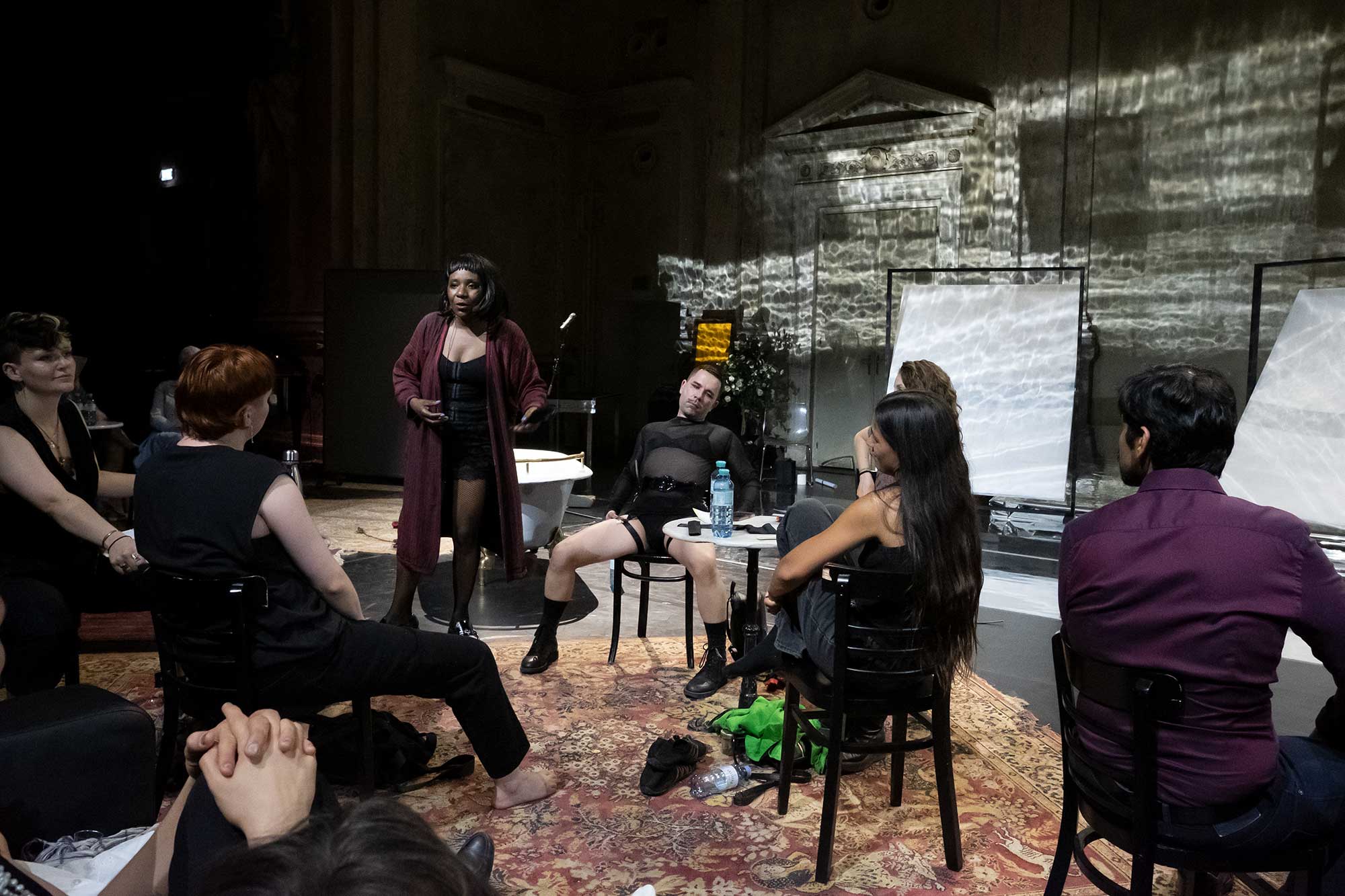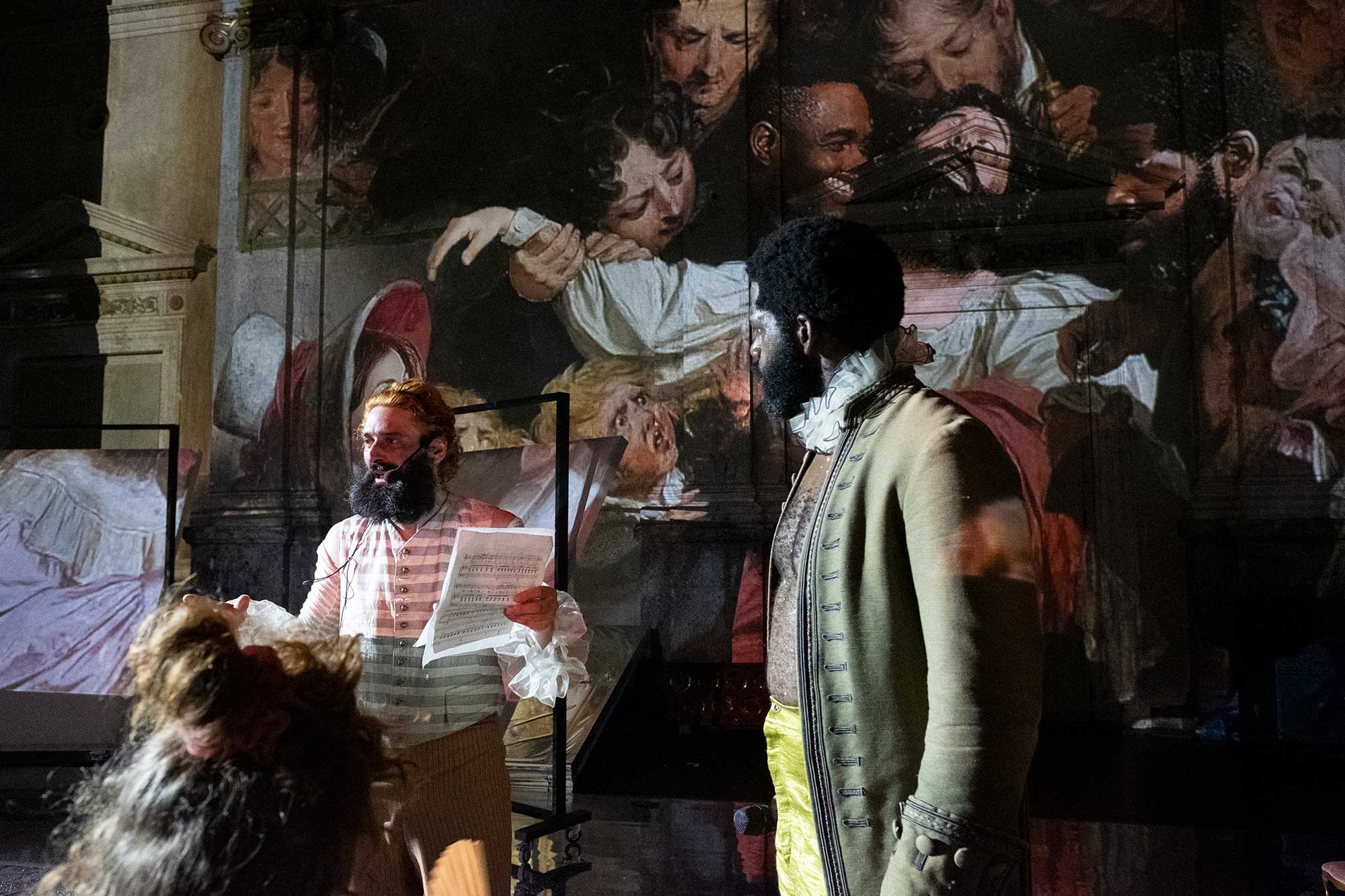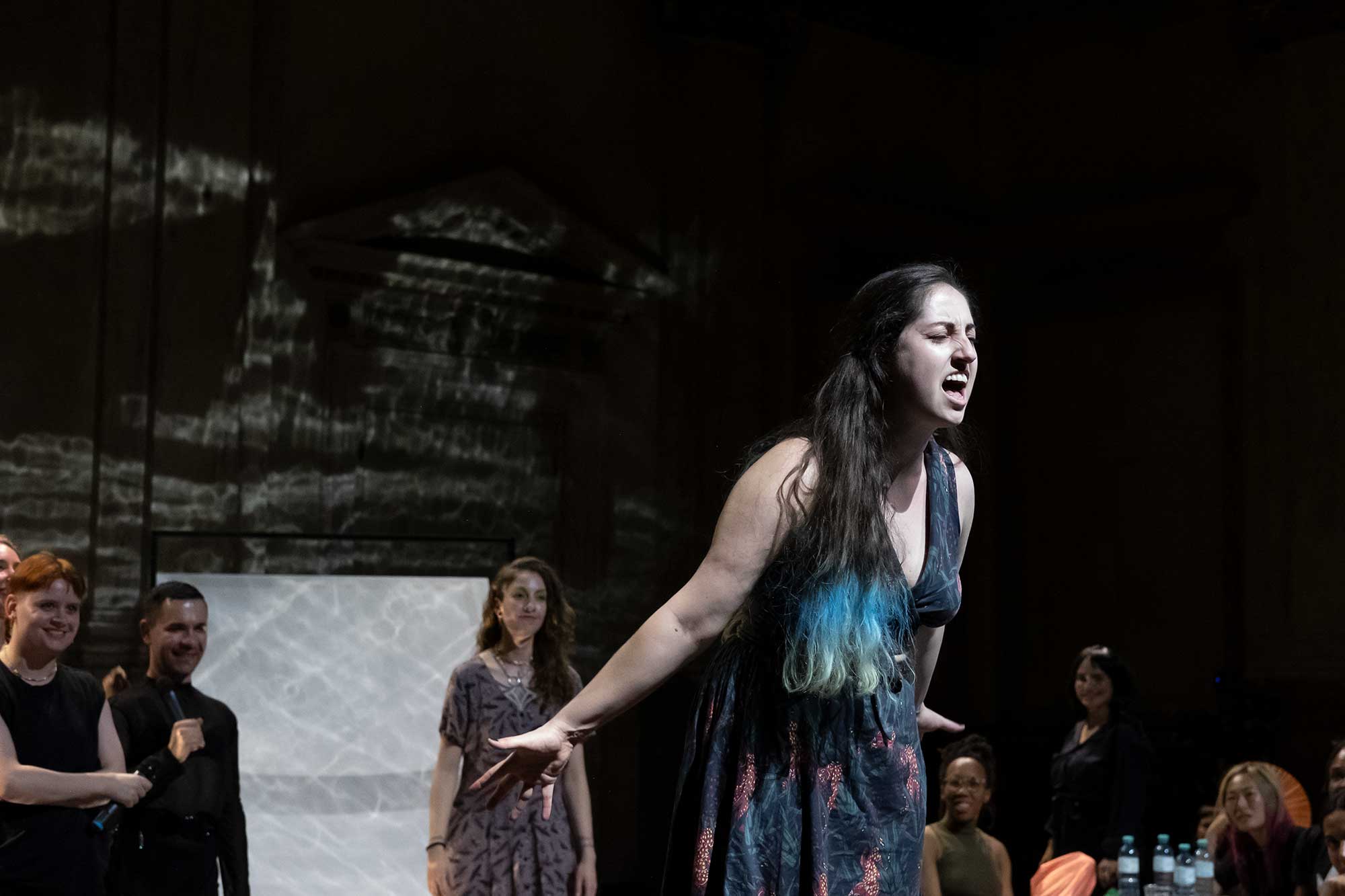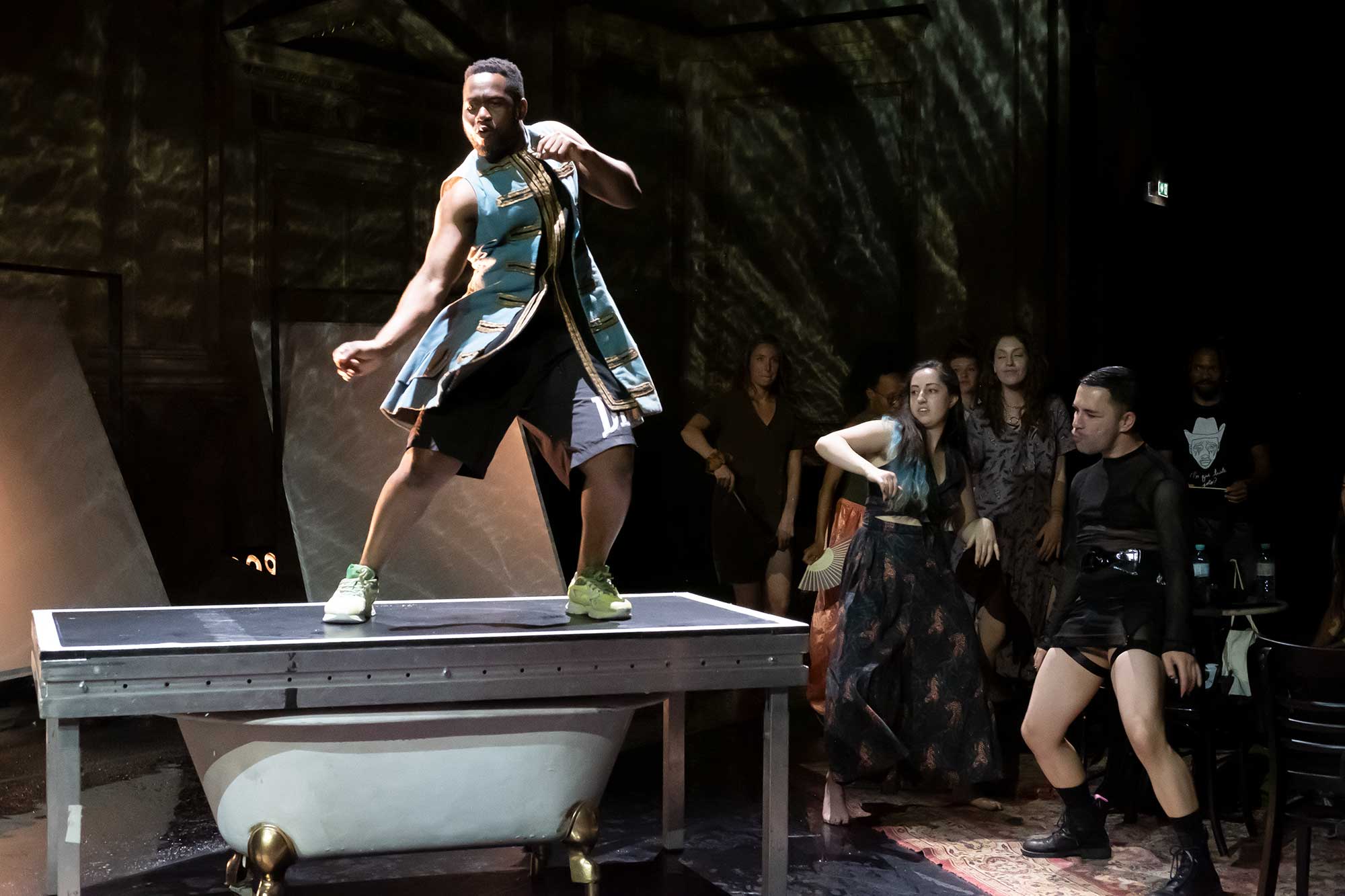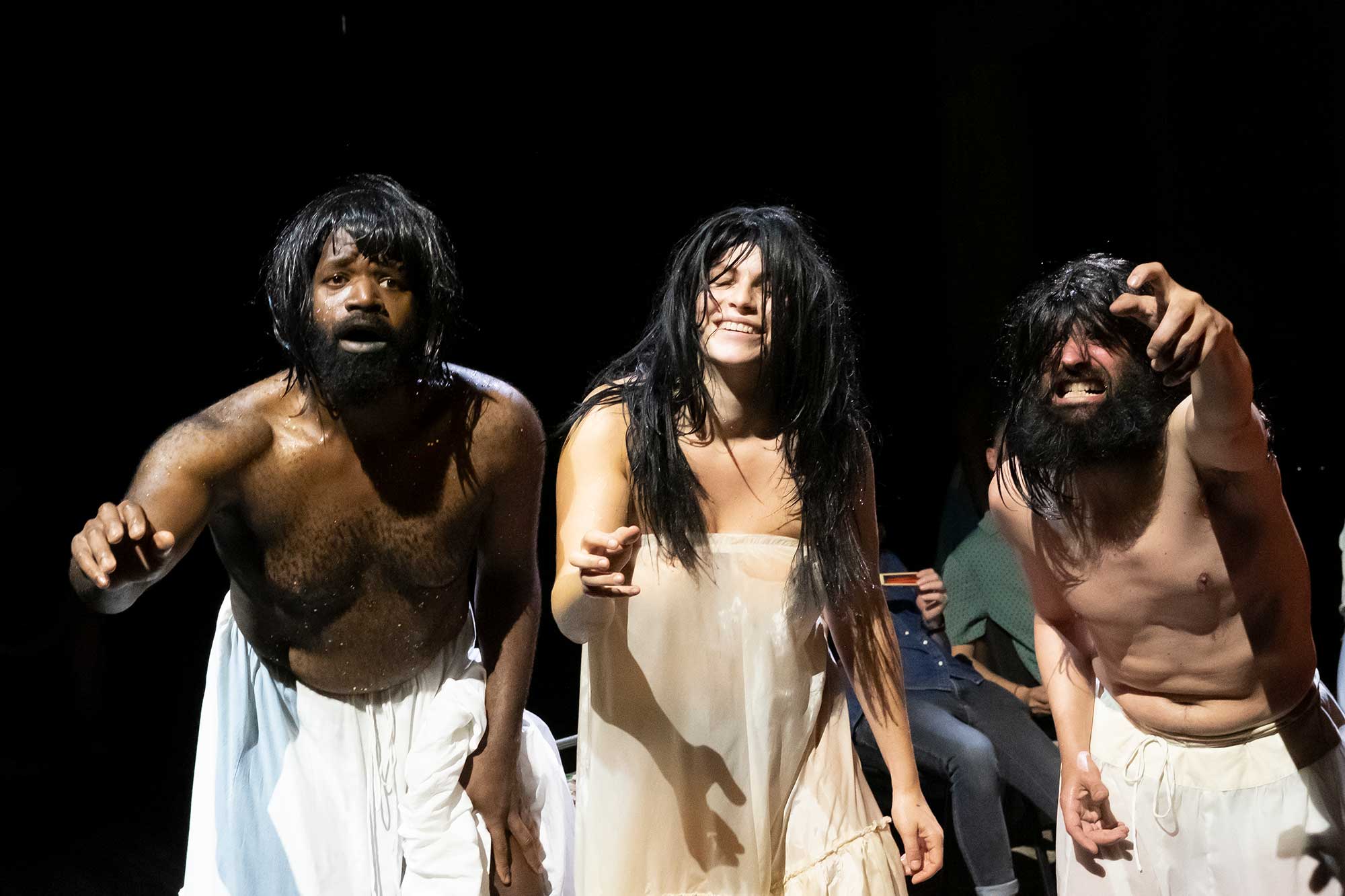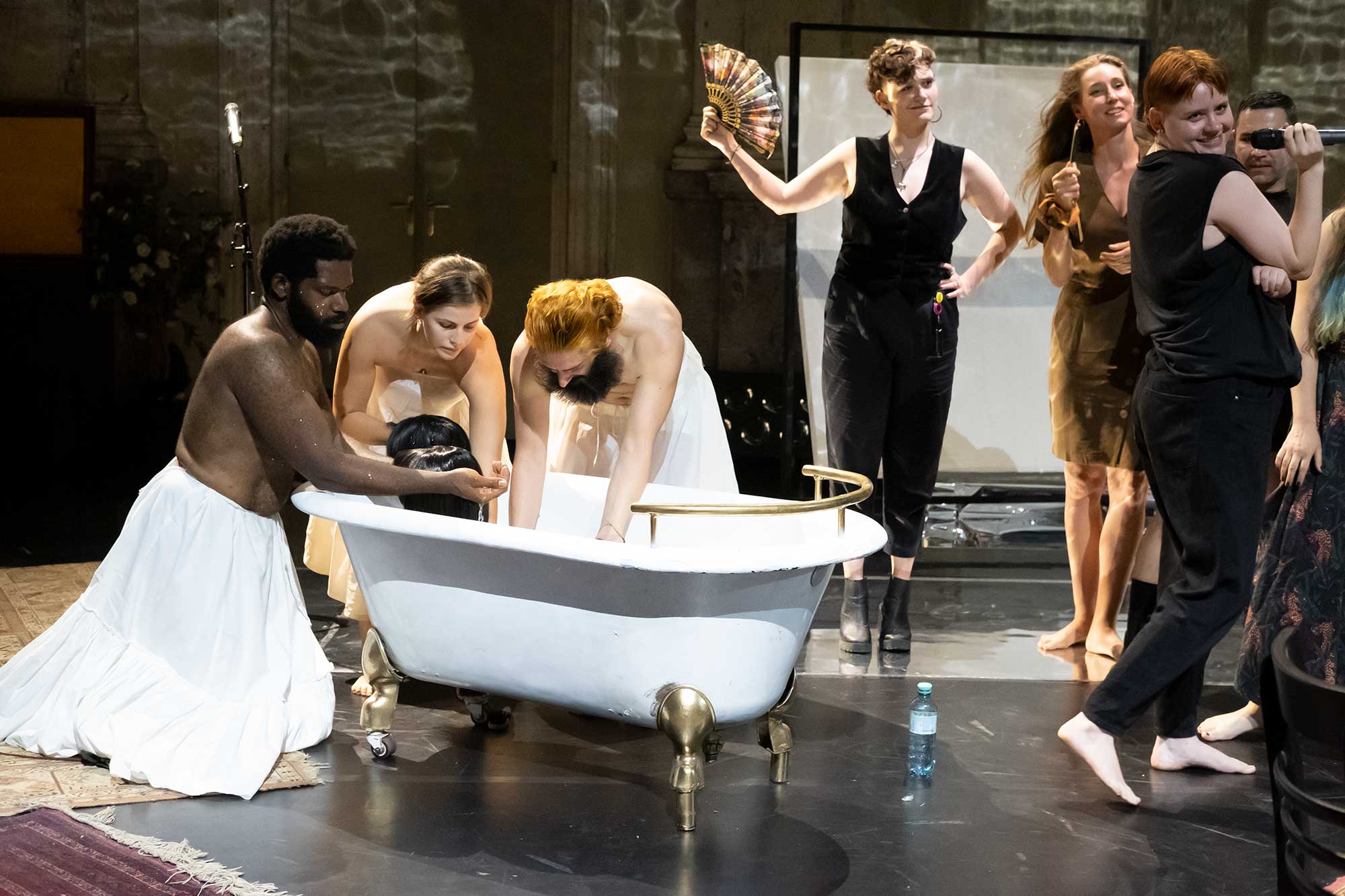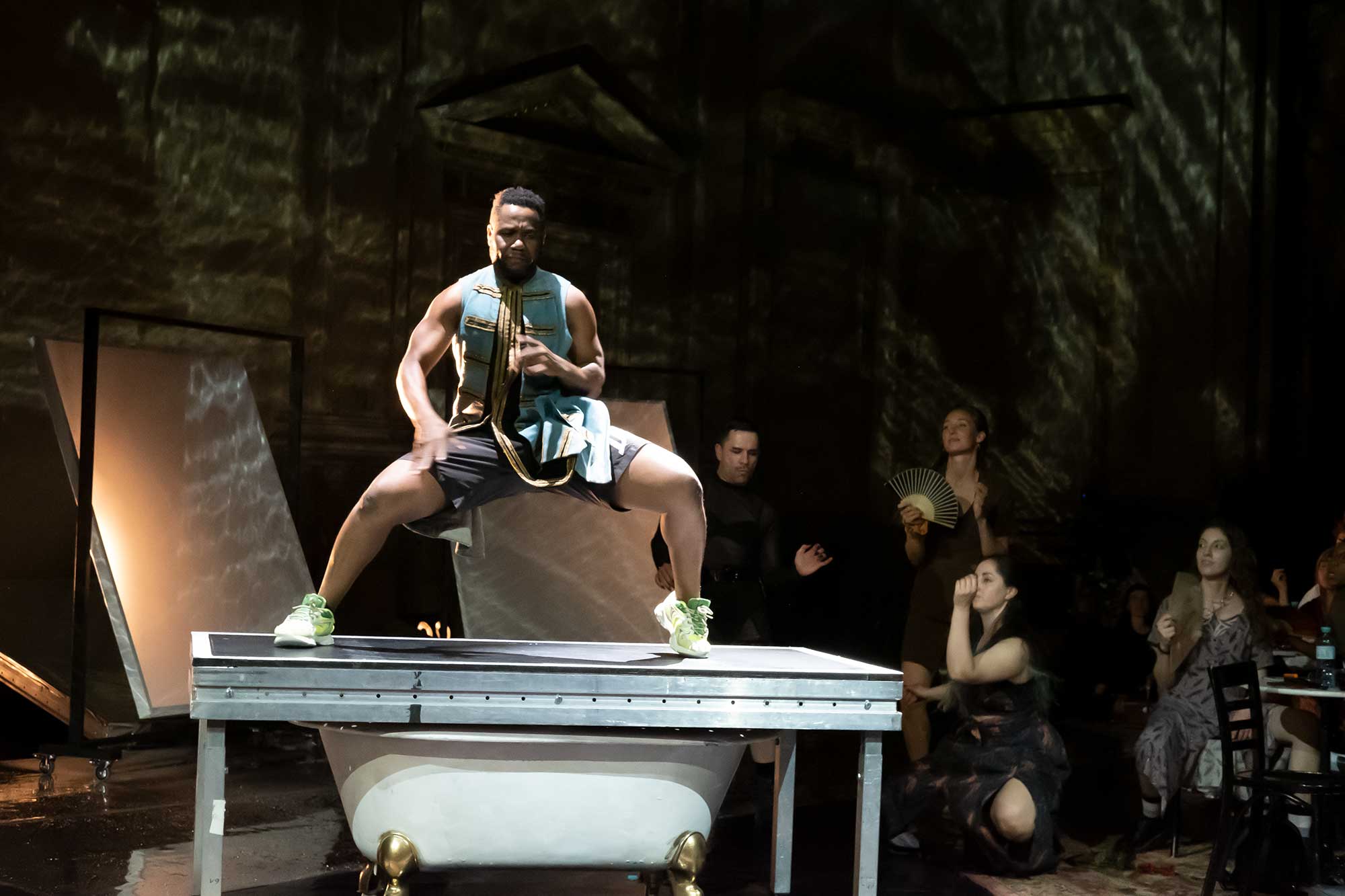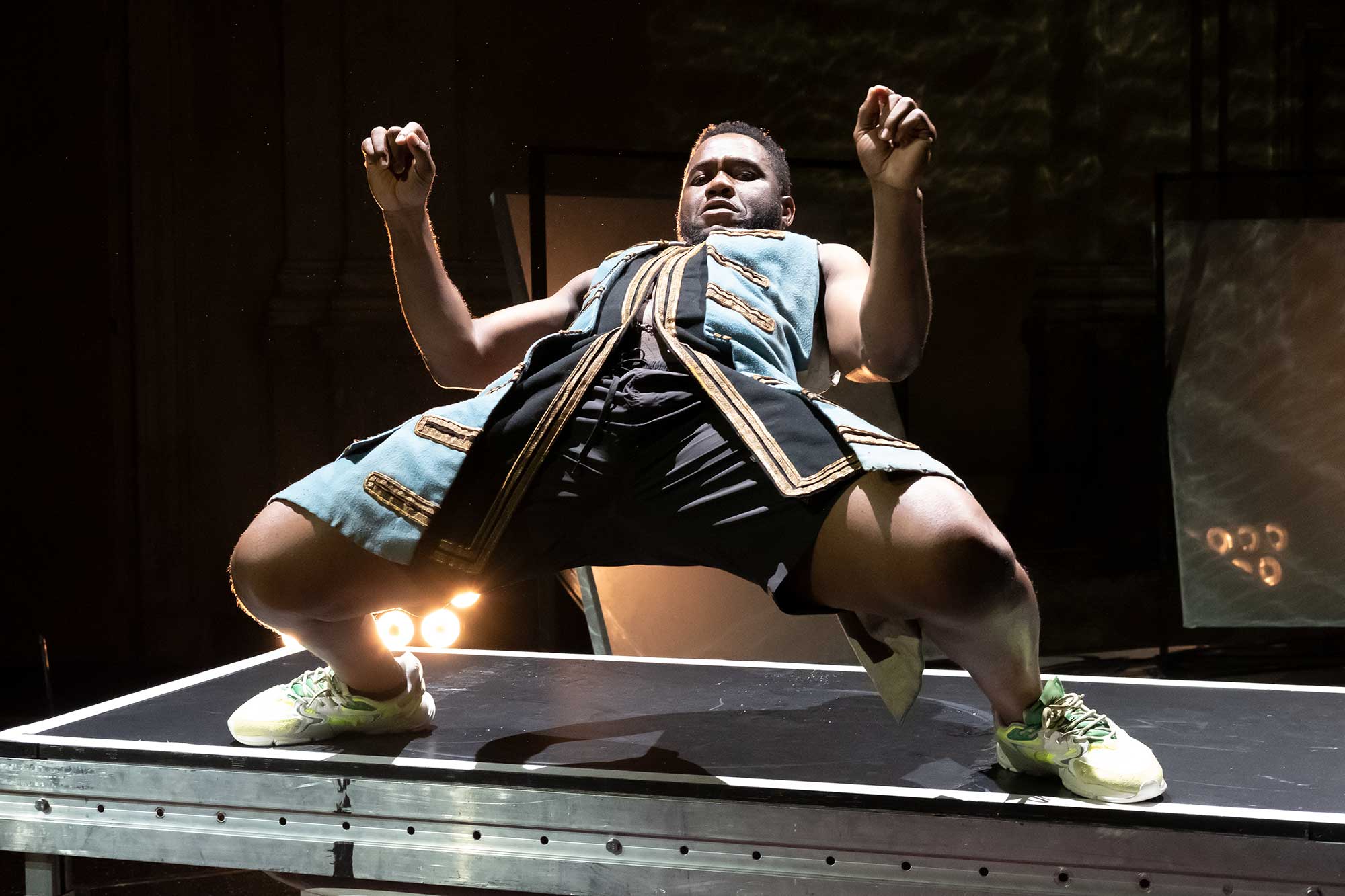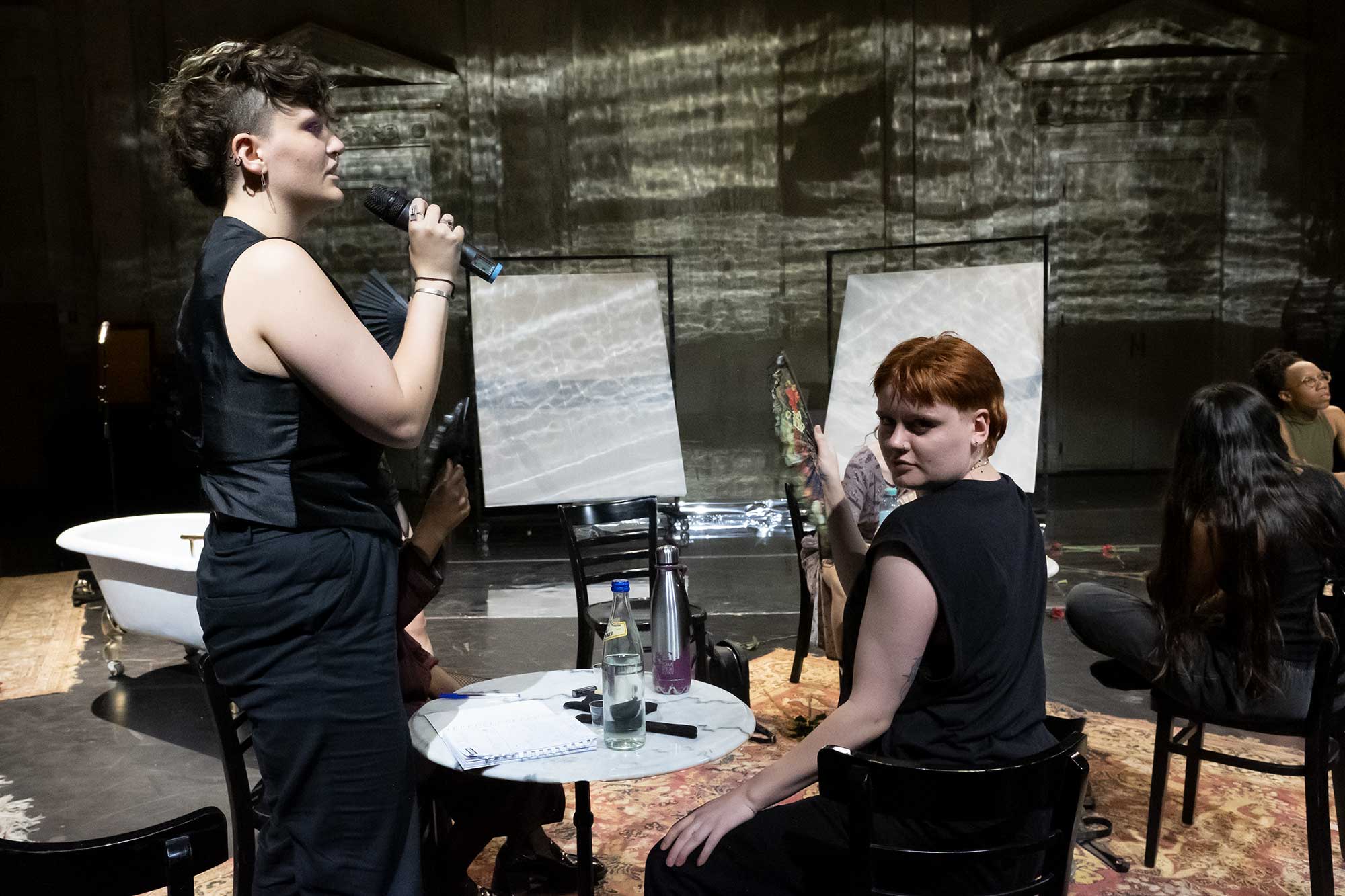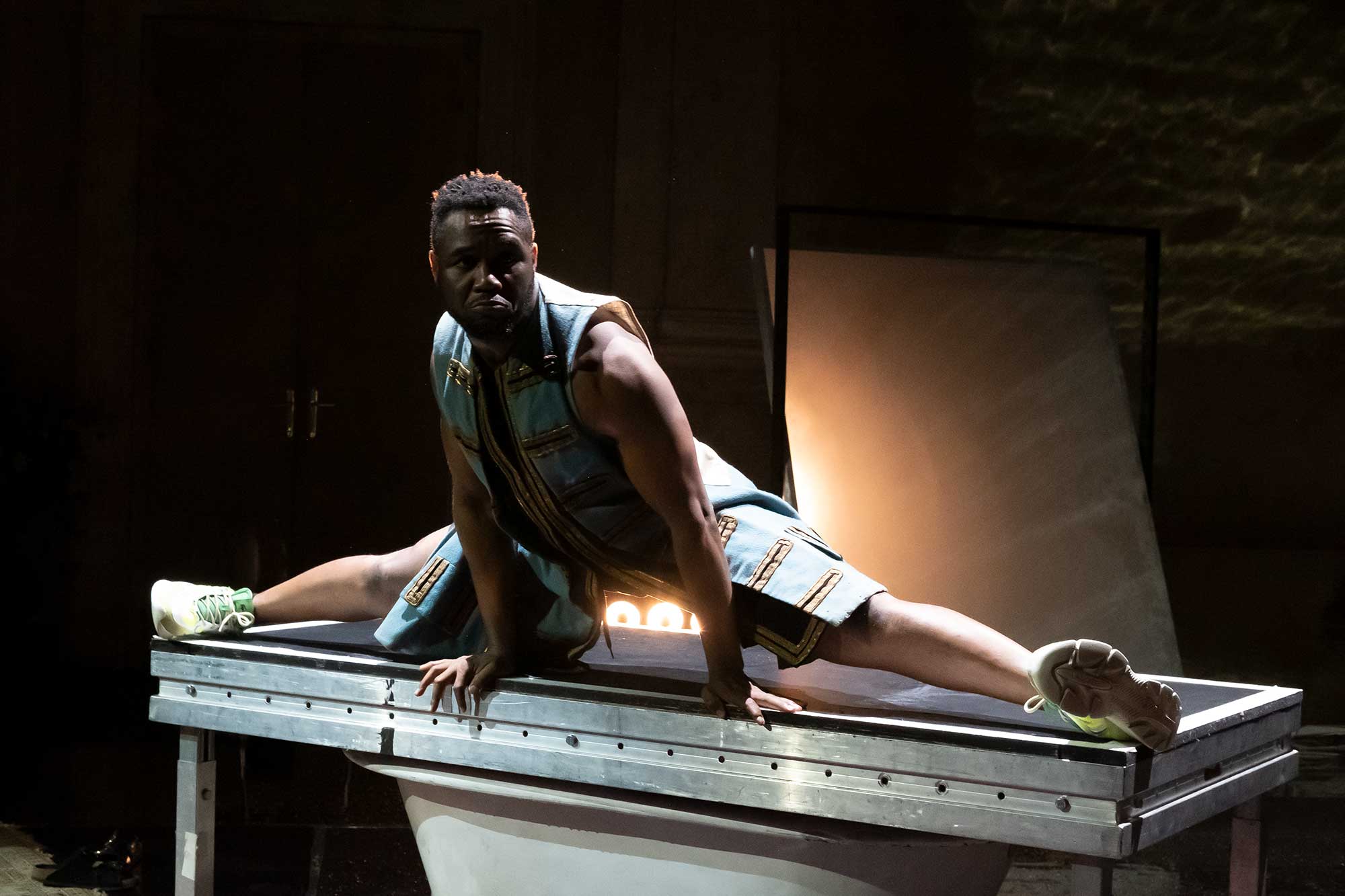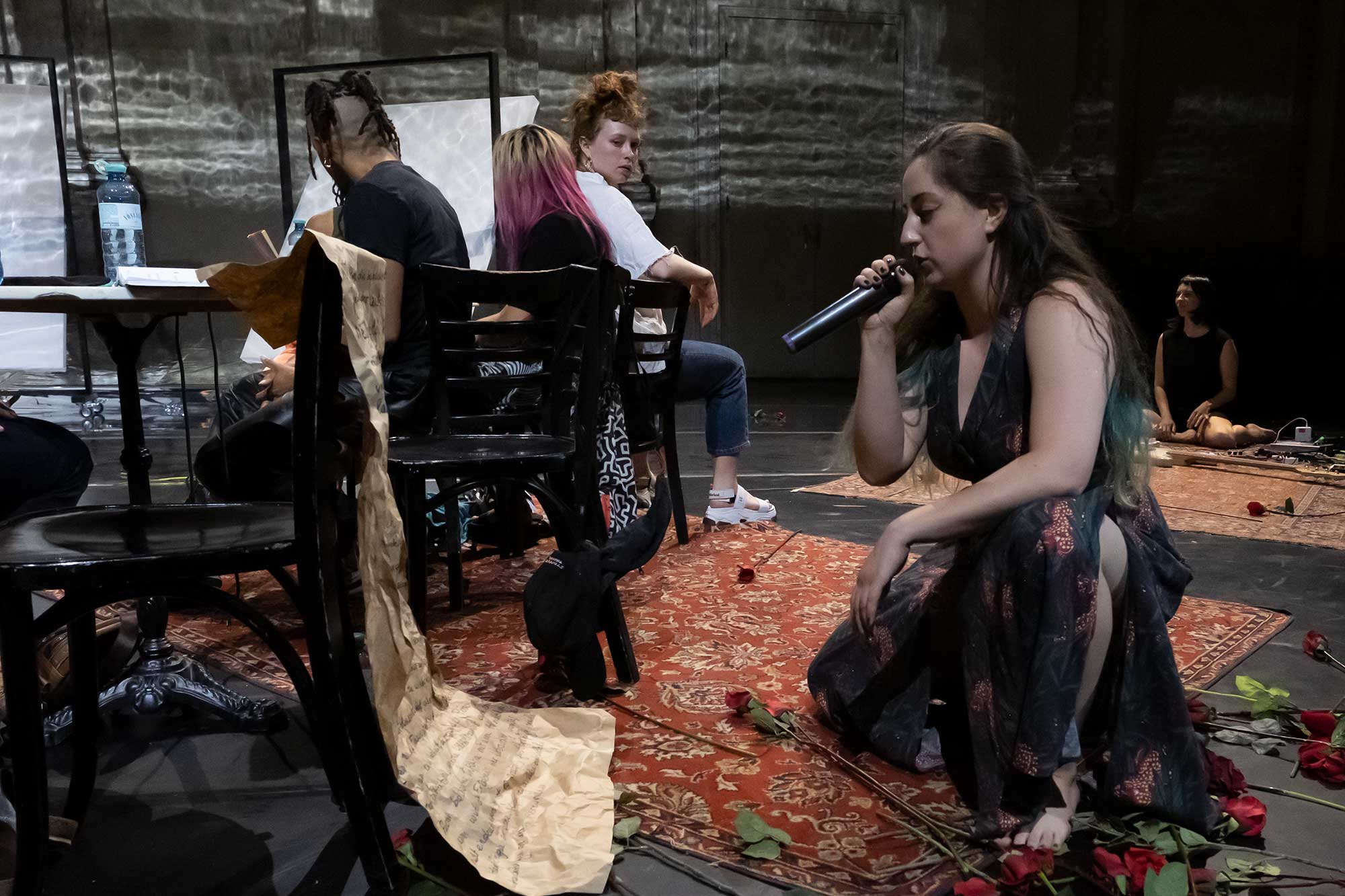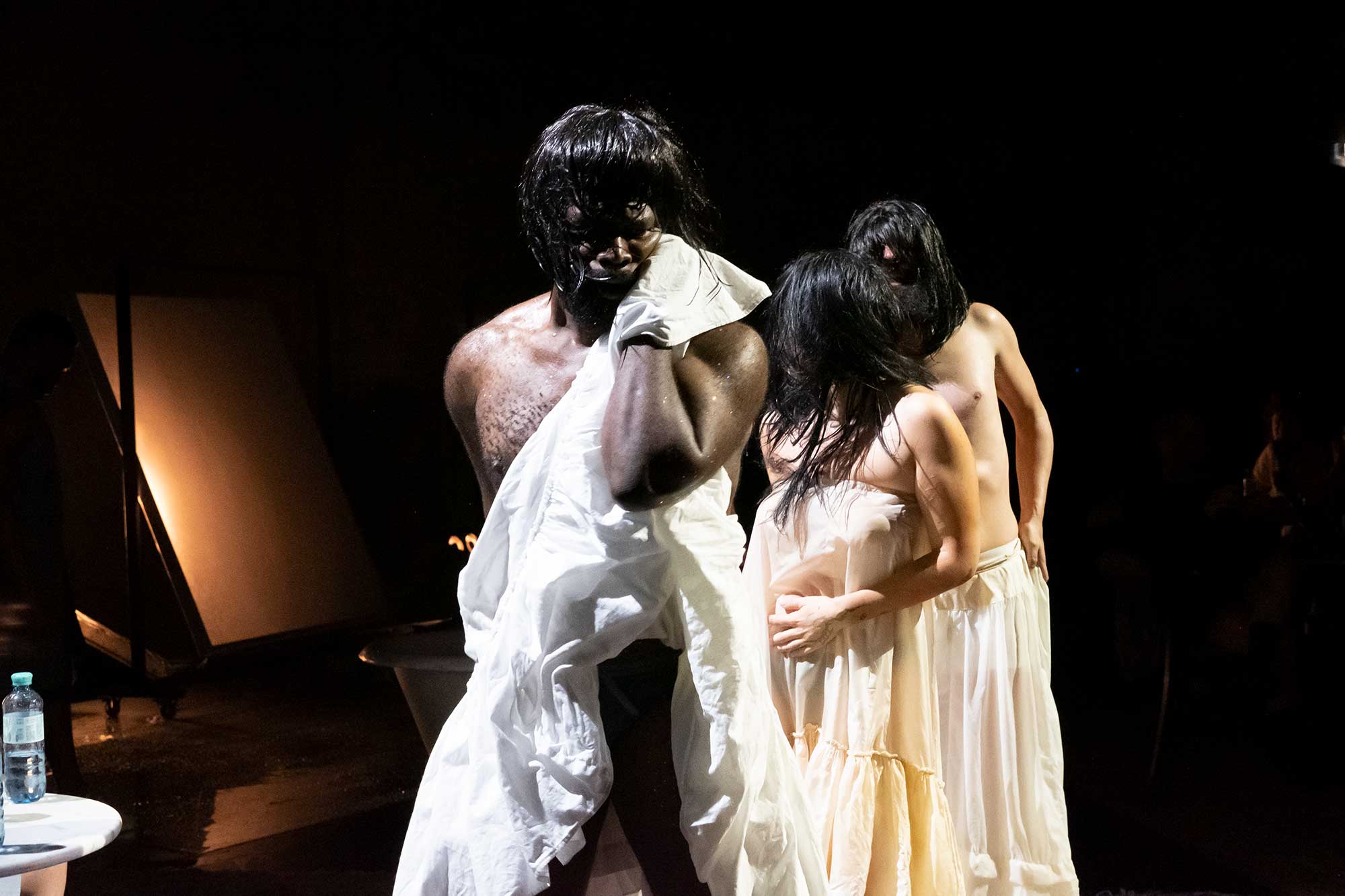 In Beyond The Overflow, art does its strip-tease. Body at work, body for sale, worked body. The performer is both an art object and a place crossed by desire: an object of multiple transactions.
With the continuation of her Speech of Love series, Elisabeth Bakambamba Tambwe is coming back to Roland Barthes Fragment d'un discours amoureux. In this work, the philosopher conceives the emotions and language of the subject in love in a series of figures. Lunettes noires describes how lovers must, to a certain extent, hide from the beloved the travails (turbulences) of their passion: their longings, their hardships, in short, their excesses.
By taking Barthes against the grain, the fury of the market overflows, giving free rein to all the energies hidden behind the scenery. Let's speak frankly without coquetry. The show has just ended, the masquerade is over. The guard is down, there is no more concealment. Excess, fantasy and adrenaline discharge mingle with the extreme fatigue of a post-show. Between exaltation, retaliation and loneliness, bodies and hearts beat and intertwine.
WHAT A BORDEL!
In Beyond The Overflow, just like at an art fair or auction, you can find anything you want. Here, all the performance spaces blend into one: museum space, opera, theatre, talk…
The performers move from one space to another, from one discipline to another, with no boundaries stopping them: they sweat, weep and eject the most surprising artistic forms. Some might even ask: Ist das Kunst oder kann das weg? Beyond the performative drunkenness, there will be time for discussion with the surprise guests.
In all this chaos, there's a whiff of the salons of the time in which the semi-mondaines and courtesans of the 19th century invited friends, initiates and all of good society to taste the breath of artists and play the games of love and art.
The spectators, free to wander, also become players in the great commercial bazaar.
Production credits
Concept and artistic direction: Elisabeth Bakambamba Tambwe
Development and performance: Raphaël Michon, Steven Ralph, Aaron Nora Scherer, Franck Edmond Yao alias Gadoukou la Star, and surprise guests
Music and composition: Ursula Winterauer
Lighting design: Svetlana Schwin
Video: Eduardo Triviñio-Cely
Stage design: Rimma Elbert
Costumes: Rimma Elbert, Elisabeth Bakambamba Tambwe
Dramaturgy: Leila Vidal Sephiha, Benoît Jouan
Research: Oscarine Bosquet, Benoît Jouan
Casting assistance: Aaron Nora Scherer
Online communication: François Tambwe
Video documentation: David Pujadas Bosch
Photo documentation: Corinne Rusch
Production: Indra Jäger
Produced by: Dig Up Productions
Big thanks to La Fleur & Sunny Jana
in collaboration with Red Edition
Coproduction: ImPulsTanz Vienna international dance festival, Werk X Vienna
Supported by: MA 7 Stadt Wien Kultur, Bundesministerium für Kunst, Kultur, öffentlichen Dienst und Sport
Music/Songs:
Gadoukou la Star, "Polié" – Black Culture Dance" (Musikalisches Arrangement: Lassehi Woody Hillel a.k.a. Mr le Juif), Gadoukou la Star und Lassehi Woody Hillel a.k.a. Mr le Juif (Instrumental o.T)
Arrangements of the following pieces: The Righteous Brothers "Unchained Melody", Sun City Girls "Vine Street Piano" (Orchestral), Gabriel Fauré "Après un rêve"
Video: Sergei Prokofiev, "Waltz from War and Peace" (feat. Hvorostovsky and Mataeva)