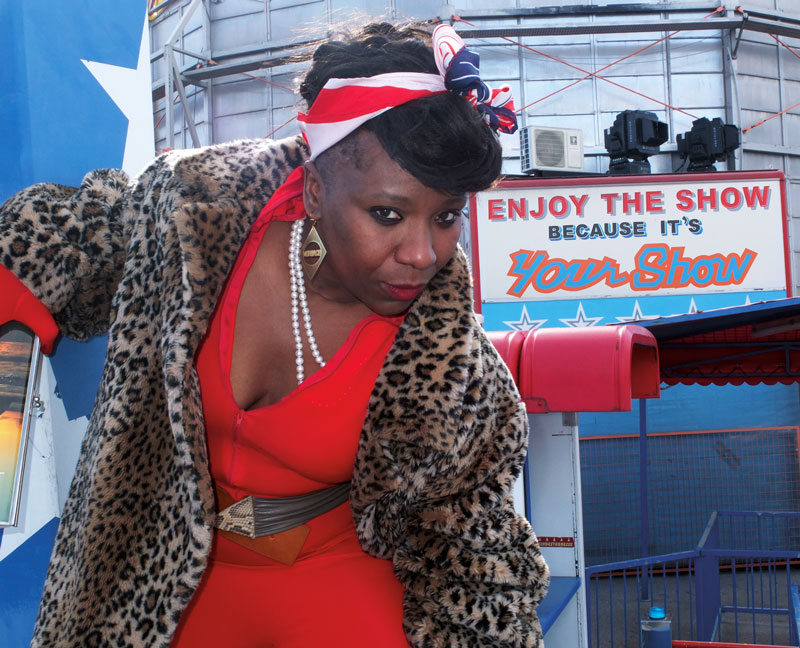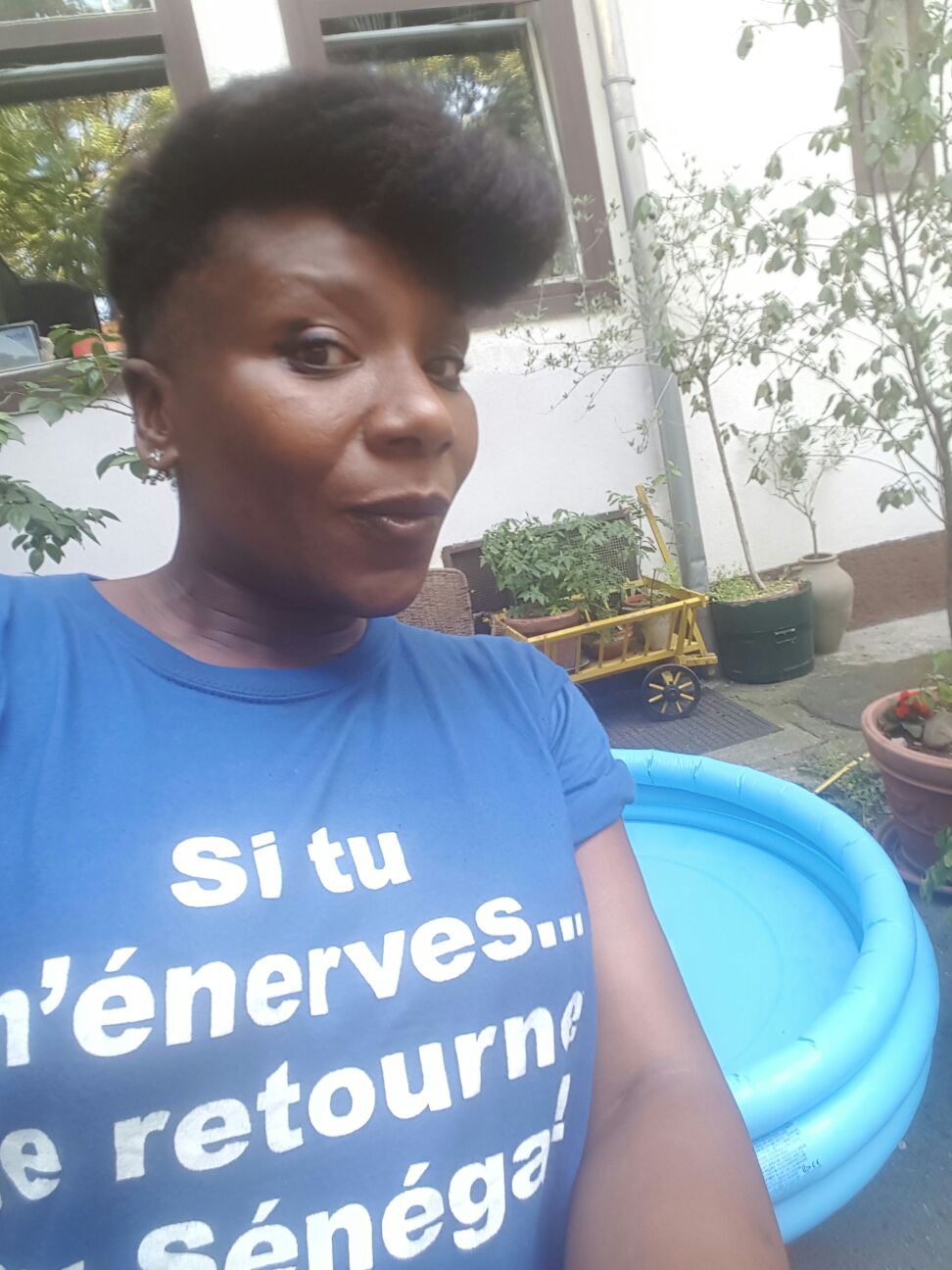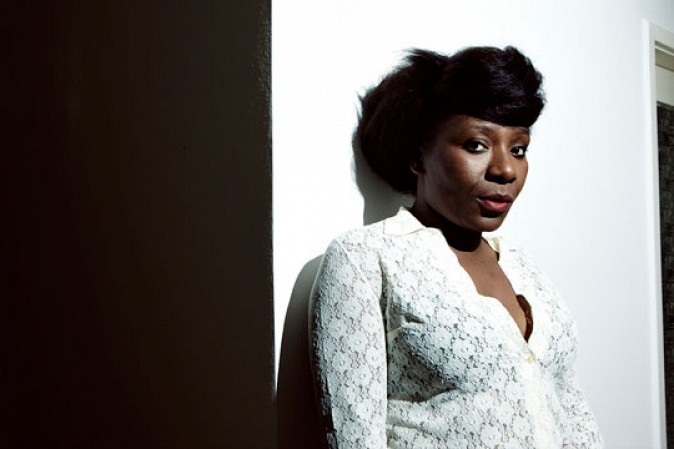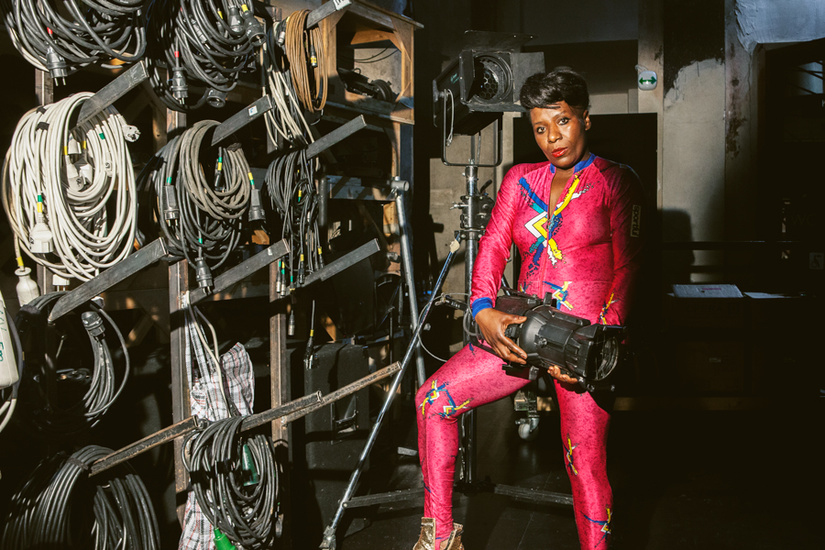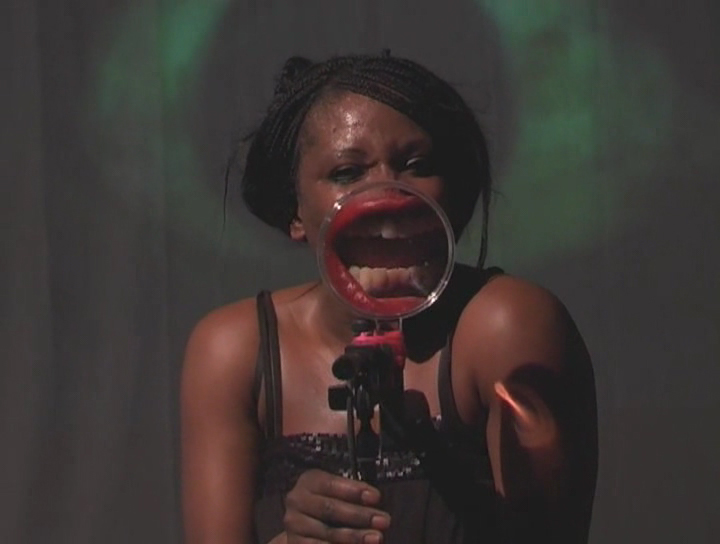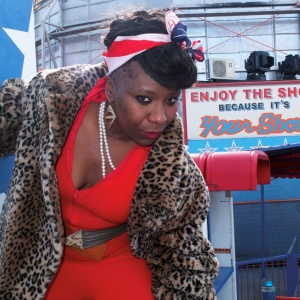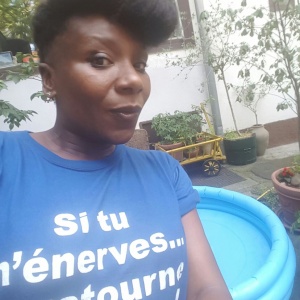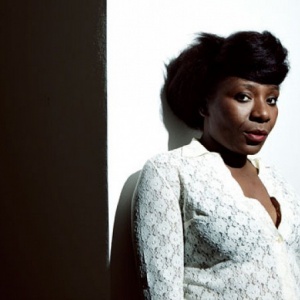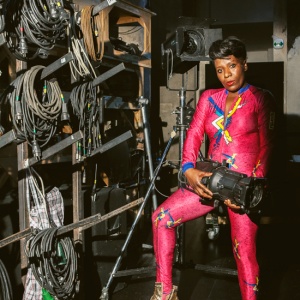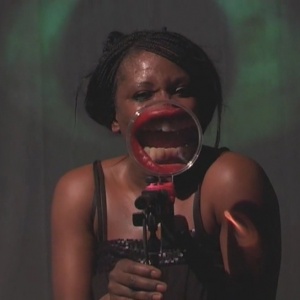 La question de la construction de l'identité dans une société de production de masse est au cœur du travail plastique et chorégraphique d'Elisabeth Bakambamba Tambwe. Cette approche est une forme de réponse aux débats actuels sur les questions d'identité nationale, de citoyenneté et d'intégration, car la réflexion est souvent paralysée par l'impossibilité de sortir de la logique du mono-appartenance et du refus de donner à la multi-appartenance, une traduction politique.
Les classifications ethniques et géographiques, les approches ethnographiques et culturalistes qui encadrent généralement les productions des artistes africains vivant en Europe constituent des conditions ambiguës de visibilité et de reconnaissance. Entre le marteau du global (mondialisation et ses standards) et celui du local (le retrait et l'héritage colonial d'une vision falsifiée de la «tradition»), Elisabeth Bakambamba Tambwe propose une déconstruction ironique de l'exotisme et tente une décolonisation des esprits.
Dans les derniers spectacles, le mode performatif est prédominant et implique la voix, la musique, les environnements travaillés et la vidéoprojection mêlés à l'occupation calculée de l'espace dédié au public, souvent invité à bouger ou même à diviser, obligeant le spectateur à repenser sa fonction.
Avec des pièces comme Las Meninas (2016) et Congo Na Chanel (2017), la question du point de vue étend la question post-coloniale. Les derniers spectacles d'Elisabeth Bakambamba Tambwe tendent à montrer la multiplicité des angles de vue qui impliquent des perceptions différentes de la même réalité. Parce que la conscience est comme le champ visuel. Ce n'est pas une image encadrée vue par un troisième oeil extérieur, elle est capturée sans distance et, bien que limitée (il nous est impossible de voir ce qui se passe derrière nous), elle n'a pas de bords: limitée et pourtant sans bordure. Les différents dispositifs scénographiques utilisés permettent alors de brouiller les cartes, de démasquer les conventions (notamment refoulées), de caresser les ambiguïtés et ainsi mettre en scène les nombreuses postures incohérentes qui nous assaillent.
Nous ne percevons que ce qui existe ou en a l'apparence, à l'intérieur et à l'extérieur de nous, et nous n'avons, semble-t-il, aucun autre signe de réalité que la perception que nous en avons. Mais toutes les perceptions sont-elles égales? (« Jeder hat seine eigene Wahrheit »)
Dans le travail d'Elisabeth Bakambamba Tambwe, rien ne nous est jamais livré dans sa totalité. Les décors, les actions, la présence des corps sur le plateau se présentent toujours sous un visage particulier, dans une perspective déterminée. Ce qui saisit l'œil dépasse toujours notre perception puisqu'il y a toujours la possibilité d'autres perceptions, corrections. Ici, la perception ne peut pas épuiser l'action. Si la perception est incomplète, c'est parce qu'elle est toujours entourée d'une sorte de halo d'indétermination, de possibilité d'autres perceptions probables ou même futures.
Pour le chorégraphe, un point de vue ne permet pas de percevoir; il faut savoir le secouer en fonction des enjeux et du point de vue des autres. Reconnaître les limites, l'obscurité, le caractère «incomplet» des hommes et des idées n'implique pas de les abandonner. Au contraire, ce doute conscient, cette reconsidération critique, ouvre la voie à une transcendance, une projection du corps en avant, un engagement.
PERFORMANCES

06-2017 CONGO NA CHANEL PERFORMANCE-DANCE-INSTALLATION
10-2016 PINK EYE PERFORMANCE-DANCE-INSTALLATION with one performer
Commissioned by steirischer herbst

05-2016 LAS MENINAS PERFORMANCE-DANCE-INSTALLATION with SIX performers
COPRODUCTION DIG-UP PRODUCTION TANZQUARTIER (AUSTRIA), SUPPORTED BY MA7 Kulturabteilung der Stadt Wien, Bundeskanzleramt Kunst/Kultur

05-2016 FLECHE PERFORMANCE-DANCE-INSTALLATION with TWO performers
COPRODUCTION DIG-UP PRODUCTION, DONAUFESTIVAL
07-2015 FIT IN PERFORMANCE-DANCE-INSTALLATION with one performer
COPRODUCTION DIG-UP PRODUCTION IMPULSTANZ, SUPPORTED BY MUMOK MUSEUM

01-2015 SYMPOSIUM PERFORMANCE-DANCE-INSTALLATION with seven performers
COPRODUCTION DIG-UP PRODUCTION TANZQUARTIER (AUSTRIA), SUPPORTED BY MA7 VIENNA; BMUKK; LONG LIFE BURNING
09-2011 GOLDEN BABY SOLO, PERFORMANCE-DANCE-INSTALLATION
COPRODUCTION DIG-UP PRODUCTION WUK THEATRE DE VIENNA (AUSTRIA), SUPPORTED BY MA7 VIENNA
05-2010 ANOMALIC SOLO, PERFORMANCE- INSTALLATION
COPRODUCTION STATTSAFFAIRE, WUK THEATRE SUPPORTED BY MA7 VIENNE WITH THE COLLABORATION OF THEATRE LE GARAGE ROUBAIX (FRANCE)
01-2010 DON'T STEP ON MY JERSEY, A PERFORMANCE – EVENT WITH 2 PERFORMERS , 1 SINGER
PRODUCTION MOVING CULTURE VIDC
2008, REACT IN SILENCE,PLEASE. PERFORMANCE-INSTALLATION A PROJECT DEVELOPED WITHIN « TURBO RESIDENCE 2008 » COACHED BY THIERRY BAE DURING THE IMPULSTANZ FESTIVAL OF VIENNA HAS BEEN SHOWED IN MARCH 2009 AT THE WUK IN VIENNA.
11-2007 CONCERTO POUR CORPS BRUYANTS 3 DANSEURS,1 COMEDIEN, DANSE-PERFORMANCECIE DIXIT PRODUCTION COOPRODUIT VIVAT THEATRE ARMENTIÈRE(FRANCE)
05-2005 MON COEUR BALANCE SOLO, DANSE
CIE DIXIT PRODUCTION ,AVEC LA COLLABORATION DE LA CONDITION PUBLIQUE,LA COMÉDIE DE BETHUNE,THEATRE MASSENET (FRANCE).PRÉSENTÉ AU FESTIVAL JULIDANS (AMSTERDAM)
2003 FRÉMISSEMENT, (YOUNG AUDIENCE) WORK FOR TWO DANCERS, A PUPPET-MASTER AND A MUSICIAN.

2002 LA LÉGENDE DE BAKI, CHOREOGRAPHIC TALE (YOUNG AUDIENCE) FOR TWO DANCERS, TWO MUSICIANS AND A TALETELLER.

2001 NO ! CREATION FOR FIVE DANCERS AND A MUSICIAN PRÉSENTED AT LILLE-GRAND-PALAIS DURING THE « AFRIQUE EN CREATION » FESTIVAL.

2000 PETITES CHOSES DEVIENDRONT GRANDES, (YOUNG AUDIENCE) CREATION SIX DANCERS AND FIVE MUSICIANS.
COLLABORATIONS
NOVEMBRE 2016 Lecture Performance of Elisabeth Bakambamba Tambwe in installation "From the Future" by Esther Stocker
NOVEMBRE 2016 Lecture Performance of Elisabeth Bakambamba Tambwe in installation "Approximation linéaire" by Esther Stocker
AUGUST 2015 A THIRD STEP TO IDEAL PARADISE FROM CLAUDIA BOSSE/THEATERCOMBINAT
MAI 2015 duo with TAOUFIQ IZZEDIOU WITH TANZQUARTIER AND CHARLEROI-DANSE
SINCE OCT 2013  «  WAR »  WITH AMANDA PIÑA / DANIEL ZIMMERMANN / NADAPRODUCTIONS IN TANZQUARTIER
SINCE AOUT 2013   « IN A WORLD FULL OF BUTTERFLIES, IT TAKES BALLS TO BE….. » START NEW SOLO PROJECT WITH ROBYN ORLIN IN BERLIN AND PARIS
NOV- DEC 2012 MUSÉE DES BEAUX ARTS  LILLE (FRANCE) WITH ROBYN ORLIN DURING LILLE3000 (PERFORMANCE/INSTALLATION)
AVRIL-MAI-2012  END OF FEMINISM WITH DOLCE AFTER GHANA IN WUK  AND DONAULD FESTIVAL
DEPUIS SEPT 2011 DANS HAVE YOU HUGGED, KISSED AND…..(PERFORMANCE/DANCE/THEATRE) DE ROBYN ORLIN THEATRE DE LA VILLE,LE CENTQUATRE (PARIS); GRAND THÉÂTRE DU LUXEMBOURG; STADSSCHOUWBURG (AMSTERDAM…….)
HTTP://WWW.MOUVEMENT.NET/CRITIQUES-68DCB9E9077A3F6E-VENUS-NOIRE
FROM OCT -JANUARY-2009 EASY COME, EASY GO BY OLEG SOULIMENKO PRESENTED AT TANZQUARTIER IN VIENNA. (PERFORMANCE/DANCE/INSTALLATION)
12-2007 CONFIT DE CANARD BY ROBIN ORLYN PRESENTED AT THE DANCE NATIONAL CENTER IN PARIS.(PERFORMANCE/THEATRE)
06-2006 RADIO OKAPI BY FAUSTIN LINYEKULA PRESENTED AT THE THÉÂTRE PARIS VILETTE.
02-2006 LAS BAS PEUT-ÊTRE BY GRACIANE FINZI WITH L'ORCHESTRE NATIONALE DE MONTPELLIER CONDUCTED BY JÉRÔME PILLEMENT WITH A DIRECTION BY SERGE BAGDASSARIAN AND A CHOREOGRAPHY BY CYRIL VIALLON.
10-2004 CIE KAÏDARA, DIRECTED BY KATINA GENERO IN TORINO (ITALY), « LA NOTTE BIANCA«
02-2004 CIE KAÏDARA, CREATION FOR THE CONCERT SHOW SAFARA, IL FUOCO DEI TAMBURI.
07-08-09-2004 CIE GEORGES MOMBOYE CREATION BOYAKODAH (PARIS)
11-2003 CIE FASO DANSE THÉÂTRE CRÉATION ET DEMAIN  BY SERGE COULIBALY PRÉSENTED DURING THE » DIALOGUE DE CORPS » FESTIVAL IN OUAGADOUGOU (BURKINA-FASO), CREATED IN LILLE UNDER THE PRODUCTION OF THE GRAND BLEU -NATIONAL THEATER – FOR LILLE 2004, EUROPEAN CAPITAL OF CULTURE
02-1999 CIE ANNE CELLIEZ CREATION UNTITLED (LILLE)
 WORKSHOP WITH PUBLIC SHOWS

05-2012 LA PHILOSOPHIE BANANE : WITH   OISEAU-MOUCHE CIE IN THE GARAGE THEATRE (FRANCE)

06-2011 WWW BLACK SECURITY WITH THE SCHWARZE FRAUEN COMMUNITY
SHOWN AT THE DJUNGEL THEATRE AT VIENNA (AUSTRIA) SUPPORTED BY THE MA57 VIENNA

12 -2010 YOU,MY HERO WITH THE SCHULKOLLECTIV-WAHRINGERSTRASSE VIENNA (AUSTRIA) SUPPORTED BY MA17 VIENNA.

05-2010 J´AI ACCOUCHÉ D´UN NEGRE THE CIE OISEAU-MOUCHE IN THE GARAGE THEATRE (FRANCE)

07-2008 MA LUMIERE DURING THE LE MANIFESTE FESTIVAL AT GRANDE-SYNTHE (FRANCE)
ART
03-2014 LA PHILOSOPHIE BANANE SOLO EXHIBITION: PERFORMANCES, VIDEOS AND SCULPTURES INSTALLATION IN THE WELT MUSEUM IN WIEN
08-2013 OCCUPY THE MUSEUM GROUP EXHIBITION IMPULSTANZ FESTIVAL  VIDEOS ,SCULPTURE INSTALLATION AND PERFORMANCE AT WELT MUSEUM WIEN
07 –2012 GOOSEFLESH GROUP EXHIBITION, VIDEOS INSTALLATION AND SCULPTURE IMPULSTANZ FESTIVAL
 08/31-03 2011 STILL LIFE, SOLO EXHIBITION, VIDEOS INSTALLATION AND PERFORMANCE
MOVING CULTURE VIDC AT VIENNA (AUSTRIA)
 08/22-2010 THE BARBIE TRAP, INSTALLATION, VIDEO
SOHO OTTAKRING AT VIENNA (AUSTRIA)