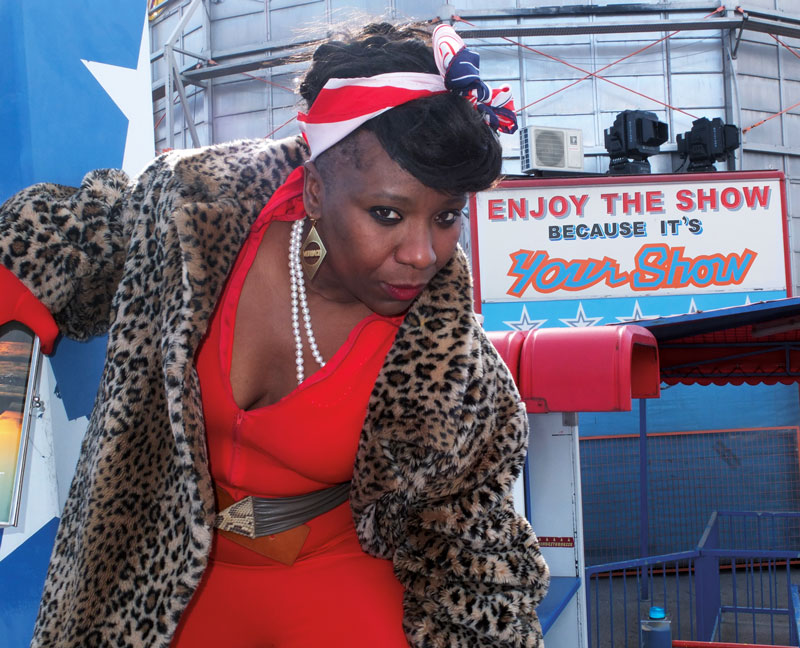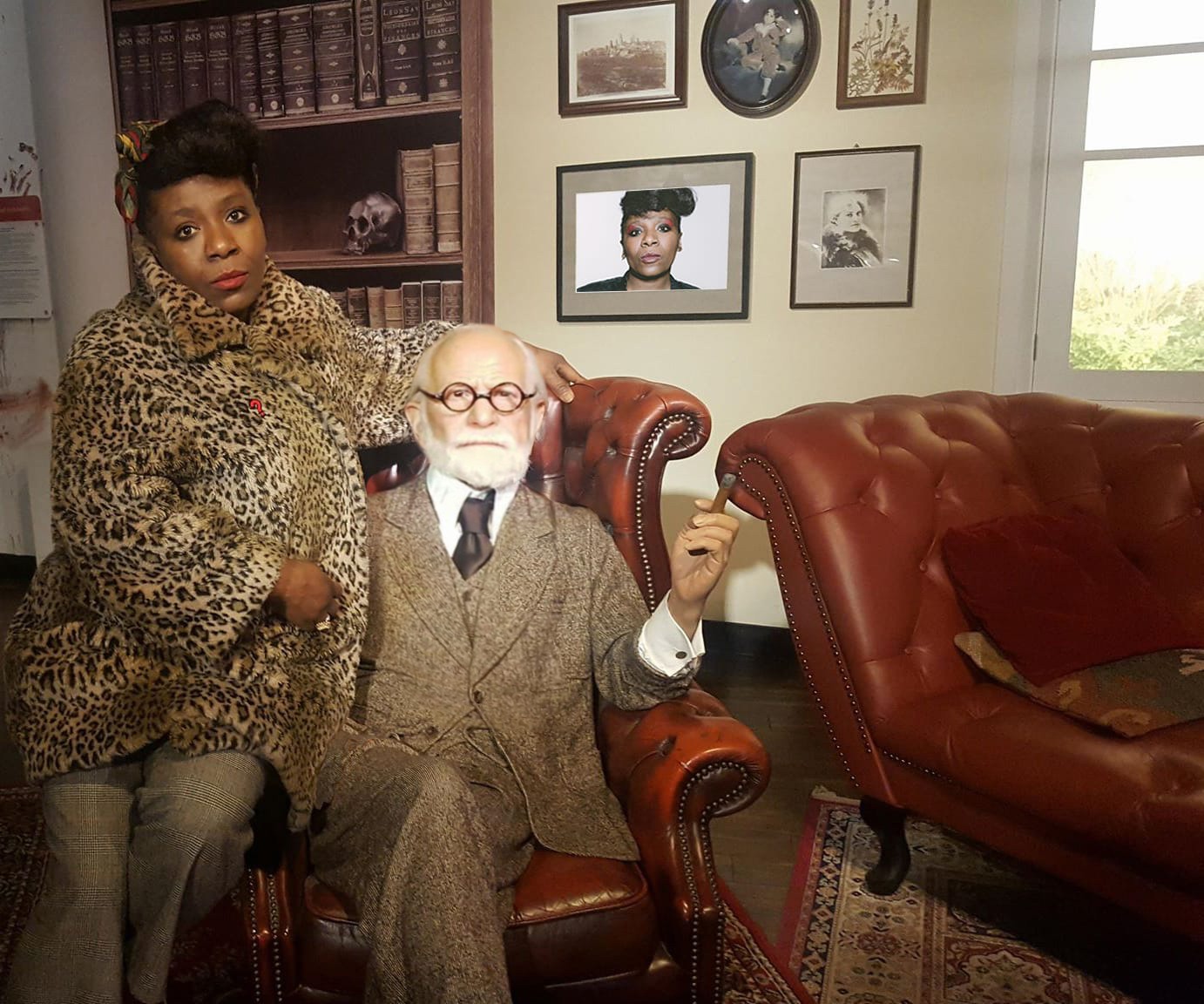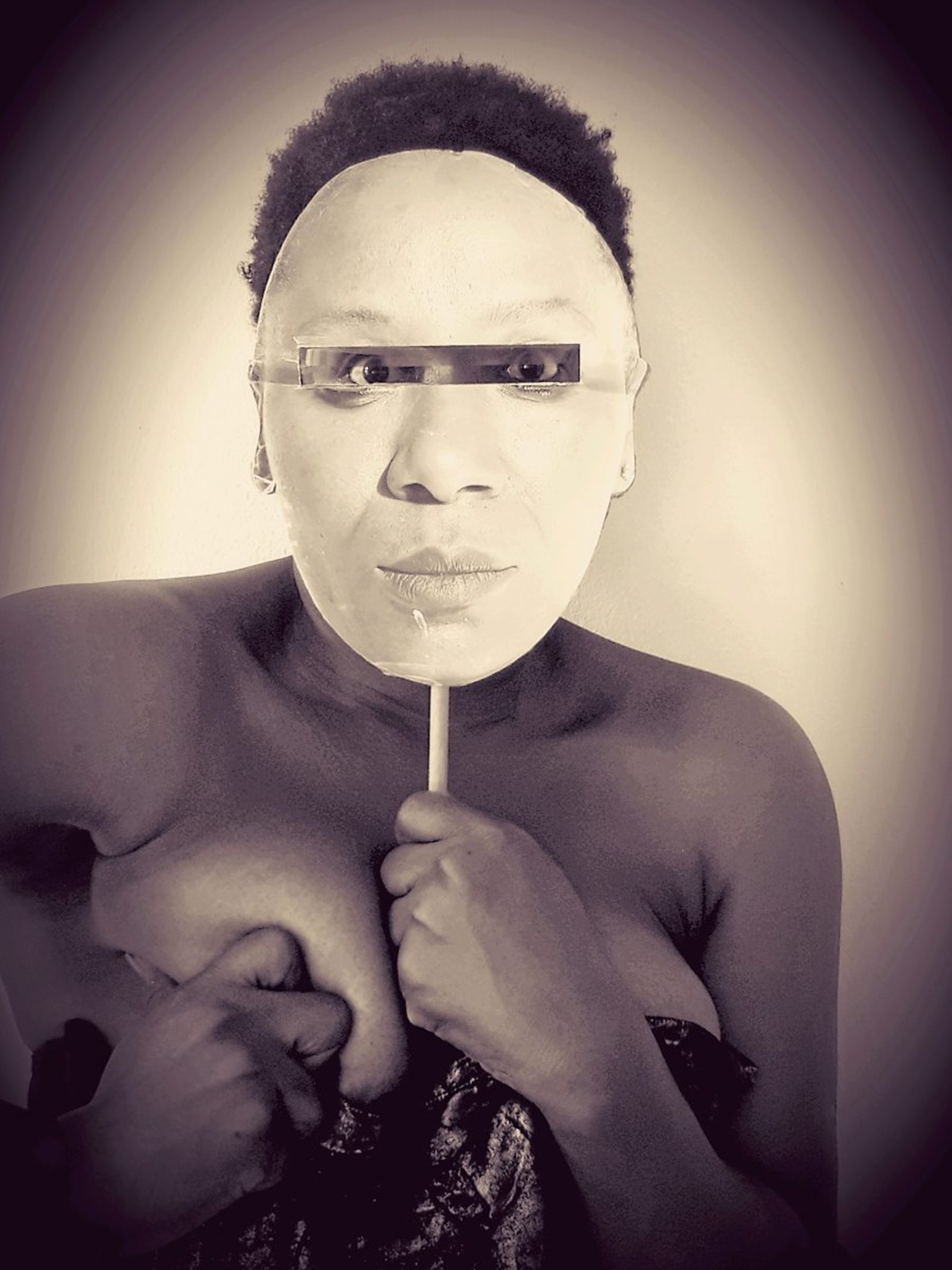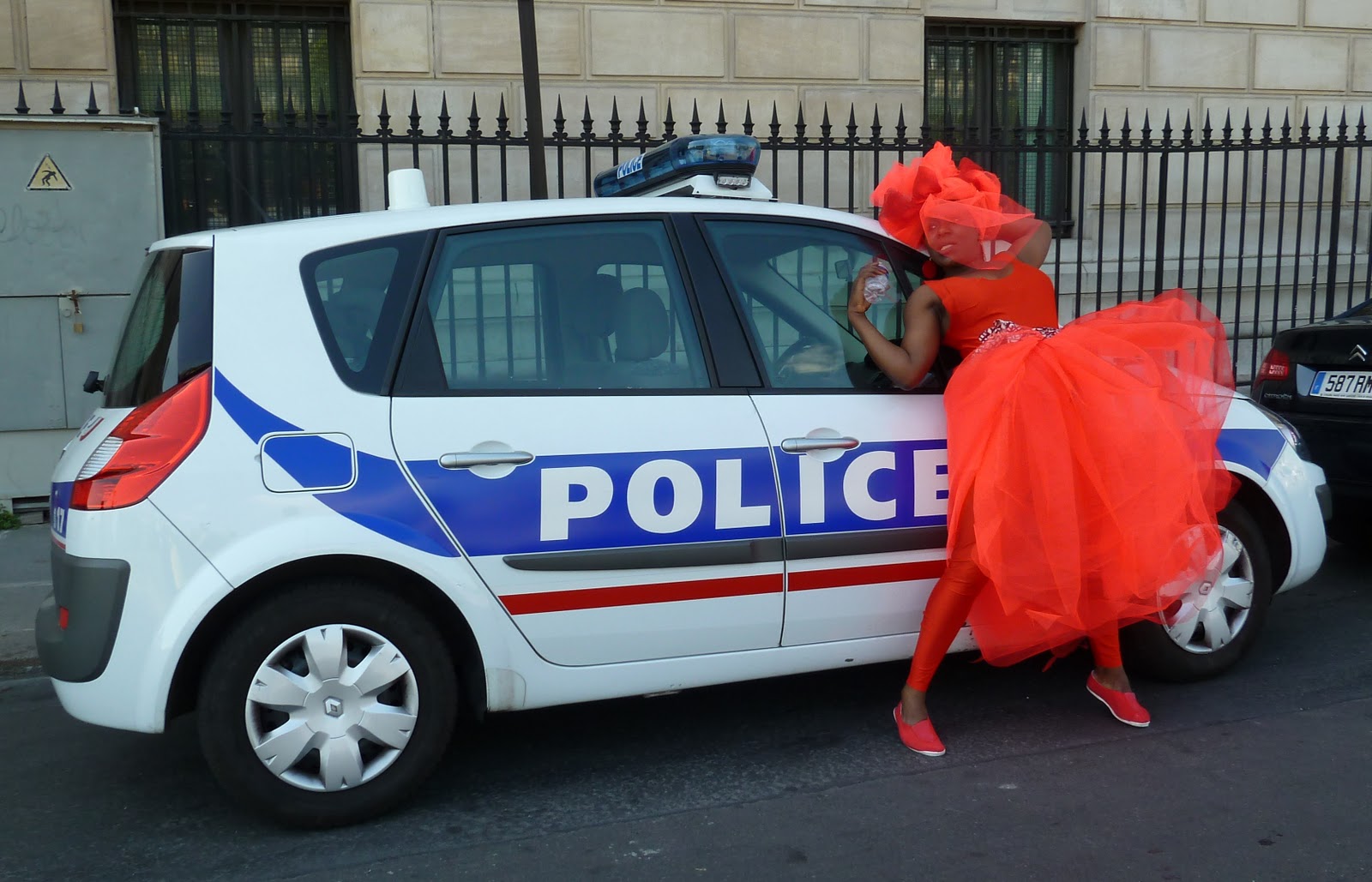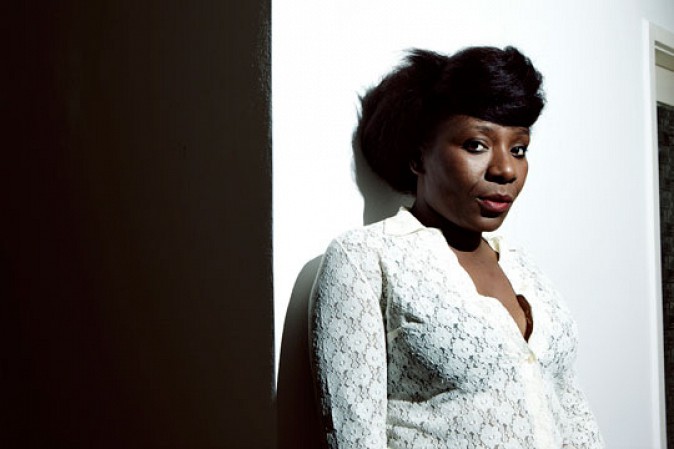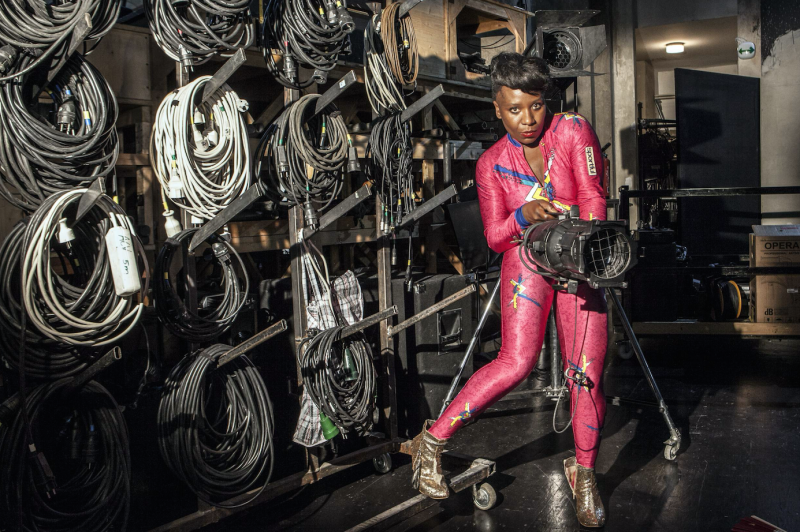 Die Frage nach der Konstruktion von Identität in einer Massenproduktionsgesellschaft steht im Zentrum von Elisabeth Bakambamba Tambwes plastischer und choreographischer Arbeit. Dieser Ansatz ist eine Form der Antwort auf aktuelle Debatten zu den Themen nationale Identität, Staatsbürgerschaft und Integration, da die Reflexion oft durch die Unmöglichkeit des Denkens außerhalb der Logik der Monozugehörigkeit und der Weigerung, Mischkultur zu geben, gelähmt wird -belonging, eine politische Übersetzung.
Die ethnischen und geografischen Klassifizierungen, die ethnographischen und kulturalistischen Ansätze, die die Produktionen afrikanischer Künstler, die in Europa leben, umfassen, sind zweideutige Bedingungen für Sichtbarkeit und Anerkennung. Zwischen dem Hammer des Globalen (Globalisierung und seine Standards) und dem des Lokalen (dem Rückzug und dem kolonialen Erbe einer verfälschten Vision von "Tradition") schlägt Elisabeth Bakambamba Tambwe eine ironische Dekonstruktion des Exotismus vor und versucht eine Dekolonisierung des Gedanken.
In den neuesten Shows ist der performative Modus vorherrschend und umfasst Stimme, Musik, Arbeitsumgebungen und Videoprojektion, gemischt mit der kalkulierten Besetzung des der Öffentlichkeit gewidmeten Raums, oft eingeladen, sich zu bewegen oder sogar zu teilen, was den Betrachter dazu zwingt, seine Funktion zu überdenken.
Mit Stücken wie Las Meninas (2016) und Congo Na Chanel (2017) erweitert die Frage nach dem Standpunkt die postkoloniale Frage. Die letzten Shows von Elisabeth Bakambamba Tambwe zeigen tendenziell die Vielfalt der Blickwinkel, die unterschiedliche Wahrnehmungen derselben Realität implizieren. Weil Bewusstsein wie das Gesichtsfeld ist. Dies ist kein gerahmtes Bild, das von einem dritten äußeren Auge gesehen wird, es wird ohne Abstand aufgenommen und obwohl es begrenzt ist (es ist für uns unmöglich zu sehen, was hinter uns passiert), hat es keine Kanten: begrenzt und doch ohne "Grenze". Die verschiedenen szenografischen Geräte, die verwendet werden, erlauben es dann, die Karten zu verwürfeln, Konventionen zu entlarven (besonders unterdrückt), Unklarheiten zu streicheln und so die vielen inkohärenten Haltungen zu inszenieren, die uns angreifen.
Wir nehmen nur wahr, was innerhalb und außerhalb von uns existiert oder wie es aussieht, und wir haben anscheinend kein anderes Zeichen der Wirklichkeit als die Wahrnehmung, die wir davon haben. Aber sind alle Wahrnehmungen gleich? ("Jeder hat seine eigene Wahrheit")
In der Arbeit von Elisabeth Bakambamba Tambwe wird uns niemals in ihrer Gesamtheit etwas geliefert. Die Sets, die Aktionen, die Präsenz der Körper auf dem Plateau präsentieren sich immer unter einem bestimmten Gesicht, in einer bestimmten Perspektive. Was das Auge erfasst, übersteigt immer unsere Wahrnehmung, da immer die Möglichkeit anderer Wahrnehmungen, Korrekturen besteht. Hier kann die Wahrnehmung die Handlung nicht erschöpfen. Wenn die Wahrnehmung unvollständig ist, dann deshalb, weil sie immer von einer Art Halo der Unbestimmtheit, der Möglichkeit anderer wahrscheinlicher Wahrnehmungen oder sogar zukünftiger Wahrnehmungen umgeben ist.
Für den Choreografen erlaubt eine Sichtweise nicht wahrzunehmen; es ist notwendig zu wissen, wie man es entsprechend dem, was auf dem Spiel steht, und dem Standpunkt der anderen erschüttert. Die Anerkennung der Grenzen, der Dunkelheit, des "unvollständigen" Charakters der Menschen und der Ideen bedeutet nicht, sie aufzugeben. Im Gegenteil, dieser bewusste Zweifel, diese kritische Neubetrachtung, öffnet den Weg für eine Transzendenz, eine Projektion des Körpers nach vorne, Engagement.
PERFORMANCES

01-2020 CARRÉ NOIR  PERFORMANCE-DANCE-INSTALLATION
A co-production by DIG UP PRODUCTIONS and brut Wien in cooperation with Afro_Vibes Performing Arts Festival Amsterdam.
With the kind support of the City of Vienna's Department of Cultural Affairs and the Vienna Dance Festival.
With the support of the Federal Chancellery Art and Culture.
12-2019 ABSTRACTION  PERFORMANCE-DANCE-INSTALLATION
Production dig-up Production
11-2019 JEANNE DARK  PERFORMANCE-DANCE-INSTALLATION
Overall concept, dramaturgy, dramaturgy and production management Gin Müller, Radostina Patulova, Selina Shirin Stritzel
Video programming Oliver Stotz
A co-production of Verein zur Förderung der Bewegungsfreiheit and brut Wien.
With the kind support of the City of Vienna's Department of Cultural Affairs.
09-2018 FOCUS : NEW PERSPECTIVES  PERFORMANCE-DANCE-INSTALLATION
Production dig-up Production
06-2017 CONGO NA CHANEL PERFORMANCE-DANCE-INSTALLATIONSUPPORTED BY MA7 Kulturabteilung der Stadt Wien, Bundeskanzleramt Kunst/Kultur
10-2016 PINK EYE PERFORMANCE-DANCE-INSTALLATION with one performer
Commissioned by steirischer herbst

05-2016 LAS MENINAS PERFORMANCE-DANCE-INSTALLATION with SIX performers
COPRODUCTION DIG-UP PRODUCTION TANZQUARTIER (AUSTRIA), SUPPORTED BY MA7 Kulturabteilung der Stadt Wien, Bundeskanzleramt Kunst/Kultur

05-2016 FLECHE PERFORMANCE-DANCE-INSTALLATION with TWO performers
COPRODUCTION DIG-UP PRODUCTION, DONAUFESTIVAL
07-2015 FIT IN PERFORMANCE-DANCE-INSTALLATION with one performer
COPRODUCTION DIG-UP PRODUCTION IMPULSTANZ, SUPPORTED BY MUMOK MUSEUM

01-2015 SYMPOSIUM PERFORMANCE-DANCE-INSTALLATION with seven performers
COPRODUCTION DIG-UP PRODUCTION TANZQUARTIER (AUSTRIA), SUPPORTED BY MA7 VIENNA; BMUKK; LONG LIFE BURNING
09-2011 GOLDEN BABY SOLO, PERFORMANCE-DANCE-INSTALLATION
COPRODUCTION DIG-UP PRODUCTION WUK THEATRE DE VIENNA (AUSTRIA), SUPPORTED BY MA7 VIENNA
05-2010 ANOMALIC SOLO, PERFORMANCE- INSTALLATION
COPRODUCTION STATTSAFFAIRE, WUK THEATRE SUPPORTED BY MA7 VIENNE WITH THE COLLABORATION OF THEATRE LE GARAGE ROUBAIX (FRANCE)
01-2010 DON'T STEP ON MY JERSEY, A PERFORMANCE – EVENT WITH 2 PERFORMERS , 1 SINGER
PRODUCTION MOVING CULTURE VIDC
2008, REACT IN SILENCE,PLEASE. PERFORMANCE-INSTALLATION A PROJECT DEVELOPED WITHIN "TURBO RESIDENCE 2008" COACHED BY THIERRY BAE DURING THE IMPULSTANZ FESTIVAL OF VIENNA HAS BEEN SHOWED IN MARCH 2009 AT THE WUK IN VIENNA.
11-2007 CONCERTO POUR CORPS BRUYANTS 3 DANSEURS,1 COMEDIEN, DANSE-PERFORMANCECIE DIXIT PRODUCTION COOPRODUIT VIVAT THEATRE ARMENTIÈRE(FRANCE)
05-2005 MON COEUR BALANCE SOLO, DANSE
CIE DIXIT PRODUCTION ,AVEC LA COLLABORATION DE LA CONDITION PUBLIQUE,LA COMÉDIE DE BETHUNE,THEATRE MASSENET (FRANCE).PRÉSENTÉ AU FESTIVAL JULIDANS (AMSTERDAM)
2003 FRÉMISSEMENT, (YOUNG AUDIENCE) WORK FOR TWO DANCERS, A PUPPET-MASTER AND A MUSICIAN.

2002 LA LÉGENDE DE BAKI, CHOREOGRAPHIC TALE (YOUNG AUDIENCE) FOR TWO DANCERS, TWO MUSICIANS AND A TALETELLER.

2001 NO ! CREATION FOR FIVE DANCERS AND A MUSICIAN PRÉSENTED AT LILLE-GRAND-PALAIS DURING THE "AFRIQUE EN CREATION" FESTIVAL.

2000 PETITES CHOSES DEVIENDRONT GRANDES, (YOUNG AUDIENCE) CREATION SIX DANCERS AND FIVE MUSICIANS.
ZUSAMMENARBEIT
2019 NANA OU EST-CE QUE TU CONNAIS LE BARA ? de Monika Gintersdorfer.
2018 LES NOUVEAUX ARISTOCRATES de Monika Gintersdorfer.
NOVEMBRE 2016 Lecture Performance of Elisabeth Bakambamba Tambwe in installation "From the Future" by Esther Stocker
NOVEMBRE 2016 Lecture Performance of Elisabeth Bakambamba Tambwe in installation "Approximation linéaire" by Esther Stocker
AUGUST 2015 A THIRD STEP TO IDEAL PARADISE FROM CLAUDIA BOSSE/THEATERCOMBINAT
MAI 2015 duo with TAOUFIQ IZZEDIOU WITH TANZQUARTIER AND CHARLEROI-DANSE
SINCE OCT 2013  «  WAR »  WITH AMANDA PIÑA / DANIEL ZIMMERMANN / NADAPRODUCTIONS IN TANZQUARTIER
SINCE AOUT 2013   "IN A WORLD FULL OF BUTTERFLIES, IT TAKES BALLS TO BE….." START NEW SOLO PROJECT WITH ROBYN ORLIN IN BERLIN AND PARIS
NOV- DEC 2012 MUSÉE DES BEAUX ARTS  LILLE (FRANCE) WITH ROBYN ORLIN DURING LILLE3000 (PERFORMANCE/INSTALLATION)
AVRIL-MAI-2012  END OF FEMINISM WITH DOLCE AFTER GHANA IN WUK  AND DONAULD FESTIVAL
DEPUIS SEPT 2011 DANS HAVE YOU HUGGED, KISSED AND…..(PERFORMANCE/DANCE/THEATRE) DE ROBYN ORLIN THEATRE DE LA VILLE,LE CENTQUATRE (PARIS); GRAND THÉÂTRE DU LUXEMBOURG; STADSSCHOUWBURG (AMSTERDAM…….)
HTTP://WWW.MOUVEMENT.NET/CRITIQUES-68DCB9E9077A3F6E-VENUS-NOIRE
FROM OCT -JANUARY-2009 EASY COME, EASY GO BY OLEG SOULIMENKO PRESENTED AT TANZQUARTIER IN VIENNA. (PERFORMANCE/DANCE/INSTALLATION)
12-2007 CONFIT DE CANARD BY ROBIN ORLYN PRESENTED AT THE DANCE NATIONAL CENTER IN PARIS.(PERFORMANCE/THEATRE)
06-2006 RADIO OKAPI BY FAUSTIN LINYEKULA PRESENTED AT THE THÉÂTRE PARIS VILETTE.
02-2006 LAS BAS PEUT-ÊTRE BY GRACIANE FINZI WITH L'ORCHESTRE NATIONALE DE MONTPELLIER CONDUCTED BY JÉRÔME PILLEMENT WITH A DIRECTION BY SERGE BAGDASSARIAN AND A CHOREOGRAPHY BY CYRIL VIALLON.
10-2004 CIE KAÏDARA, DIRECTED BY KATINA GENERO IN TORINO (ITALY), "LA NOTTE BIANCA"
02-2004 CIE KAÏDARA, CREATION FOR THE CONCERT SHOW SAFARA, IL FUOCO DEI TAMBURI.
07-08-09-2004 CIE GEORGES MOMBOYE CREATION BOYAKODAH (PARIS)
11-2003 CIE FASO DANSE THÉÂTRE CRÉATION ET DEMAIN  BY SERGE COULIBALY PRÉSENTED DURING THE " DIALOGUE DE CORPS " FESTIVAL IN OUAGADOUGOU (BURKINA-FASO), CREATED IN LILLE UNDER THE PRODUCTION OF THE GRAND BLEU -NATIONAL THEATER – FOR LILLE 2004, EUROPEAN CAPITAL OF CULTURE
02-1999 CIE ANNE CELLIEZ CREATION UNTITLED (LILLE)
 WORKSHOP WITH PUBLIC SHOWS

05-2012 LA PHILOSOPHIE BANANE : WITH   OISEAU-MOUCHE CIE IN THE GARAGE THEATRE (FRANCE)

06-2011 WWW BLACK SECURITY WITH THE SCHWARZE FRAUEN COMMUNITY
SHOWN AT THE DJUNGEL THEATRE AT VIENNA (AUSTRIA) SUPPORTED BY THE MA57 VIENNA

12 -2010 YOU,MY HERO WITH THE SCHULKOLLECTIV-WAHRINGERSTRASSE VIENNA (AUSTRIA) SUPPORTED BY MA17 VIENNA.

05-2010 J´AI ACCOUCHÉ D´UN NEGRE THE CIE OISEAU-MOUCHE IN THE GARAGE THEATRE (FRANCE)

07-2008 MA LUMIERE DURING THE LE MANIFESTE FESTIVAL AT GRANDE-SYNTHE (FRANCE)
AUSSTELLUNGEN 
03-2014 LA PHILOSOPHIE BANANE SOLO EXHIBITION: PERFORMANCES, VIDEOS AND SCULPTURES INSTALLATION IN THE WELT MUSEUM IN WIEN
08-2013 OCCUPY THE MUSEUM GROUP EXHIBITION IMPULSTANZ FESTIVAL  VIDEOS ,SCULPTURE INSTALLATION AND PERFORMANCE AT WELT MUSEUM WIEN
07 –2012 GOOSEFLESH GROUP EXHIBITION, VIDEOS INSTALLATION AND SCULPTURE IMPULSTANZ FESTIVAL
 08/31-03 2011 STILL LIFE, SOLO EXHIBITION, VIDEOS INSTALLATION AND PERFORMANCE
MOVING CULTURE VIDC AT VIENNA (AUSTRIA)
 08/22-2010 THE BARBIE TRAP, INSTALLATION, VIDEO
SOHO OTTAKRING AT VIENNA (AUSTRIA)