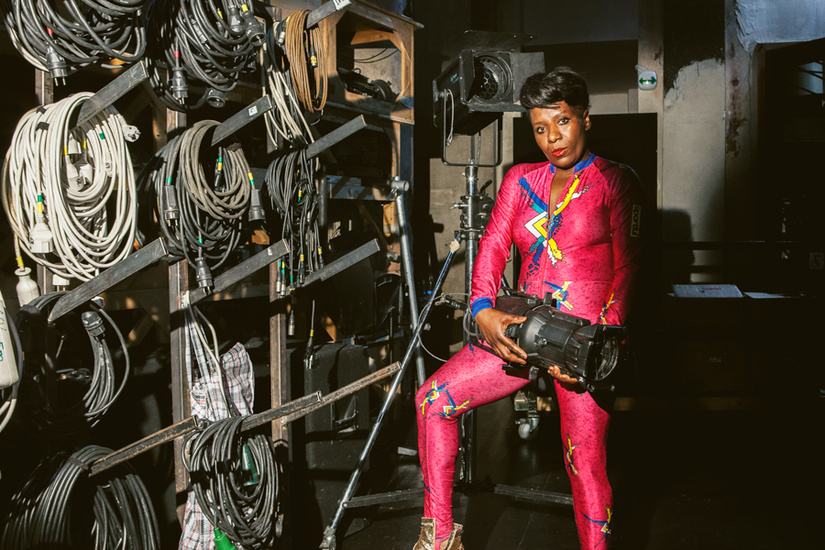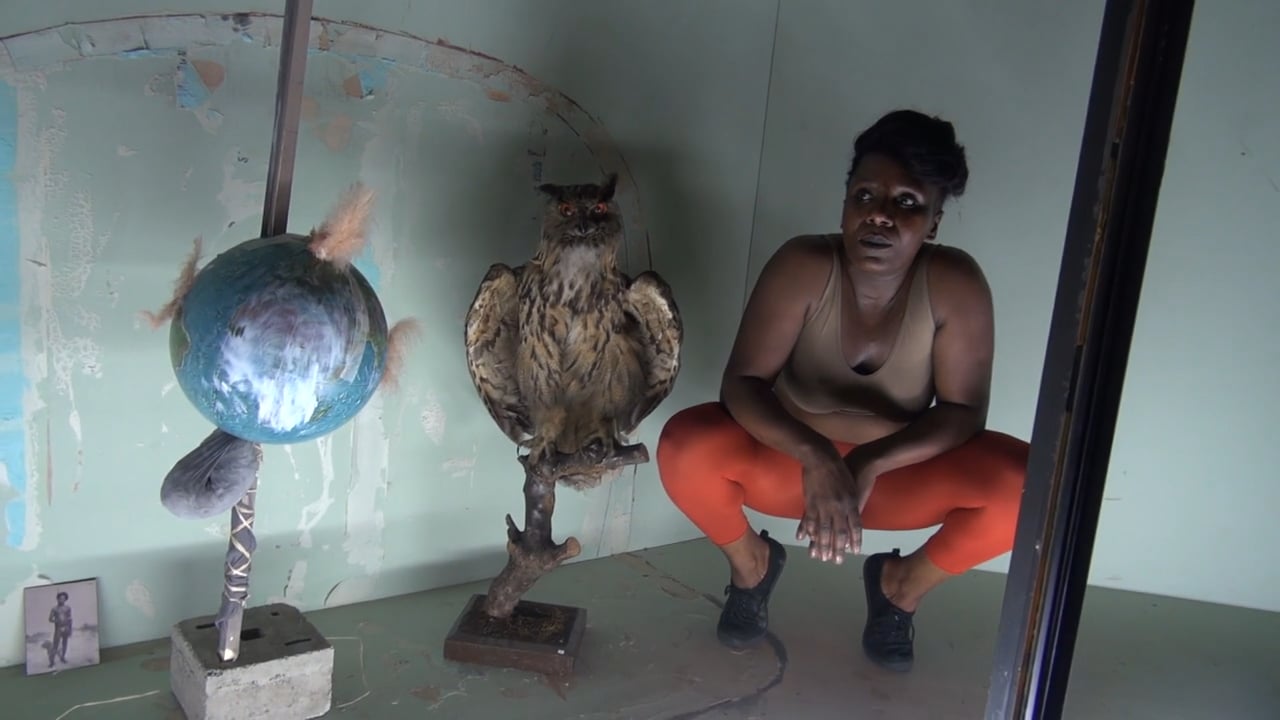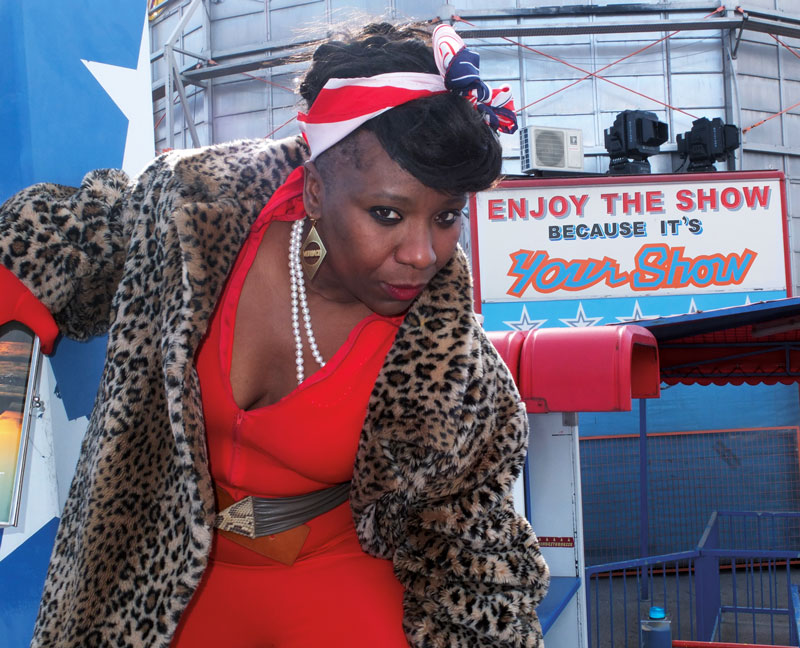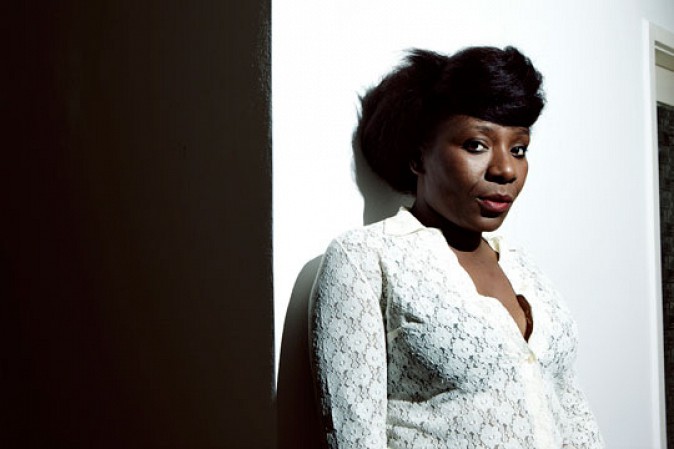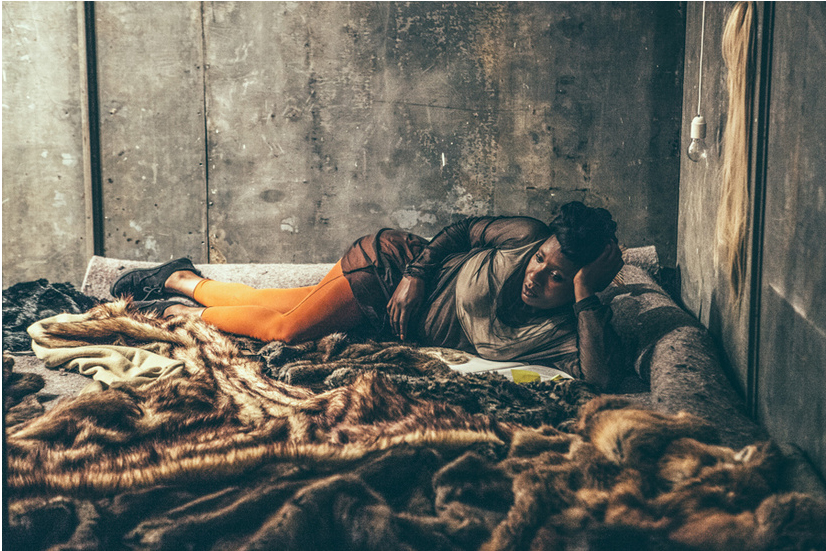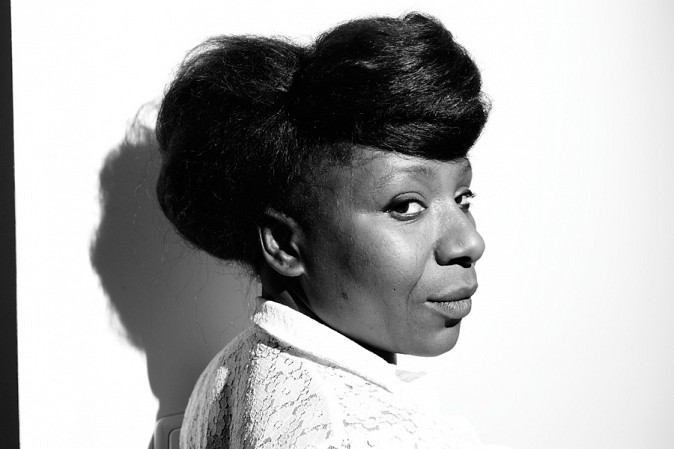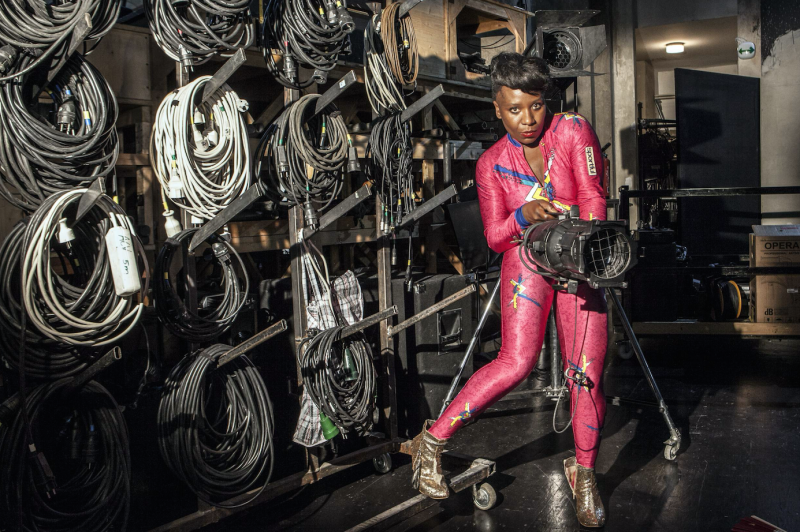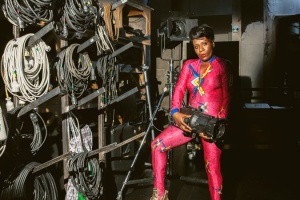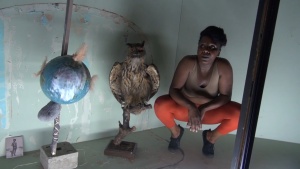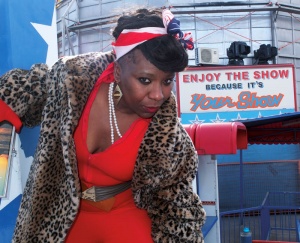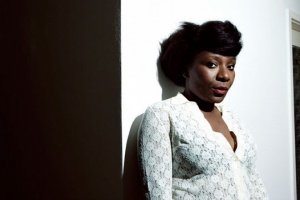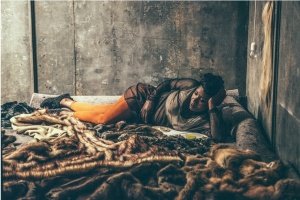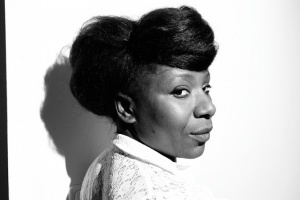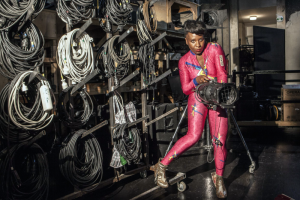 Née à Kinshasa (RDC), Elisabeth Bakambamba Tambwe grandit en France et poursuit des études artistiques. En 1998, elle obtient le Diplôme National d'Expression Plastique, pour son travail de sculpture, à l'école des Beaux-Arts de Tourcoing, en France. Son univers plastique, fortement marqué par les questionnements sur le corps et l'identité, mêlé à sa formation de danseuse contemporaine et sa pratique de la danse traditionnelle guinéenne, sénégalaise ou afro-cubaine, l'amène à fonder en 2005 la Cie Dixit, véritable laboratoire de recherche de la création contemporaine où se croisent danse, arts plastiques et créations sonores. Mon cœur balance, solo dans lequel la chorégraphe se met en scène, est créé la même année. Aujourd'hui, elle vit et travaille en Autriche.
Ce qui est en jeu dans le travail d'Elisabeth Bakambamba Tambwe sont les termes d'une construction identitaire dans une production de masse. Les corps sur scène sont toujours saisis en état de devenir, se transformant pendant le temps de la performance. Corps souvent défigurés pour mieux être ré-envisagés. Et si ces peaux exhibées portent en elles une vérité du corps, elles dénient à chacune d'elles la capacité d'incarner le corps en sa vérité.
Certaines constantes s'affirment tout au long des dernières créations: La démocratie inachevée et la ville en état de siége, la justice transitionnelle, l'invasion de la hiérarchie (repensons à Concerto pour Corps Bruyants-2007), le sentiment de la perte du geste, la dérobade permanente du langage (Mon cœur balance-2005, React in silence, please-2008, Anomalic-2010), l'historisation, qui peut placer parfois l'oubli sur le lieu même du souvenir,  l'anti-monument (Golden Baby-2011, Symposium-en cours)… Ces différentes trames, souvent distillées sous forme d'énigmes, dynamitent de l'intérieur l'idée même de narration, prenant la forme de séquences, bribes ou traces.
Dans les pièces d'Elisabeth Bakambamba Tambwe le groupe souvent assujetti subit sa hiérarchie, se laisse dicter ses règles de l'extérieur, se ferme sur lui-même et finit par secrèter des mécanismes de défenses mortifères. Il peut chercher à répondre aux effets pervers de ce système par des solutions, des combines, qui ne font qu'accroître la perversité.
Une ultima cena sans cesse réitérée, où serait bégayée des corps se débattant dans leur condition comme autant de damnés séculiers.
Les corps se dérobent mais ils peuvent apparaître parfois puissants, corps-totems souvent enivrés par le pouvoir sous toutes ses formes, interrogeant ces infimes glissements qui, au quotidien, infléchissent et surprennent nos meilleures intentions. De ces infimes glissements à l'abus de pouvoir jusqu'à la violence, quelle qu'en soit son adresse, cette dérive semble s'autoriser, entre autres, de la façon dont les corps présents profitent de leurs statuts, et instaurent souvent des rapports ambivalents.
Univers burlesque parfois, où l'humain, eût dit Lacan, délire de « lalangue » (« Lalangue, notre ronron… »), dispositif offert mais complexe, qui renvoie sans cesse le spectateur à l'interrogation, tandis que les repères, de l'identité comme du reste, flânent dans notre géographie mentale.
Le travail chorégraphique et plastique d'Elisabeth Bakambamba Tambwe tend à s'inscrire contre un exotisme postcolonial, symptôme d'un processus globalisant. Si un corps noir est présent sur le plateau ou sur un écran, aucun désir d'exotisme, il apparaît souvent comme un corps refusant de se laisser enfermer dans des emboîtements de rôles, de fonctions, de statuts encore. Les corps sont tels qu'en eux-mêmes, uniques, juste témoins de l'entrechoquement de l'épaisseur temporelle et de la fulgurance du présent.
Le mode performatif, très présent dans les dernières créations, les scénographies faisant intervenir voix, musique, environnement travaillé, et videoprojection mêlés à l'occupation calculée de l'espace dédié au public, parfois invité à se déplacer ou même se diviser (obligeant le spectateur à requalifier sa fonction) dévoilent des oeuvres semblant toujours sur le point d'excéder le champ auquel elles paraissent se cantonner. Histoire de signifier, peut-être, l'exposition du simulacre.
PERFORMANCES
01-2020 CARRÉ NOIR  PERFORMANCE-DANCE-INSTALLATION
06-2017 CONGO NA CHANEL PERFORMANCE-DANCE-INSTALLATION
10-2016 PINK EYE PERFORMANCE-DANCE-INSTALLATION Solo commissioned by steirischer Herbst

05-2016 LAS MENINAS PERFORMANCE-DANCE-INSTALLATION with SIX performers
COPRODUCTION DIG-UP PRODUCTION TANZQUARTIER (AUSTRIA), SUPPORTED BY MA7 Kulturabteilung der Stadt Wien, Bundeskanzleramt Kunst/Kultur

05-2016 FLECHE PERFORMANCE-DANCE-INSTALLATION with TWO performers
COPRODUCTION DIG-UP PRODUCTION, DONAUFESTIVAL
07-2015 FIT IN PERFORMANCE-DANCE-INSTALLATION Solo
COPRODUCTION DIG-UP PRODUCTION IMPULSTANZ, SUPPORTED BY MUMOK MUSEUM

01-2015 SYMPOSIUM PERFORMANCE-DANCE-INSTALLATION with seven performers
COPRODUCTION DIG-UP PRODUCTION TANZQUARTIER (AUSTRIA), SUPPORTED BY MA7 VIENNA; BMUKK; LONG LIFE BURNING
09-2011 GOLDEN BABY SOLO, PERFORMANCE-DANCE-INSTALLATION
COPRODUCTION DIG-UP PRODUCTION WUK THEATRE DE VIENNA (AUSTRIA), SUPPORTED BY MA7 VIENNA
05-2010 ANOMALIC SOLO, PERFORMANCE- INSTALLATION
COPRODUCTION STATTSAFFAIRE, WUK THEATRE SUPPORTED BY MA7 VIENNE WITH THE COLLABORATION OF THEATRE LE GARAGE ROUBAIX (FRANCE)
01-2010 DON'T STEP ON MY JERSEY, A PERFORMANCE – EVENT WITH 2 PERFORMERS , 1 SINGER
PRODUCTION MOVING CULTURE VIDC
2008, REACT IN SILENCE,PLEASE. PERFORMANCE-INSTALLATION A PROJECT DEVELOPED WITHIN "TURBO RESIDENCE 2008" COACHED BY THIERRY BAE DURING THE IMPULSTANZ FESTIVAL OF VIENNA HAS BEEN SHOWED IN MARCH 2009 AT THE WUK IN VIENNA.
11-2007 CONCERTO POUR CORPS BRUYANTS 3 DANSEURS,1 COMEDIEN, DANSE-PERFORMANCECIE DIXIT PRODUCTION COOPRODUIT VIVAT THEATRE ARMENTIÈRE(FRANCE)
05-2005 MON COEUR BALANCE SOLO, DANSE
CIE DIXIT PRODUCTION ,AVEC LA COLLABORATION DE LA CONDITION PUBLIQUE,LA COMÉDIE DE BETHUNE,THEATRE MASSENET (FRANCE).PRÉSENTÉ AU FESTIVAL JULIDANS (AMSTERDAM)
2003 FRÉMISSEMENT, (YOUNG AUDIENCE) WORK FOR TWO DANCERS, A PUPPET-MASTER AND A MUSICIAN.

2002 LA LÉGENDE DE BAKI, CHOREOGRAPHIC TALE (YOUNG AUDIENCE) FOR TWO DANCERS, TWO MUSICIANS AND A TALETELLER.

2001 NO ! CREATION FOR FIVE DANCERS AND A MUSICIAN PRÉSENTED AT LILLE-GRAND-PALAIS DURING THE "AFRIQUE EN CREATION" FESTIVAL.

2000 PETITES CHOSES DEVIENDRONT GRANDES, (YOUNG AUDIENCE) CREATION SIX DANCERS AND FIVE MUSICIANS.
COLLABORATIONS
2016 Lecture Performance of Elisabeth Bakambamba Tambwe in installation "From the Future" by Esther Stocker
2016 Lecture Performance of Elisabeth Bakambamba Tambwe in installation "Approximation linéaire" by Esther Stocker
AUGUST 2015 A THIRD STEP TO IDEAL PARADISE FROM CLAUDIA BOSSE/THEATERCOMBINAT
MAI 2015 duo with TAOUFIQ IZZEDIOU WITH TANZQUARTIER AND CHARLEROI-DANSE
SINCE OCT 2013  «  WAR »  WITH AMANDA PIÑA / DANIEL ZIMMERMANN / NADAPRODUCTIONS IN TANZQUARTIER
SINCE  2013   "IN A WORLD FULL OF BUTTERFLIES, IT TAKES BALLS TO BE….." START NEW SOLO PROJECT WITH ROBYN ORLIN IN BERLIN AND PARIS
2012 MUSÉE DES BEAUX ARTS  LILLE (FRANCE) WITH ROBYN ORLIN DURING LILLE3000 (PERFORMANCE/INSTALLATION)
AVRIL-MAI-2012  END OF FEMINISM WITH DOLCE AFTER GHANA IN WUK  AND DONAU FESTIVAL
DEPUIS SEPT 2011 DANS HAVE YOU HUGGED, KISSED AND…..(PERFORMANCE/DANCE/THEATRE) DE ROBYN ORLIN THEATRE DE LA VILLE,LE CENTQUATRE (PARIS); GRAND THÉÂTRE DU LUXEMBOURG; STADSSCHOUWBURG (AMSTERDAM…….)
HTTP://WWW.MOUVEMENT.NET/CRITIQUES-68DCB9E9077A3F6E-VENUS-NOIRE
2009 EASY COME, EASY GO BY OLEG SOULIMENKO PRESENTED AT TANZQUARTIER IN VIENNA. (PERFORMANCE/DANCE/INSTALLATION)
12-2007 CONFIT DE CANARD BY ROBIN ORLYN PRESENTED AT THE DANCE NATIONAL CENTER IN PARIS.(PERFORMANCE/THEATRE)
06-2006 RADIO OKAPI BY FAUSTIN LINYEKULA PRESENTED AT THE THÉÂTRE PARIS VILETTE.
02-2006 LAS BAS PEUT-ÊTRE BY GRACIANE FINZI WITH L'ORCHESTRE NATIONALE DE MONTPELLIER CONDUCTED BY JÉRÔME PILLEMENT WITH A DIRECTION BY SERGE BAGDASSARIAN AND A CHOREOGRAPHY BY CYRIL VIALLON.
10-2004 CIE KAÏDARA, DIRECTED BY KATINA GENERO IN TORINO (ITALY), "LA NOTTE BIANCA"
02-2004 CIE KAÏDARA, CREATION FOR THE CONCERT SHOW SAFARA, IL FUOCO DEI TAMBURI.
07-08-09-2004 CIE GEORGES MOMBOYE CREATION BOYAKODAH (PARIS)
11-2003 CIE FASO DANSE THÉÂTRE CRÉATION ET DEMAIN  BY SERGE COULIBALY PRÉSENTED DURING THE " DIALOGUE DE CORPS " FESTIVAL IN OUAGADOUGOU (BURKINA-FASO), CREATED IN LILLE UNDER THE PRODUCTION OF THE GRAND BLEU -NATIONAL THEATER – FOR LILLE 2004, EUROPEAN CAPITAL OF CULTURE
02-1999 CIE ANNE CELLIEZ CREATION UNTITLED (LILLE)
 WORKSHOP WITH PUBLIC SHOWS

05-2012 LA PHILOSOPHIE BANANE : WITH   OISEAU-MOUCHE CIE IN THE GARAGE THEATRE (FRANCE)

06-2011 WWW BLACK SECURITY WITH THE SCHWARZE FRAUEN COMMUNITY
SHOWN AT THE DJUNGEL THEATRE AT VIENNA (AUSTRIA) SUPPORTED BY THE MA57 VIENNA

12 -2010 YOU,MY HERO WITH THE SCHULKOLLECTIV-WAHRINGERSTRASSE VIENNA (AUSTRIA) SUPPORTED BY MA17 VIENNA.

05-2010 J´AI ACCOUCHÉ D´UN NEGRE THE CIE OISEAU-MOUCHE IN THE GARAGE THEATRE (FRANCE)

07-2008 MA LUMIERE DURING THE LE MANIFESTE FESTIVAL AT GRANDE-SYNTHE (FRANCE)
Exhibitions
03-2014 LA PHILOSOPHIE BANANE SOLO EXHIBITION: PERFORMANCES, VIDEOS AND SCULPTURES INSTALLATION IN THE WELT MUSEUM IN WIEN
08-2013 OCCUPY THE MUSEUM GROUP EXHIBITION IMPULSTANZ FESTIVAL  VIDEOS ,SCULPTURE INSTALLATION AND PERFORMANCE AT WELT MUSEUM WIEN
07 –2012 GOOSEFLESH GROUP EXHIBITION, VIDEOS INSTALLATION AND SCULPTURE IMPULSTANZ FESTIVAL
 08/31-03 2011 STILL LIFE, SOLO EXHIBITION, VIDEOS INSTALLATION AND PERFORMANCE
MOVING CULTURE VIDC AT VIENNA (AUSTRIA)
 08/22-2010 THE BARBIE TRAP, INSTALLATION, VIDEO
SOHO OTTAKRING AT VIENNA (AUSTRIA)